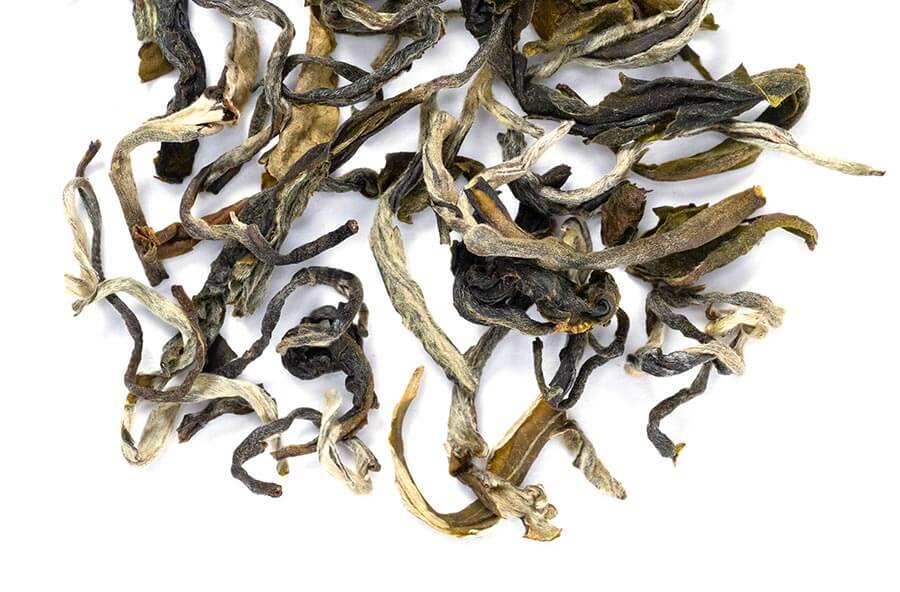 white monkey
White Monkey or Bai Mao Hou is a green tea (do not be confused by its name) that grows along the slopes of the Taimu mountains in the Fujian province of China. The young leaves and unopened buds are carefully gathered and processed exclusively by hand. The result is a tea that appears intricately woven with large and beautiful white tips looking like white-haired monkey's paws, hence the name. It produces a warm colored cup, fresh and subtly seaweedy aroma infused with delicate sweetness and a slightly dry finish.
Steep at 180° for 2 minutes.
981 reviews
5 recent reviews
sort:
white monkey teabags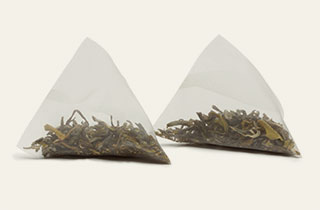 Filled with the same high quality, full-leaf teas offered loose, our tea bags have a distinctive pyramid shape that gives leaves plenty of room to unfurl and fully infuse for the finest cup of tea. Savor the superior flavor of loose tea without sacrificing the convenience of a teabag.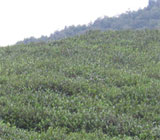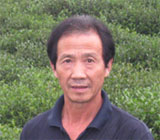 meet the farmer
Yao Yi Lin - Fuding, Fujian
Q
How long have you been growing tea and what got you started?
A
"
It is a family business. I started to help my parents when I was very young. I have worked in tea for more than 30 years.
"
Q
Can you describe a typical day out in the field?
A
"
In spring we are very busy because white monkey is a spring tea. I normally get up at 6 and go out to pick the fresh tea leaves. In the afternoon and evening we will make the teas with what we picked up in the day time. We never use yesterday's tea leaves to make this tea. So in spring time I will work more than 18 hours a day. After that, my main job is to fertilizing, weeding and making the field friable in the rest of the year.
"
Q
What is your favorite part of growing tea?
A
"
I like picking in early fresh spring morning. I do enjoy the beautiful mountain at that time.
"
Q
Conversely, what is the hardest part of your job?
A
"
The hardest part is the production evening in spring after picking. We need to work faster to make all the tea leaves. Otherwise they will be changed and oxidized. We need to work tenderly and carefully for the delicate tea leaves. Besides it is in the evening it is hard for our eyes under the shinning light.
"
Q
What do you think makes your tea unique or better than others?
A
"
The white monkey can only be produced in our Tailao mountain area. Because the field is fertile, the water is pure, the weather is wet. Furthermore, our experience is also very important.
"
Q
Are there any tips you can give on how to best brew your tea?
A
"
First water is very important. I suggest to use mineral water first of all and spring water in the second. Do not use running water from the tube. Second, I suggest to use glass cup to brew this tea. You can see how beautiful it is inside the cup. Finally, try to drink when it is cold. It is still pleasant in mouth.
"
fresh from the garden
To ensure the best quality and value, we import our teas directly from the countries in which they are grown, working closely with the farmers who tender them.

Our Roots Campaign connects our customers with the rich stories and the farmers behind some of our most popular teas.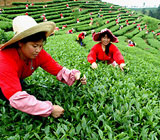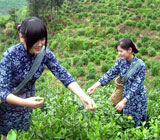 fresh from origin
Fujian province is one of China's most prolific tea producing areas. These teas account for one-fifth of China's total tea output, and the consistently high quality keeps them in demand. A coastal province (Taiwan lies just to the east, across the Taiwan Strait), Fujian benefits from an excellent climate, combining mild temperatures, abundant rainfall and very mountainous terrain. The misty mountain scenery is a mainstay of traditional Chinese art. In fact, the traditional description of Fujian is '8 parts mountain, 1 part water and 1 part farmland.' Fujian has a long history of cultivating tea: over 1,000 years.
This tea contains a
moderate level
of caffeine
green teas of china samplers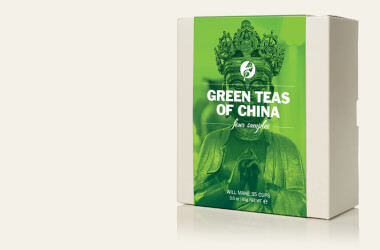 Production of green tea in China is unique, and has taken centuries to perfect. Four very different versions come together in this delicious sampler. Each sample makes about 8-10 cups of tea.