media
coverage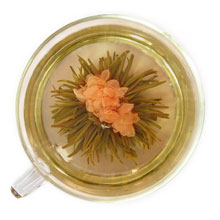 Experience a cup of tea like never before. Drop a Tea Blossom, by Adagio Teas, in hot water and the hand-woven cluster slowly unfurls, exposing a delicate flower sitting at the bottom of your mug. Watching the petals open as you sip adds a soothing aesthetic to tea time.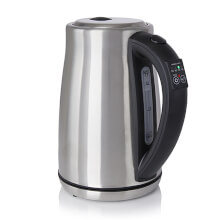 The stainless utiliTEA Variable Temperature Kettle doesn't just boil water, it has specific settings that will bring it to either 180 degrees (in 2 1/2 minutes) for green tea or 212 degrees (in 4 minutes, 23 seconds) for black tea. An excellent kettle for the price, compact and pours well. It lacks some of the bells and whistles of the more expensive models but is functional and kind of cute.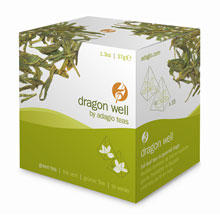 Loose tea can be, well, cumbersome -- all that fussing with steeping and disposing of the leaves. Tea bags, an American invention of the early part of the last century, are much easier. Lucky for us, Adagio Teas is putting out varieties such as Dragonwell green tea, Ti Kuan Yin and Jasmine Pearls oolong teas, and Silver Needle white tea, along with Golden Yunan and English breakfast black teas. The tea comes in mesh pouches of loose leaves, enclosed in sealed foil packets.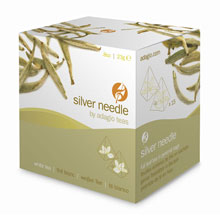 These are certainly nice enough to give as gifts, but we say treat yourself — you're worth it. Accessible single servings are the angle to these specialty teas from Adagio; 15 foil-wrapped mesh bags per box, $10.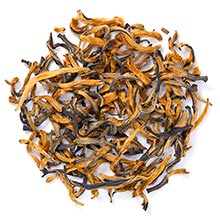 We held a blind tasting, pitting one of Adagio's bagged black teas, the Golden Yunnan, against bagged tea from two other commercial blends, one British and one Irish. The Adagio tea... came out on top. The majority of the tasters liked its pronounced, complex flavor and roundness.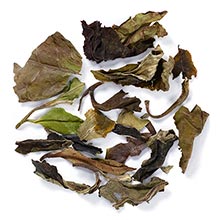 The White Peony tea from Adagio Teas is a lovely, everyday white tea with a smooth taste and some peppery notes. At $6 for one ounce, it's our Best Value.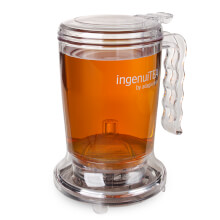 The Future of Homemaking: Tea Time. The ingenuiTEA offers a tidy way to brew and serve loose-leaf tea. Rest the teapot on the rim of your mug, and filtered tea pours in through a valve. It's microwave safe - just don't nuke the leaves.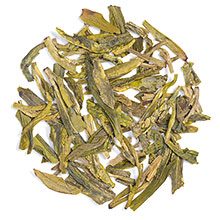 High-end tea is in a category of its own, said Michael Cramer, a former investment banker who founded Adagio, based in Clifton, N.J. "It's more like the new wine because of the new varietals," he said, adding that even though teas (other than herbal teas) are all from the same plant, "it differs in how it is grown and processed in the hands of an artisan, and that's how it becomes interesting."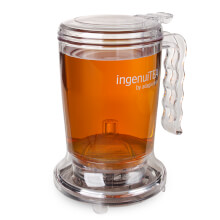 Coffeemakers have become more elaborate and now tea-brewing gizmos are following suit. Adagio Teas, for instance, recently introduced ingenuiTEA, a self-filtering transparent pot. After steeping loose leaves in boiled water, you place the pot on a mug, and the filtering system drains brewed tea into the cup.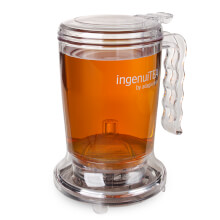 I always liked the idea of brewing a pot of loose tea at the office, especially in the afternoon after a day of hard coffee drinking. But the inconvenience has always been a deterrent.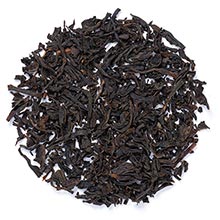 Tea drinking in the United States is on the rise and with it has come a growing number of Web sites devoted to selling the ancient leaf. One of the more well-known is Clifton-based Adagio Tea, a thriving dot-com that blends sales with customer education and may be an ecommerce venture that promises to pay off.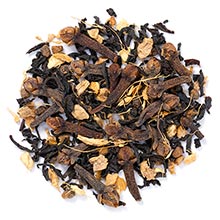 When Michael Cramer co-founded Adagio Teas back in 1999 together with his mother and brother, they didn't expect to become Internet zillionaires. They just wanted to expand the gourmet tea market to what was then an uncaring world.
Media contact:
Michael Cramer
Marketing Manager
(973) 253-7400 ext.111