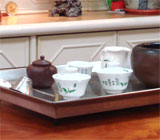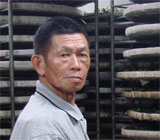 Q
What do you think makes your tea more unique or better than others?
A
"The use of organic fertilizers and quality control."
Q
What makes the difference between a successful and unsuccessful harvest?
A
"Doing work truly and does not dispute with other people. Really do anything a man can be successful."
Q
Do you exchange growing secrets with other local farmers?
Q
Are there any tips you can give on how to best brew your tea?
A
"When brewing the tea we must noted the quantity of the tea, brewing time ? water temperature and soaking time."
Q
What is your favorite tea to drink and why?
A
"Tung Ting Oolong Tea. It is very fragrant and good taste."
Q
If you had any advice to give western tea drinkers, what would it be?
A
"The fragrance of the Taiwan tea is presented by the fermentation of natural flavor, there is no added fragrance."
Q
What does this project & contribution mean to you?
A
"Instructing the good Taiwan Tea to give more preferences are."