meet the farmer
Zha Luo
Fengqin, Yunnan
Q
How long have you been growing tea and what got you started?
A
"I started to work for tea when I was 18. I have great interest in tea. I liked to help my parents to make tea after school. Now I am happy as I can work whole day with tea. I do love tea."
Q
Can you describe a typical day out in the field?
A
"Normally I get up at 6 in tea season. It will be very busy in tea season. I have to work the whole day from picking to making. Normally I go to pick up tea leaves in the morning and do some making in the afternoon. I need to climb some tea mountain to pick up tea leaves. I am young I am not tired. I love to do it."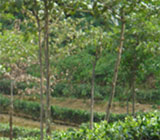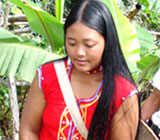 Q
What is your favorite part of growing tea?
A
"My favorite part is shaping the Yunnan Noir tea. It has a beautiful shape which is curl and golden. It requires experience and patience. Now I am still young I have a lot to learn from my master who is my father. I am happy when I can make better shape for a new lot. I am sure I can get better and better in the future."
Q
Conversely, what is the hardest part of your job?
A
"The hardest is when I failed to make a nice shape of the tea. My master has to do it again."
Q
What do you think makes your tea unique or better than others?
A
"In my hometown we love tea, we love the wonderful smell of our black tea. With this love we can make better tea. Which comes from our heart."
Q
Are there any tips you can give on how to best brew your tea?
A
"Our Yunnan Noir tea is delicious to be drunk both hot and cold. I myself prefer to drink the tea when it is cold."
fresh from the garden
To ensure the best quality and value, we import our teas directly from the countries in which they are grown, working closely with the farmers who tender them.

Our Roots Campaign connects our customers with the rich stories and the farmers behind some of our most popular teas.