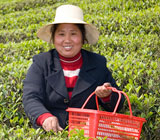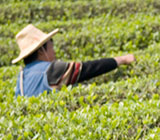 Q
Conversely, what is the hardest part of your job?
A
"If the weather is not good, for example it keeps raining. It will hurt our tea leaves especially the bud. In this case, I cannot pick good bud and tea leaves for making beautiful mu dan. It is a pity indeed. So when tea season comes, I will pray everyday for good weather."
Q
What do you think makes your tea unique or better than others?
A
"First the area is the best place for pai mutan. Fuding is the hometown for white teas. My friends tried to plant the white tea trees in Anxi or Songxi which are near our Fuding. But the result is bad, the buds are not strong enough to make beautiful mutan. Second, we have made pai mutan for many generations, we have experience. So I am sure our mutan is the best."
Q
Are there any tips you can give on how to best brew your tea?
A
"Water is very important. The best water for brewing tea is mountain spring water. Second, do not brew the tea too long, otherwise it will be too strong. At last I'd love to share one secret with you. We normally drink old mutan, which has a sweet taste after drinking. It is good for throat. If you have good mutan, store it for one year and drink, you can feel how wonderful it is."