white peony
Also known as Pai Mu Tan or Bai Mu Dan, White Peony is a sweet, mild Chinese tea made from unopened tea buds, as well as the two newest leaves to sprout. The freshly harvested leaf is allowed to wither dry in the sun. The natural oxidation that takes place during this withering gives White Peony beautiful, plush flavors. The nose is warm, floral and rich like fruit blossoms. The liquor is golden and bright. Clean, succulent floral-fruit flavor, melon sweetness, a touch of gentle savoriness and rounded mouthfeel. If you are beginning your exploration of white tea, or even just tea in general, our White Peony tea will serve a wonderful introduction.
Steep at 180° for 3-5 minutes.
meet the farmer
Wang Hong
Fuding, Fujian
Q
How long have you been growing tea and what got you started?
A
"I began to work with tea when I was 20. Now I have 20 years of experience. It is a family business. I was influnced by my parents when I was a little girl."
Q
Can you describe a typical day out in the field?
A
"Normally I will get up at 6. After a simple breakfast I will go to the tea mountain. My main job is picking. After picking I will send the tea leaves to our village factory for production. Normally I will go back home around 9 to 10 in the evening. But my main working season is in Spring. Because we only make one season for white tea."
Q
What is your favorite part of growing tea?
A
"I love the picking in the beautiful green mountain. I love to sing a song while picking. I do enjoy the fresh spring morning."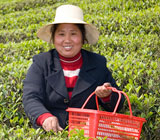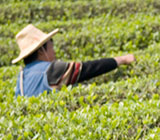 Q
Conversely, what is the hardest part of your job?
A
"If the weather is not good, for example it keeps raining. It will hurt our tea leaves especially the bud. In this case, I cannot pick good bud and tea leaves for making beautiful mu dan. It is a pity indeed. So when tea season comes, I will pray everyday for good weather."
Q
What do you think makes your tea unique or better than others?
A
"First the area is the best place for pai mutan. Fuding is the hometown for white teas. My friends tried to plant the white tea trees in Anxi or Songxi which are near our Fuding. But the result is bad, the buds are not strong enough to make beautiful mutan. Second, we have made pai mutan for many generations, we have experience. So I am sure our mutan is the best."
Q
Are there any tips you can give on how to best brew your tea?
A
"Water is very important. The best water for brewing tea is mountain spring water. Second, do not brew the tea too long, otherwise it will be too strong. At last I'd love to share one secret with you. We normally drink old mutan, which has a sweet taste after drinking. It is good for throat. If you have good mutan, store it for one year and drink, you can feel how wonderful it is."
fresh from the garden
To ensure the best quality and value, we import our teas directly from the countries in which they are grown, working closely with the farmers who tender them.

Our Roots Campaign connects our customers with the rich stories and the farmers behind some of our most popular teas.