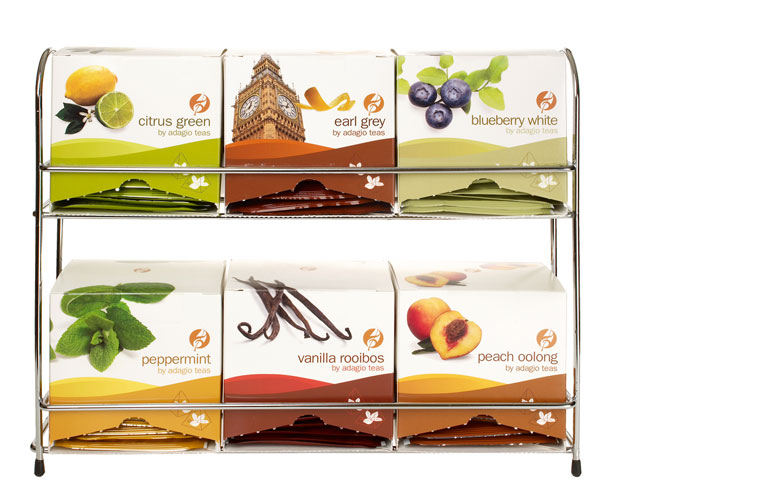 accessory
$9

* qualifies for free shipping
tea rack
Display your teas beautifully, making them easy to access, in this chrome-plated wire rack. The rack comes stocked with six tea varieties. Refills start at just $8 per box. Might you prefer Flavored or Premium unflavored teas? The assortments include::

Flavored
Blueberry White, Citrus Green, Earl Grey, Peach Oolong, Peppermint, Vanilla Rooibos

Premium
Dragon Well, Golden Yunnan, Jasmine Pearls, Oolong Goddess, Silver Needle, Wuyi Oolong

Rack dimensions are: 14.5"L x 12"H x 4"D. Rack made in China. Teas made in USA.
10 reviews
5 recent reviews
sort:
flavors collection
learn more about the teas included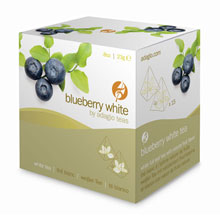 blueberry white
Juicy blueberry flavor and white tea from Fujian, China. Very fragrant, soft mouthfeel, refreshing finish.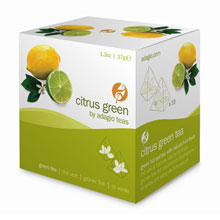 citrus green
Chinese green tea with the delicate flavors of lemon and lime. An Adagio favorite, refreshing hot and iced.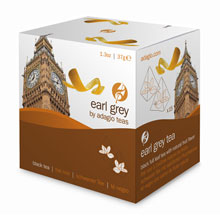 earl grey
Zesty, citrus sweet, and balanced orange rind flavor. Perfect with milk.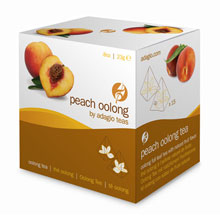 peach oolong
Naturally lush, fruity Taiwanese oolong paired with succulent peach. Fragrant, sweet, smooth and fruit-floral.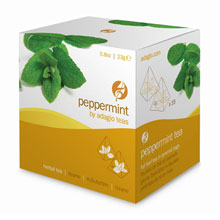 peppermint
A native of the Mediterranean, revered for its cool, crisp aroma, deeply fresh flavor and smooth finish.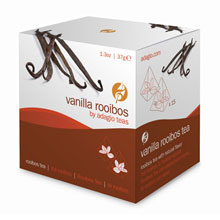 vanilla rooibos
Rich vanilla and sweet, lightly fruity Rooibos herb. Warm sugar cookies, mellow flavor, smooth finish. Yum!
premium collection
learn more about the teas included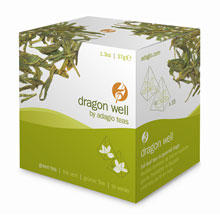 dragonwell
Inviting, toasty aroma and sweet rounded flavor. Nutty, buttery texture, pleasantly dry finish.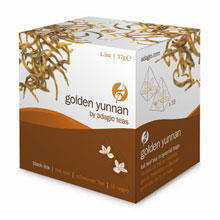 golden yunnan
Milk chocolate creamy and sweet, with pleasant pepper notes and earthy undertones.
jasmine pearls
Hand-rolled pearls majestically unfurl, releasing a delicate scent and flavor. Sweet and almost sugary with a soft, airy mouthfeel.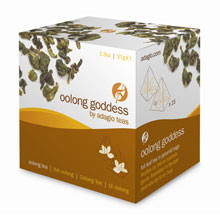 oolong goddess
Warm, soft and soothingly mineral in texture. Notes of toasted walnut and tender collard greens.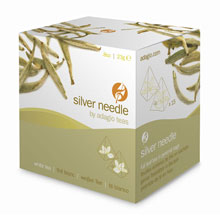 silver needle
Pale, ivory colored liquor. Delicately honeysuckle floral, with a warmed sugar sweetness.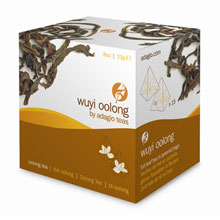 wuyi oolong
Honey-floral flavor and nutty, with white sesame, sweetened burdock root, or barley.