meet the farmer
Fang Ai Hua
Wuyi, Fujian
Q
How long have you been growing tea and what got you started?
A
"In my hometown everyone is dealing with tea. So I started when I was 18 years old. I learned from my parents. Now I know how to pick tea leaves and make good lapsang."
Q
Can you describe a typical day out in the field?
A
"My hometown is very beautiful mountian area. This area is protected by government. I am so lucky to live in the natural protection area in Wuyi."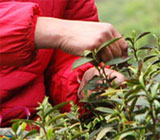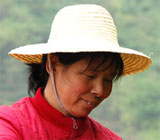 Q
What is your favorite part of growing tea?
A
"I like the moment when we taste our teas made by ourselves. We will taste every lot after production. I am happy to drink the tea from my own hand."
Q
What do you think makes your tea unique or better than others?
A
"There is no pollution in our beautiful natural protection area. The air is so fresh, the forest is so green, the sky is so blue, the tea, of course, is so pure. The reason is very simple, excellent place makes excellent tea."
Q
Are there any tips you can give on how to best brew your tea?
A
"Better use clay teapot to brew the nice lapsang. Eating and talking, enjoy the good tea slowly. Tea is art and life. With a good cup of lapsang, you can feel how beautiful life is."
fresh from the garden
To ensure the best quality and value, we import our teas directly from the countries in which they are grown, working closely with the farmers who tender them.

Our Roots Campaign connects our customers with the rich stories and the farmers behind some of our most popular teas.