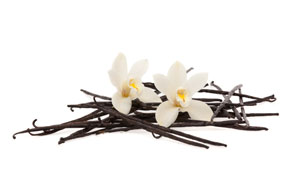 decaf vanilla
Adagio's Decaf Vanilla Black combines the pure, sugary-spicy flavor of vanilla with bright Ceylon black tea from Sri Lanka. Soothing, sweet and very 'beany' vanilla fragrance (like warm sugar cookies made with fresh vanilla beans). Very well-blended and pleasant astringency in the finish. A gentle, natural decaffeination process retains the delicate shape and flavor of the tea leaves.
Steep at 212° for 3 minutes.
ingredients & lore
blended with

decaf ceylon tea and natural vanilla flavor

The story of vanilla begins with the Totonaco Indians of Mexico, who were the first to unearth its secret. They fell to the Aztecs, who were in turn soon conquered by the Spaniards, under the leadership of Hernando Cortez. Cortez brought his precious plunder, including a few beans of vanilla, back to Spain. Vanilla beans are the fruit of an orchid which blooms for only one day each year. Because of this, and also because the flowers must be hand-pollinated, vanilla is the second most expensive spice on earth, after saffron.
This is a
decaf tea