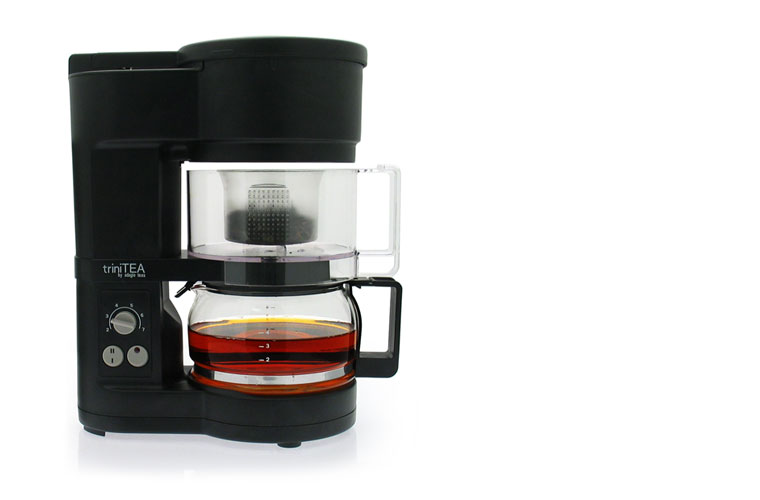 We apologize.
This item is temporarily out of stock.
Estimated arrival date is the
middle of 2016
. We'll gladly drop you a note once the fresh batch is here.
get notified >>
triniTEA electric maker
Looking to simplify preparation of loose tea? Our electric tea maker is the answer. Say goodbye to kettles, teapots and over-steeped cups. This wondrous appliance does it all - heats water, steeps leaves, and keeps tea warm so you may enjoy it all day long. Variable timer and temperature control lets you adjust the strength of an infusion, ensuring a perfect cup of tea each time. Works well with all tea varieties. Made in China. 32 oz (1L). 13.5" high, 10.5" long, 6.5" wide.

PLEASE NOTE: Available only via Ground shipping within the contiguous United States. Not available for international orders or for shipment to PO/APO/FPO boxes. Unit will not function correctly in higher altitudes.
213 reviews
5 recent reviews
sort:
instructions
directions
Remove the heating chamber lid (turn counter-clockwise), add water and replace lid, turning clockwise to secure a tight fit. Remove the plastic steeping chamber and place tea leaves in the perforated infuser, using a ratio of one teaspoon per cup of water. Return the steeping chamber and glass carafe to unit with lids in place and handles aligned.
Set temperature and timer using guidelines on reverse, and turn on unit. Once the heating chamber reaches desired temperature, water will transfer to the plastic steeping chamber, where it will infuse leaves for the duration selected on timer.
When timer expire, tea will release into the glass carafe and is ready to be enjoyed. The heated base will keep any remaining tea warm as long as unit is on. When done, turn off unit.
cleaning
Unplug the power cord and permit unit to cool before cleaning it. Wipe outside with a soft damp cloth. Remove the plastic infuser chamber and glass carafe and rinse with hot water or place in dishwasher. Do not use abrasive cleaners or solvents.
After extensive use, the heating chamber may build up scale. To clean, fill with vinegar and let soak overnight. Dispose vinegar in the morning, and operate twice with water only to remove all remnants of its smell.
warning
Children are often unaware of the danger posed by electrical appliances. To protect children, please keep this kettle and other appliances out of their reach. For indoor use only. To prevent fire, electrical shock or personal injury, please observe these precautions:
Do not heat any liquid other than water
Do not fill with water when heating chamber is hot
Do not change time settings while unit is working
Do not immerse power cord, plug or unit in water
Do not operate if electrical components are wet
Do not operate with damaged power cord or plug
Do not disassemble the unit. Have it professionally serviced
download instruction manual