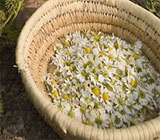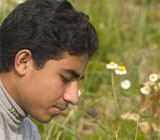 Q
How has tea farming changed over the years?
A
"It is now full of instructions from Mr Mahmoud, the person who buys fresh Chamomile flowers from us. My father tells me that before it was quite much simpler. Now he has to watch the pesticides use, the collection basket and our personal cleanness. Also, my father says that the land is not producing as much any more. He thinks there must be a better way for our small piece of land productivity but he is not sure what to do. On the positive side, the wages paid for labor is now better."
Q
What do you think makes your tea more unique or better than others?
A
"Because we love our crop and our land."
Q
What makes the difference between a successful and unsuccessful harvest?
A
"The more effort, time and money we put into our harvest, the more successful it becomes. Also, it depends if God is happy from us."
Q
Do you exchange growing secrets with other local farmers?
A
"There are no secrets any more. Everybody with a long experience in Chamomile knows everything about the growing. But, here in our village, if one tries some new method and it shows success, we try imitate him. If he doesn't tell us, we will still know as people here like to talk. Sometimes, people from other villages that do not grow Chamomile come here to ask questions about Chamomile. We, my father and others, answer them all. But they will still need to learn from their experience by trial and error, because they will need to teach their workers on collection and skills. We just make the road shorter."
Q
Are there any tips you can give on how to best brew your tea?
A
"Am not sure about brewing. I don't drink Chamomile except when I am sick. My mother do it, maybe like she does black tea."
Q
What is your favorite tea to drink and why?
A
"Black tea with a fresh Spearmint leaves. All the village drinks black tea, but very few like me add the Spearmint leaves. It makes all the difference."
Q
If you had any advice to give western tea drinkers, what would it be?
A
"Drink a lot of Chamomile. It is good for you."
Q
What does this project & contribution mean to you?
A
"Am very happy that somebody from the buyers side is interested in taking our opinion and will be listening to what we have to say about the Chamomile."