Magic Potions
signature blends by Robert Pirlot
Harry Potter
If your a fan of the Harry Potter Books/Movies series then these are the teas are for you. If your adventurous then there's a tea here for you. Each tea is based on a potions or drinks that was in the series. Be careful some potions are very unique.

BeerButter
caramel, cream, vanilla

Felix Felicis
rooibos almond, rooibos caramel, honeybush hazelnut

Pumpkin Potion
pumpkin spice, vanilla, caramel

Polyjuice
thai chai, chocolate chai, rooibos vanilla chai

Draught of Peace
apricot, cream, vanilla

Veritaserum
raspberry, chocolate chip, hazelnut

Elixir of Life
strawberry, vanilla, hazelnut

Skele-Gro
peppermint, chocolate chip, spearmint

Treacle Tart
caramel, rooibos caramel, cream

Amortentia
coconut, honeybush vanilla, blueberry

Mandrake Restorative Draught
ginseng green, honeybush vanilla, rooibos vanilla chai

Grudyroot Tea
kukicha, honeybush hazelnut, apricot green
share on tumblr
let your fandom flag fly!
Are you & these teas the OTeaP? Show some love by sharing these teas with your fandom friends on tumblr!
post to tumblr >>
sampler set
maximize variety. minimize commitment.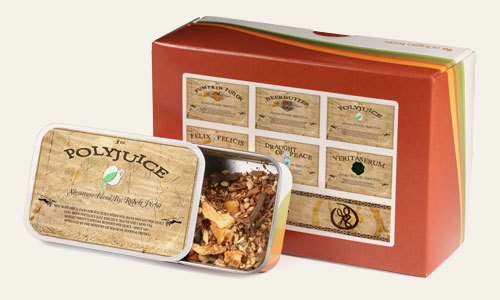 This tea is part of the Magic Potions sampler set which includes six community favorites packaged in spiffy metal tins. Perfect for displaying in your tea cupboard or for refilling as a tea transport vessel while on the go. Also makes a great gift for your Fandom and tea-loving special someone.