sampler set contains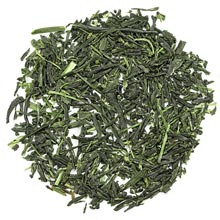 gyokuro - Steamed green tea from Japan, Gyokuro is among the finest of Japanese teas. While the young leaves of the spring season develop, the tea bushes are shaded from sun for several weeks. This makes the tea grow more slowly, taking time to develop depth and flavor. The sun-deprived leaves are higher in chlorophyll, which creates the vivid green color in the leaves. They're also higher in amino acids, most notably L-theanine, which account for the perfectly smooth, rich and soft flavor of Gyokuro. Deeply sweet, aroma of freshly buttered greens - no grassiness or harshness. Think of tender new grass just sprouting in the spring. Soft on the palate with a balanced, delicate finish. Soothing and centering cup of tea.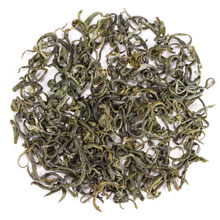 tai lake pi lo chun - This "new style" pi lo chun has a sweet aromatic leaf; is complex and fruity with soft smoky-meatiness underneath. It does not have fuzzy buds like a traditional pi lo chun, but more of a thin, wirey dry leaf appearance. Plummy notes, with apricots and white grapes linger on your tongue revealing the secret of this tea's origin - the Tai Lake area is populated with fruit trees that lend their sweet character to this light bodied green.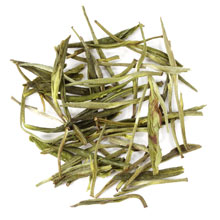 anji duet - A very special tea produced in Anji, Zhejiang province of China. A light, delicate cup with soft fruit notes like a fine white tea, as well as chestnut sweetness and lingering floral finish of a classic green. Sweet and mellow, with nutty tones, sugarsnap peas and soft, pleasantly dry finish. Produced in the early days of Spring and available in very limited quantity, our Duet is a rare find.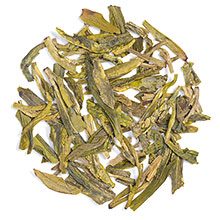 dragonwell - One of China's most famous green teas, Dragonwell (Lung Ching or Longjing in local parlance) comes from Hangzhou in Zhejiang province. This tea has a very distinctive shape: smooth and perfectly flattened along the inside vein of the leaf, the result of highly skilled shaping in a hot wok. This process, known as pan-firing or pan-frying, was perfected in China by tea masters over many centuries. It gives the tea an inviting, toasty aroma. Our Dragonwell also has a sweet, rounded flavor, perhaps reminiscent of freshly roasted white corn. Full, nutty and buttery texture and pleasantly dry finish. A truly satisfying cup of tea.