sampler set contains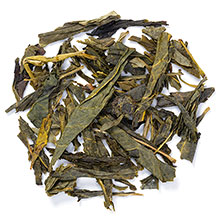 pomegranate green - Pomegranate has historically been a symbol of fertility, marriage, abundance, as well as righteousness. We promise none of these things upon consumption, but trust you will enjoy this blend of green tea from China, sweetly tart pomegranate flavor, and decorative raspberry pieces. Subtle fruit flavor, refreshingly crisp texture and airy, evaporating finish. Not an overly fruity cup, just beautifully accented.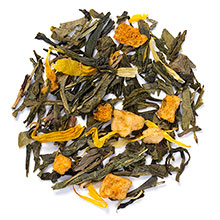 apricot green - Green tea from China with the delicate flavor of apricots. Warm, dense fruit-floral aroma, succulent texture. Makes a light and refreshing drink that's popular both hot and iced. An Adagio customer favorite.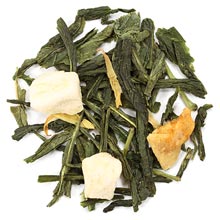 mango green - An ancient Hindu legend recounts the story of the mango tree growing from the ashes of the sun princess, who had been incinerated by an evil sorceress. When the mango ripened and fell to the ground, the beautiful princess emerged again. Our Mango Green combines the vegetal goodness of green tea with the flavor of perfectly ripened mangoes. Juicy texture, creamy-dry finish with great floral aromatics and candy sweetness. Sun princess sold separately.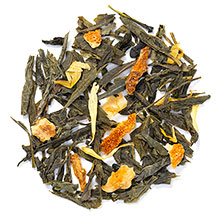 citron green - Green tea from China with the delicate flavors of lemon and lime. The clean vegetal notes of the green tea blend seamlessly with the citrus crispness. Delightfully sweet, lifted by the freshness of the lemon-lime. Not too dry or too citrusy. An Adagio customer favorite, perfect hot or iced.