sampler set contains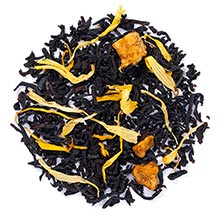 peach - In the famous poem 'The Love Song of J. Alfred Prufrock', T.S. Eliot wrote, 'Do I dare to eat a peach?' The literary-minded folks at Adagio have taken it upon themselves to provide Mr. Eliot with an answer: why not just steep a cup of our bright Ceylon black tea flavored with sweet peaches? Delightful peach-nectar fragrance, lingering floral aromas as you sip, pleasant astringency and 'peach fuzz' dryness. Simply peachy...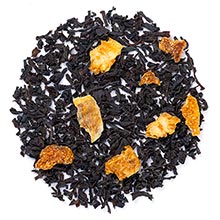 orange - Lemons and black tea make such a natural pair, so why not try oranges? Our Orange Black tea combines fresh and brisk Ceylon black tea with the flavor of juicy, ripe Florida oranges, playfully accented with orange peel. Zesty orange rind dryness, with hints of soft, sweet orange juice (makes a great balance). Crisp and refreshing cup. Orange and tea, you make quite the pair!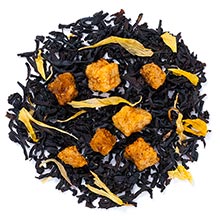 apricot - Imagine being whisked away to a perfumy, fresh apricot orchard... That's the sensation you'll get with your first sip of our delectable Apricot Black tea. Combining the sweet flavor of ripe summer apricots with the tangy bright taste of Ceylon black tea, you can experience it year-round. Soft, mellow mouthfeel, succulent flavor and balanced astringency.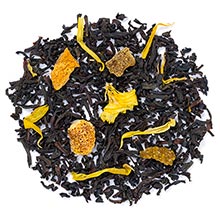 grapefruit - A wake up call to the senses! Our Grapefruit tea is invigorating both in scent as well as taste. This blend of tangy, full Ceylon black tea and grapefruit is fantastic choice for a morning cup, or any time you need a citrus-infused pick-me-up.