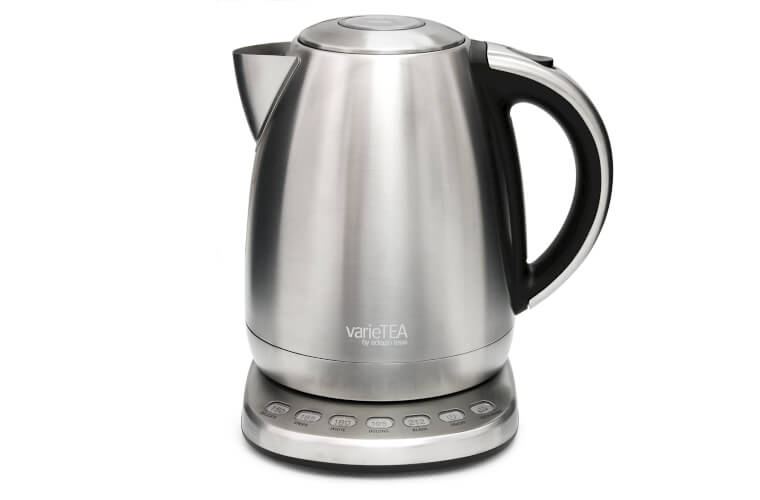 varieTEA kettle
Our advanced kettle has precise settings for all tea varieties, making it easy to achieve a water temperature that is ideal for your tea of choice. It also has a "keep warm" feature that will maintain a selected temperature for a half hour. Temperature settings include 150, 165, 180, 195 and 212F. Concealed heating element with boil-dry protection. The water level window is made from Tritan copolyester, a new BPA-free material; black non-metal parts are made from polypropylene. Made in China. 57 oz (1.7L). 1500 watts. 110 volts/60 hz.
185 reviews
5 recent reviews
sort:
instructions
directions
Press lid open button and fill kettle with water. Be careful to not exceed the max marker. Set kettle on base, plug into outlet, and close lid shut. To begin heating, select desired temperature and press the on/off button, which will illuminate indicating activity. Selected temperature will blink while heating and alight for one minute upon reaching the desired setting, at which point the kettle will automatically shut off. Alternatively, press the keep warm button and the kettle will cycle on and off to maintain desired temperature for 30 minutes. Do not heat any liquid other than water and never place tea leaves inside a kettle.
cleaning
Unplug the power cord and permit kettle to cool before cleaning it. Wipe outside with a soft damp cloth. Rinse inside with clean water. After extensive use, scale may build up inside. To remove, fill the kettle with vinegar and let soak overnight. Dispose of vinegar in the morning, fill with water and bring to boil. Pour water out and rinse thoroughly.
warning
Children are often unaware of the danger posed by electrical appliances. To protect children, please keep this kettle and other appliances out of their reach. For indoor use only. To prevent fire, electrical shock or personal injury, please observe these precautions:
Do not heat any liquid other than water
Do not immerse power cord, plug or base unit in water
Do not operate if electrical components are wet
Do not operate with damaged power cord or plug
Do not disassemble the kettle or base unit
download instruction manual