sampler set contains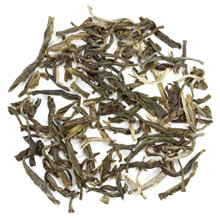 jasmine chun hao - A perfumy tea from the Fujian province of China, infused with the delicate scent of jasmine flowers. Sweet cup, notes of warmed sugar and jasmine in bloom on a summer evening. Slightly toasty like a fresh biscuit. Light, refreshing cup and not overwhelmingly floral. A perfect introduction to our selection of excellent jasmine teas.
white monkey - Green tea (do not be confused by its name) that grows along the slopes of the Taimu mountains in the Fujian province of China. The young leaves and unopened buds are carefully gathered and processed exclusively by hand. The result is a tea that appears intricately woven with large and beautiful white tips. It produces a warm colored cup, infused with a fresh, almost wildflower sweet scent and slightly dry finish.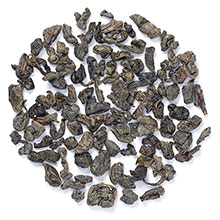 gunpowder - A classic green tea from Zhejiang province, China. Gunpowder, as the name implies, is made up of leaves hand-rolled into tiny pellets. These resemble gunpowder, and give this tea its distinct name. Full-bodied cup with a hint of smokiness and smooth mouthfeel. Blend with spearmint to create the famous 'Moroccan Mint' tea.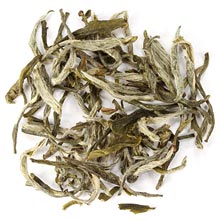 green pekoe - Green tea from the Fujian province of China. In professional tea terms, 'Pekoe' is actually just a grade of tea, referring to the size of the leaf. Many tea drinkers have seen this term on packages of everyday black teas (most famously, 'Orange Pekoe'). Our Green Pekoe is a lovely everyday green tea: delicate pale yellow liquor, soft texture and pleasant aroma like freshly roasted artichokes or okra. Slightly toasty and very balanced, mellow astringency.