MASS EFFECT
signature blends by Jessica S.
Save the galaxy. Drink tea.
Inspired by the best-selling action RPGs from Bioware, each tea is based off a character from the Mass Effect games.

Anderson
hazelnut, cream, vanilla

Garrus
chocolate, oriental spice, hazelnut

Kaidan
mocha nut mate, cream, rooibos vanilla chai

Kasumi
cream, earl grey moonlight, rooibos jasmine

Shepard
assam melody, gunpowder, blood orange

Tali
earl grey lavender, wild strawberry, strawberry

Aria
oriental spice, thai chai, honeybush chocolate

Ashley
cherry green, gunpowder

Chakwas
apricot green, pina colada

Citadel
earl grey moonlight, vanilla, currant

Disappointing Ending
strawberry, blueberry, green chai

EDI
white cucumber, white tangerine, white pear

Grunt
mango melange, fruit medley, sour apple

Jack
ginger, tiger eye, cinnamon

Jacob
currant, passionfruit, fruit medley

Javik
cocomint green, hojicha, peppermint

Joker
cherry, chocolate, chocolate chai

Legion
ginger, peppermint, masala chai

Liara
blueberry, grapefruit oolong, currant

Mako
almond oolong, lapsang souchong, chocolate chai

Miranda
earl grey bravo, ginger, cream

Mordin
almond oolong, cream, honeybush hazelnut

Normandy
almond oolong, caramel, chocolate chai

Omega
oriental spice, tiger eye, masala chai

Samara
chamomile, foxtrot, lemon grass

Shepard/Vakarian 2012
assam melody, chocolate, lapsang souchong

Thane
vanilla green, earl grey green

The Illusive Man
lapsang souchong, caramel, tiger eye

Vega
pu erh dante, lapsang souchong, apricot

Wrex
lapsang souchong, caramel, cinnamon

Zaeed
irish breakfast, gunpowder, sour apple
share on tumblr
let your fandom flag fly!
Are you & these teas the OTeaP? Show some love by sharing these teas with your fandom friends on tumblr!
post to tumblr >>
sampler set
maximize variety. minimize commitment.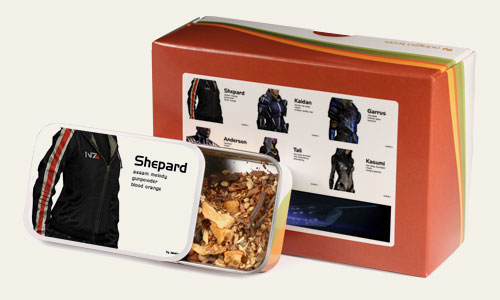 This tea is part of the Mass Effect sampler set which includes six community favorites packaged in spiffy metal tins. Perfect for displaying in your tea cupboard or for refilling as a tea transport vessel while on the go. Also makes a great gift for your Fandom and tea-loving special someone.