AVATAR: LAST AIRBENDER
signature blends by Tech .
But everything changed when the fire nation attacked
Get your Tea-Bending on! Avatar: The Last Airbender is an emmy award winning American animated television series that aired for three seasons on Nickelodeon from 2005 to 2008. The series is set in an Asian-influenced world wherein some are able to manipulate the classical elements by use of psychokinetic variants of Chinese martial arts known as 'bending.' The show combined the styles of anime and American cartoons, and relied for imagery upon various East-Asian, Inuit, Indian and South-American societies. And now theres teas to go with your favourite characters.

Aang
dewy cherry, chamomile, earl grey lavender

Cactus Juice!
citrus mate, sour apple, white cucumber

Iroh
lemon grass, rooibos jasmine, ginger

Katara
masala chai, almond, cream

Toph
pu erh dante, forest berries, white monkey

Zuko
honeybush vanilla, chocolate, passionfruit

Azula
hazelnut, chocolate chai

Mai
spiced mate, pomegranate, summer rose

Sokka
spearmint, gunpowder, honeybush orange

Wang Fire
cinnamon, blood orange, lapsang souchong
share on tumblr
let your fandom flag fly!
Are you & these teas the OTeaP? Show some love by sharing these teas with your fandom friends on tumblr!
post to tumblr >>
sampler set
maximize variety. minimize commitment.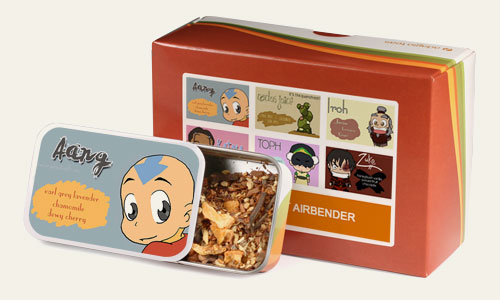 This tea is part of the Avatar: Last Airbender sampler set which includes six community favorites packaged in spiffy metal tins. Perfect for displaying in your tea cupboard or for refilling as a tea transport vessel while on the go. Also makes a great gift for your Fandom and tea-loving special someone.