sampler set contains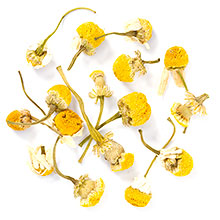 chamomile - The finest chamomile flowers in the world come from the Nile River Valley of Egypt. Considered a remedy for all ills by the ancient Egyptians, this golden herb remains a modern favorite to promote calm and relieve anxiety. When steeped, these fragrant blossoms smell of freshly cut apples and produce a rich, golden cup with calming flavor and sweet, floral finish. This caffeine free herbal infusion is delicious served with honey.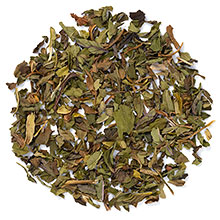 peppermint - A native of the Mediterranean, peppermint leaves were often used to crown luminaries in ancient Greece and Rome. It continues to be revered for its cooling, crisp aroma, deeply refreshing flavor and smooth finish. If you have yet to try gourmet peppermint tea, made from just pure peppermint (no added oils or sweeteners), you'll be pleasantly surprised by its superior flavor.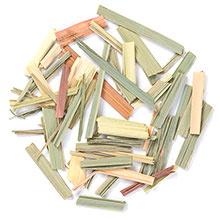 lemon grass - A native of Southeast Asia, lemon grass was introduced to the American palate with the growing popularity of Thai cuisine. It has a delicate Meyer lemon taste, with slight hint of sweet ginger, and very aromatic floral fragrance. Smooth and fragrant when steeped as a simple cup of tea, soft mouthfeel and clean finish. Greatly uplifting, yet naturally caffeine free.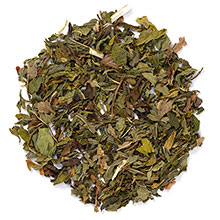 spearmint - A native of the Mediterranean, spearmint was revered by ancient Romans for its ability to 'stir up the mind.' It continues to be savored for its refreshingly clear aroma and soothing qualities. If you find peppermint a bit too cool sometimes, spearmint is definitely for you. This herb has a rounded, slightly smoother and more grounded taste than peppermint, with warming and cooling notes. Very gentle to the palate, and naturally caffeine free.