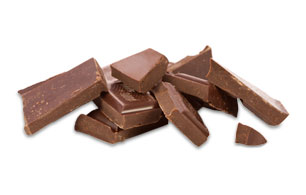 chocolate
While the greatest chocolates may come from Europe, the best chocolate tea undoubtedly comes from Adagio. Our Chocolate Black tea starts with the bright, full qualities of Ceylon black tea, infused with the flavor of rich dark chocolate. Very smooth, clean and liquid texture, much like a chocolate liquor, rather than cocoa powder. Decadent and divine.
Steep at 212° for 3 minutes.
ingredients & lore
blended with

black tea, cocoa nibs and natural chocolate flavor

The story of chocolate begins with Columbus' discovery of America. Cocoa beans were among the curiosities he brought back from his voyage. However, it wasn't until the conquest of Mexico that the Spaniards learned of 'chocolatl,' a drink made from cocoa beans that the Aztecs served Cortez and his troops. The Spaniards found the drink bitter. Luckily, the New World was also a source of cane sugar. Combining the two, and bringing the recipe to Spain, proved a booming business. The Spanish managed to keep it a secret for nearly a hundred years.
This tea contains a
high level
of caffeine