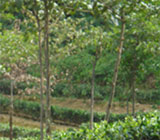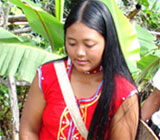 Q
What is your favorite part of growing tea?
A
"My favorite part is shaping the Yunnan Noir tea. It has a beautiful shape which is curl and golden. It requires experience and patience. Now I am still young I have a lot to learn from my master who is my father. I am happy when I can make better shape for a new lot. I am sure I can get better and better in the future."
Q
Conversely, what is the hardest part of your job?
A
"The hardest is when I failed to make a nice shape of the tea. My master has to do it again."
Q
What do you think makes your tea unique or better than others?
A
"In my hometown we love tea, we love the wonderful smell of our black tea. With this love we can make better tea. Which comes from our heart."
Q
Are there any tips you can give on how to best brew your tea?
A
"Our Yunnan Noir tea is delicious to be drunk both hot and cold. I myself prefer to drink the tea when it is cold."