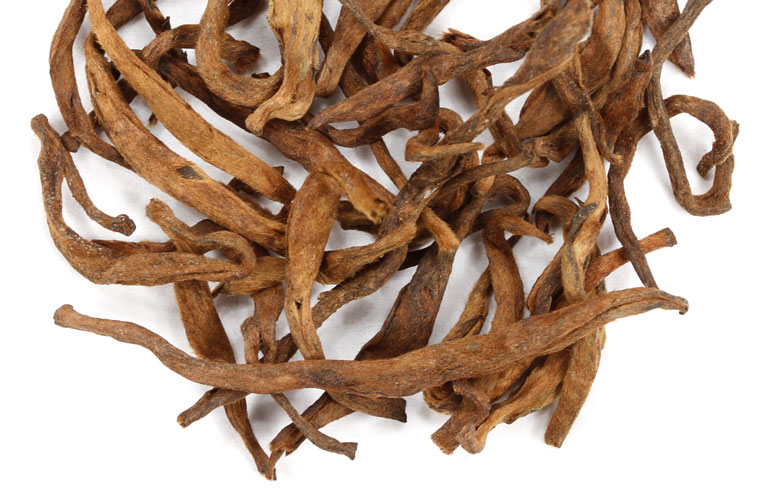 yunnan pu erh gold
One of the five main types of tea (white, green, oolong and black being the others), pu'erh tea stands apart with its uncommonly soft earthy flavor and woodsy tones. Unlike all other teas, pu'erh (pronounced 'poo-err') is actually aged. The tea leaves go through a natural fermentation process before the tea is gently dried. This creates a cup with zero astringency and deep, rich body. Pu'erh is extraordinarily smooth and deeply refreshing. Our Masters Pu'erh Gold (the shou variety of pu'erh) is a rare find, composed of long, golden leaf buds, very difficult to maintain through the aging process. Clean, damp forest aroma, with full flavors of mushrooms, roasted root vegetables, leather and earth. Mellow and grounding. If the flavor is too strong for you, simply dilute with water (which, interestingly, doesn't work for many other teas!) Pu'erh is extremely versatile - you can steep it for as little as 30 second or 30 minutes, whatever pleases your palate. It won't get bitter and is great for multiple infusions.
102 reviews
5 recent reviews
sort: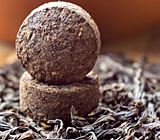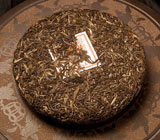 fresh from origin
Pu'erh tea gets its name from a county located in southern Yunnan. There are two types of pu'er tea: sheng ('green' or 'raw') and shou ('ripe' or 'cooked'). Historically, raw pu'erh was created first. It takes years to slowly age, and if properly stored (pu'erh is essentially a 'living tea', much like wine), holds its value and flavor for decades. Due to extreme demand for this tea, the ripe variety was invented about 40 years ago to speed up the aging process. The tea leaves are piled in gently warmed heaps and allowed to carefully ferment. Ripe pu'erh is usually much darker than the raw pu'erh and often smoother. Raw pu'erh tasted when too young (less than several years old) can be incredibly astringent. This quality mellows out dramatically with age. Both are widely revered in China for their soothing, purifying qualities unmatched by other teas.
This tea contains a
high level
of caffeine
packaging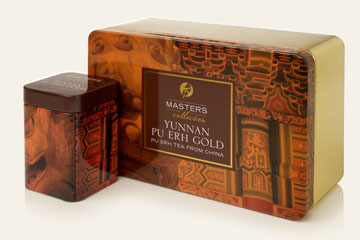 All of our master teas are packaged in beautiful air-tight tins that help your tea stay as fresh as the day it was picked.