Attack on Titan
signature blends by Mari Sue

Rivaille my Levi's
masala chai, chocolate chai, peppermint

Hold my Hanji
irish breakfast, vanilla, caramel

Sasha Sosho Sishi Seshe Sushu
chocolate, hazelnut, honeybush vanilla

Mikasa Es Su Casa
orange, cream, rooibos orange

I Got The Moves Like Jeager
lemon grass, peppermint, spearmint

Armin and a bit Alarmin
rooibos vanilla, mango melange, fruit medley

Jean's Faith in Humanity
chocolate chip, chocolate chai, spiced apple chai

Marco? Polo!!
gingerbread, vanilla, caramel

Erwin's servin you his tea
white pear, white peach

Reiner's title doesn't fit
caramel, cream, rooibos vanilla

Bertolt me to drink this tea
blueberry, forest berries, gingerbread

Anni r u ok
cherry, passionfruit, blood orange

Jeezum Christa Take the Wheel
lemon grass, citrus mate, lemon grass

Ymir yfar ywhere ever you are
rooibos jasmine, rooibos lemon cloud, mandarin green

Heeeere's Conny!
white monkey, gunpowder, spearmint
share on tumblr
let your fandom flag fly!
Are you & these teas the OTeaP? Show some love by sharing these teas with your fandom friends on tumblr!
post to tumblr >>
sampler set
maximize variety. minimize commitment.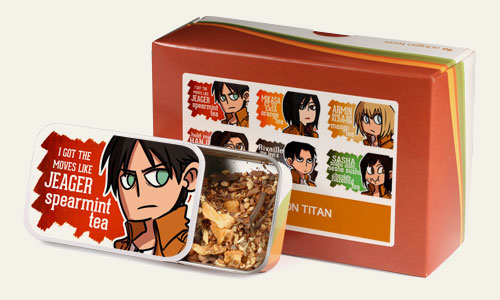 This tea is part of the Attack On Titan sampler set which includes six community favorites packaged in spiffy metal tins. Perfect for displaying in your tea cupboard or for refilling as a tea transport vessel while on the go. Also makes a great gift for your Fandom and tea-loving special someone.