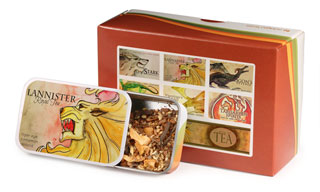 fandom samplers
If you are on a mission to try all of the 10,136 Signature Blends our customers have created, you have quite the test of endurance ahead. Luckily, our new Fandom Blend Sampler Set may make the journey a little less grueling. Each sampler set includes six community favorites packaged in spiffy metal tins. Perfect for displaying in your tea cupboard or for refilling as a tea transport vessel while on the go, our Fandom Blend Sampler Set also makes a great gift for your Fandom and tea-loving special someone.
Sherlock
by Cara McGee
Teen Wolf
by Meg Daunting
Doctor Who
by Cara McGee
Magic Potions
by Robert Pirlot
Game Of Thrones
by Aun-Juli Riddle
The Town We Do Not Speak Of
by Cara McGee
Hero Recovery
by Cara McGee
Dragon Age
by Cara McGee
Firefly
by Amy Zen
Tales And Tea Leaves
by Aun-Juli Riddle
Tea For Travelers
by Cara McGee
Avatar: Last Airbender
by Tech .
Mass Effect
by Jessica S.
Attack On Titan
by Mari Sue
Mlp
by Natasha N