Dragon Age sampler
by Cara McGee


Dorian Pavus
Dark, smokey, alluring and incredibly sexy, this tea knows it's hot stuff and will magically coax you into relaxation.


Cullen Rutherford
Straight forward, maybe even a little simple, but strong, earnest, and exactly the cup of tea you need when everything else gets to be a little much. Brews up strong, though may be addicting.


Garrett Hawke
A little sharp, a little sassy, but a lot strong and ready to help you out of any tough situation. A good tea to have especially if you live in a place called 'Darktown' (please move).


Fenris
Bitter and yet curiously endearing with grassy, rich overtones with a slight floral note lurking in the back. A good detox tea after a night spent drinking expensive wine.


Solas
How to brew: Boil a hefty mug of water. Just. Throw away the tea. Tea is terrible. Put an egg in boiling water for 12 minutes. Carefully peel cooked egg. You now have a tasty treat. (For real though, for a tasty treat, hard boil an egg, gently roll the egg on a hard surface so that you crack the shell but it stays intact on the egg. Steep a couple of tablespoons of this tea until super strong. Add a splash of soy sauce if you'd like. Place your gently cracked hardboiled egg in the tea and let it steep for a few hours, or overnight in the fridge. Peel and eat your beautiful marbled tea egg!)


Alistair
Ridiculously sweet, romantic, and playful, though still brews up strong. A blend that will sweep you off your feet and cry and cry and cry.
sampler set
maximize variety. minimize commitment.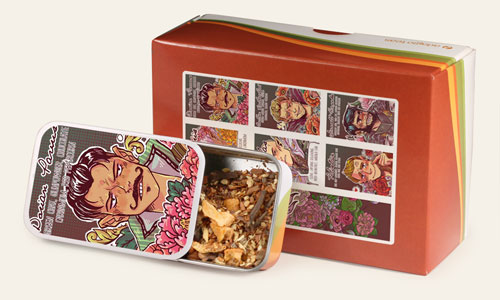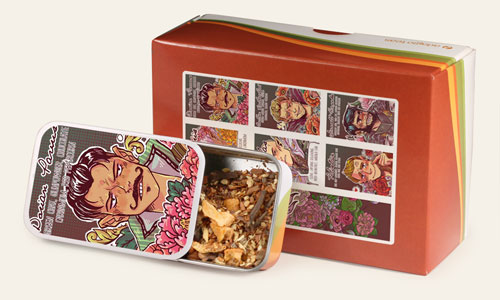 Perfect for displaying in your tea cupboard or for refilling as a tea transport vessel while on the go. Also makes a great gift for your Fandom and tea-loving special someone.


sampler set
6 sample tins