Mass Effect sampler
by Jessica S.
Save the galaxy. Drink tea.
Inspired by the best-selling action RPGs from Bioware, each tea is based off a character from the Mass Effect games.


Shepard
Tangy, bloody and smoky, with the slightest hint of bitterness. This is the tea to drink after arguing with the council, punching reporters, and saving the galaxy -- AGAIN. Steeps to a bright red that will perfectly match your N7 armor. Because of the mix of green and black teas, it's recommended you brew this tea at 195 degrees for three minutes.


Kaidan
Strong. Solid. Dependable. Kaidan's tea has reduced amounts of caffeine so as not to rattle his L2 implant. It's comforting, with just a touch of spice.


Garrus
Dark, strong, and a little bit dangerous, this blend of black teas with notes of chocolate and spice fuels Garrus for a day of sniping and sarcasm. He'd make some for you now, but he's in the middle of some calibrations.


Anderson
Anderson's not a complicated guy. He's busy, though, so when he drinks tea, he doesn't have the time to mess with sugar or creamer. He likes this flavored blend of simple black teas. The cream, hazelnut, and vanilla in it means he can simply brew and go.


Tali
Tali likes her tea bright and sweet, with a fruity, floral twist. You'd better not say anything about it. She has a shotgun.


Kasumi
A sweet, yet sneaky tea, with notes of bergamot and a floral aroma.
sampler set
maximize variety. minimize commitment.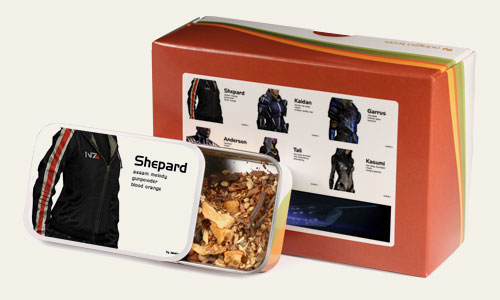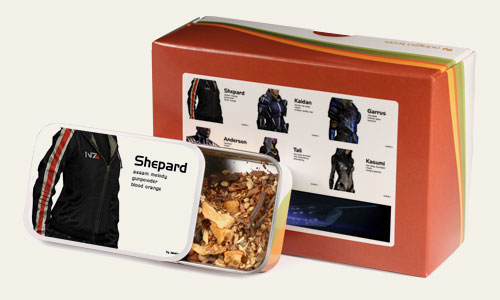 Perfect for displaying in your tea cupboard or for refilling as a tea transport vessel while on the go. Also makes a great gift for your Fandom and tea-loving special someone.


sampler set
6 sample tins