Teen Wolf sampler
by Meg Daunting
Find your inner Tea Wolf
Inspired by the MTV show Teen Wolf! Try a tea blend to soothe your inner wolf. Character teas, ship teas and theme teas of all kinds and each one taste tested. Join the tea fandom and get access to special teas!


Ginger Fabulous
Much love to the sharp, brilliant and totally fabulous Lydia Martin! Peach and ginger all the way, this is a very aromatic tea. This is a blend with a delicate peach white tea and a juicy peach oolong, it's topped off with just a bit of ginger to give it a refreshing clean finish. Keep in mind, this is best when steeped for 1 to 1.5 minutes at the most!


Sour Wolf
Oh, Derek! Don't let his scowly face put you off, there is some sweet under that surly exterior! Far from sour, this blend is fresh and apply. The aroma is rich like apple pie and cinnamon with a swirl of warm vanilla. With a clean fresh finish it's a perfect fall tea! Inspired by the MTV series Teen Wolf!


Snark Nerdy to Me
A blend for Stiles Stilinski! Really green and fragrant, when you first open the bag it'll smell like a wild field of grass. The hibiscus really rounds out the flavor nicely giving it a bright floral touch. Mmm, delicious! I recommend steeping for standard green tea times (2-3 minutes) at lower temperatures (150-180 degrees).


Everybody's Tea
It's your type, honest! Let it try to convince you. ;) Earl Grey Bravo is a delicious Adagio favorite, the honeybush vanilla cuts the strong Earl Grey with a rich touch of sweetness. The blood orange highlights the citrus flavor of the Earl Grey very nicely.


GoalSteeper
A yummy warm chai blend that has hints of chocolate and a touch of coconut! The coconut is very light and lingers a bit after drinking. With a rich spicy aroma you won't want to miss this for Fall!


Sugar Puppy
A blend for fans of the wonderful, sweet-hearted Scott McCall of Teen Wolf fame. This is a warm and happy blend that smells of sugar and cookies in the bag and tastes deliciously smooth and naturally sweet in the cup. Add some sugar, honey or even milk to sweeten it up to your liking! Highly recommend steeping for 3 minutes with water at 212 degrees.
sampler set
maximize variety. minimize commitment.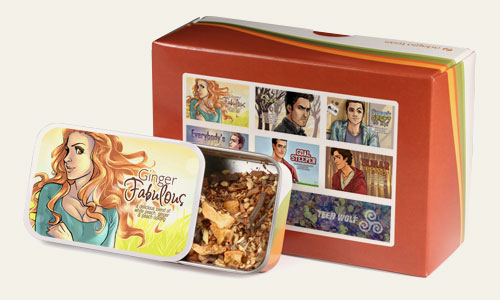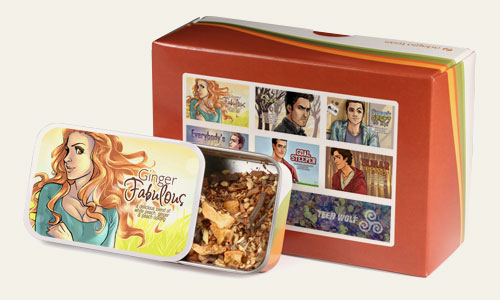 Perfect for displaying in your tea cupboard or for refilling as a tea transport vessel while on the go. Also makes a great gift for your Fandom and tea-loving special someone.


sampler set
6 sample tins