Avatar: Last Airbender sampler
by Tech .
But everything changed when the fire nation attacked
Get your Tea-Bending on! Avatar: The Last Airbender is an emmy award winning American animated television series that aired for three seasons on Nickelodeon from 2005 to 2008. The series is set in an Asian-influenced world wherein some are able to manipulate the classical elements by use of psychokinetic variants of Chinese martial arts known as 'bending.' The show combined the styles of anime and American cartoons, and relied for imagery upon various East-Asian, Inuit, Indian and South-American societies. And now theres teas to go with your favourite characters.


Aang
With the calming sweet florals of chamomile and lavender paired with the tart fruit flavours of bergamot and cherry. This blend is fun and free spirited with a kick for the avatar inside. a soothing tea good for inward reflection


Cactus Juice!
With a citrus mate base enhanced with the tart-floral notes of sour apple and a subtle dry cucumber finish this tea is the quenchiest! I imagine it's best iced and drank under the hot sun in the desert.


Iroh
The Jasmine Dragon; A tea to instill wisdom and thought. With (of course) Jasmine, Lemongrass and Ginger its tasty, relaxing and satisfying.


Katara
Kind and sweet but with some spice for sure, this tea mixes the warm blend of masala chai with the nutty sweet of almond and a touch of cream to round it out.


Toph
With the deep forest flavour of pu erh dante, the fruit of forest berries and the fresh wildflower-like white monkey, this tea is inherently EARTH but with a bit of sass.


Zuko
THIS TEA TASTES OF CONFUSION AND ANGST. But deliciously so with the flavours of one of my favourite desserts, it will be sure to help you look within yourself to save yourself from your other self and help your true self reveal itself so you can deal with those peksy internal demons and reclaim your honor. Or at least forget about things for a moment while you drink this yummy tea reminiscent of chocolate passionfruit cake and vanilla ice cream.
sampler set
maximize variety. minimize commitment.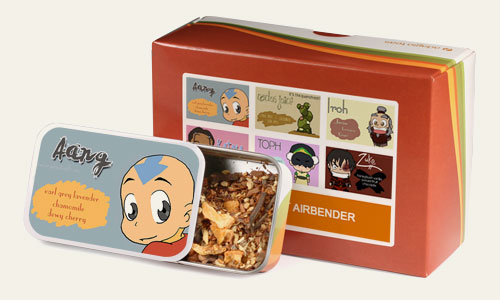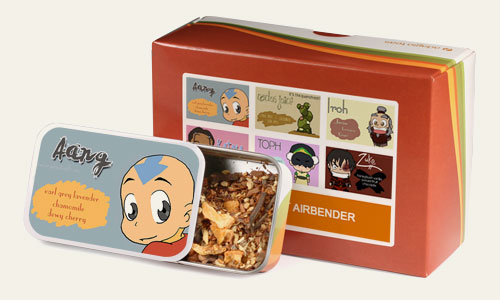 Perfect for displaying in your tea cupboard or for refilling as a tea transport vessel while on the go. Also makes a great gift for your Fandom and tea-loving special someone.


sampler set
6 sample tins