The Town We Do Not Speak Of sampler
by Cara McGee


Glow Cloud
All Hail this ominously bright, fruity blend, laced with just a tinge of the special kind of petrichor that only comes after a rain of small, dead animals.


The Sheriff's Secret Police
We are told the Sheriff's Secret Police drink this special blend to keep them alert while they listen for your whispers as they stand over your bed while you sleep.


The Weather
[muffled rap music playing in the distance]


cecil (the voice)
Bright, curious, and smooooth, and just this side of quirky, maybe even a little embarrassing sometimes. Regardless, you'll find yourself coming back for more.


Perfect Carlos
A perfectly sweet, normal tea. It tastes like cookies. Fresh baked, perfect, golden chocolate chip cookies. The kind with the crispy edges and gooey, melty centers. Especially with milk added. And then you get the most beautiful, warm, caramel colored tea. It's just amazing. Really. So perfect.


Steve Carlsberg
What a bitter jerk.
sampler set
maximize variety. minimize commitment.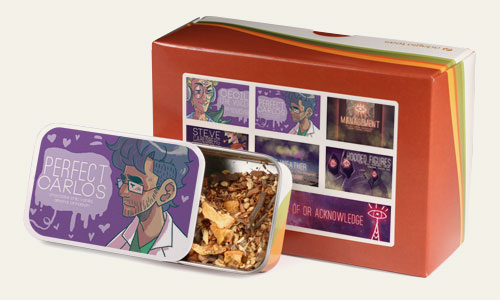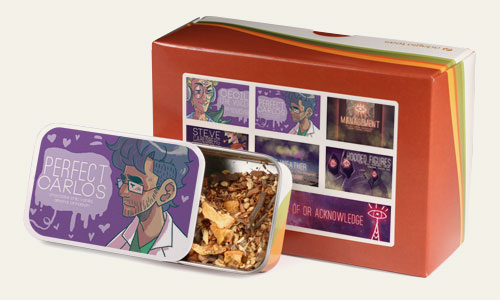 Perfect for displaying in your tea cupboard or for refilling as a tea transport vessel while on the go. Also makes a great gift for your Fandom and tea-loving special someone.


sampler set
6 sample tins