Sherlock sampler
by Cara McGee
Modern retelling of the adventures of Sherlock and Holmes
Inspired by BBC's hit series Sherlock, these blends strive to evoke qualities of the characters both from the classic literature and the modern retelling. Whether your favorite character is Mycroft (cake!), Sherlock (smoke and mystery) or Moriarty (a bit insane and guaranteed to burn the heart of you if you're not careful), you'll hopefully find a blend to suit your taste.


Sherlock Blend
All at once exotic and mysterious and perhaps a little bit insane, with a lingering hint of smoke.


Watson Blend
Queen and Country traditionalist, but still recounting his days in Afghanistan drinking green tea, John Watson prefers his tea with a bit of cream, no sugar, and just a little warm from a touch of cinnamon.


Mycroft Blend
No brother, I have not been eating more cake. I've been drinking it.


Molly Hooper Blend
Naturally sweet, mild, and most importantly, calming and soothing.


Lestrade Blend
Smoky traces of gunpowder, aged leather, mellowed with a trace of hazelnut. A distinguished, if tired, blend.


Mrs. Hudson Blend
A sweet, mature blend, with floral notes and a faint whiff of biscuits.
sampler set
maximize variety. minimize commitment.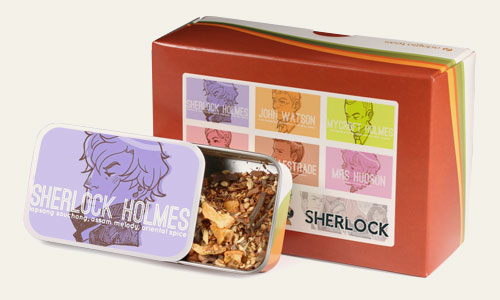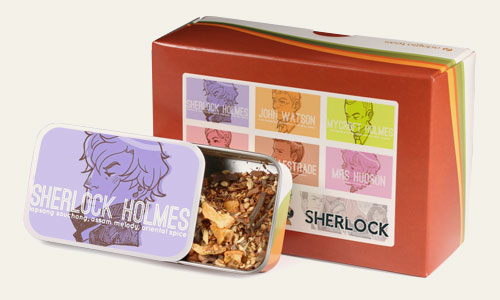 Perfect for displaying in your tea cupboard or for refilling as a tea transport vessel while on the go. Also makes a great gift for your Fandom and tea-loving special someone.


sampler set
6 sample tins