Magic Potions sampler
by Robert Pirlot
Harry Potter
If your a fan of the Harry Potter Books/Movies series then these are the teas are for you. If your adventurous then there's a tea here for you. Each tea is based on a potions or drinks that was in the series. Be careful some potions are very unique.


Pumpkin Potion
Enroll in a School of Witchcraft and Wizardry, think magical thoughts and drink this.


BeerButter
Taste that Sweet taste of BeerButter.


Polyjuice
Why Brew for 21 days when you have instant polyjuice. Polyjuice Potion is a very complicated potion that allows the drinker to assume the form of someone else. WARNING cannot change into an Animal.


Felix Felicis
Also known as Liquid Luck. This is a magical potion. Felix Felicis makes the drinker lucky for a period of time, depending on how much is taken, during which everything they attempt will be successful. It's meant to be used sparingly, however, as it causes giddiness, recklessness, and dangerous overconfidence if taken in excess. Felix is highly toxic in large quantities and is also a banned substance in all organised competitions, such as Quidditch, along with all other methods of cheating. It is very difficult to make, disastrous to get wrong, and requires six months to stew before it's ready to be consumed.


Draught of Peace
The Draught of Peace is a potion which relieves anxiety and agitation. Its ingredients are powdered moonstone, syrup of hellebore, powdered porcupine quills, Valerian root, and powdered unicorn horn. It should be a turquoise blue when finished and simmered before being drunk. It is ironically a difficult potion to make, requiring that the brewer follow the directions carefully, because making a mistake can have drastic consequences. Adding too much of the ingredients, for instance, will put the drinker of the potion into a deep - and possibly irreversible - sleep.


Veritaserum
Veritaserum is clear, colourless, and odourless and is almost indistinguishable from water. The potion must mature for a full lunar phase, and is quite difficult to produce. It can be mixed with any drink, and three drops are a sufficient dose to make the drinker 'spill out his innermost secrets'. Thus, the potion forces the drinker to tell the complete truth to any question asked to him/her.
sampler set
maximize variety. minimize commitment.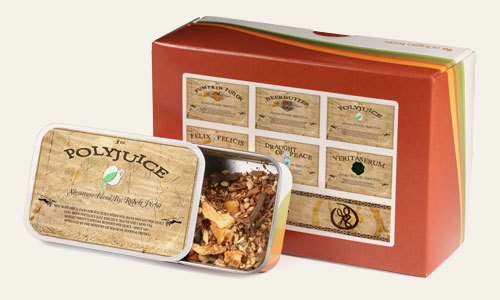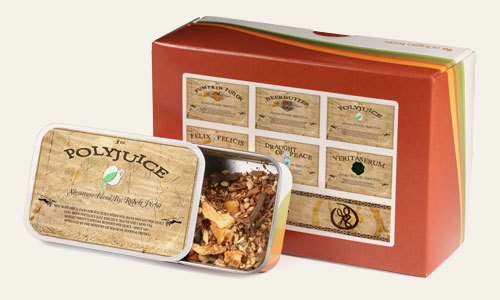 Perfect for displaying in your tea cupboard or for refilling as a tea transport vessel while on the go. Also makes a great gift for your Fandom and tea-loving special someone.


sampler set
6 sample tins