Firefly sampler
by Amy Zen
Burn the land and boil the tea
You can't take the sky from me.


Inara
Regal and steeped in tradition, this exotic blend is spicy and invigorating. Assam, thai chai, and oriental spice.


River Tam
Floral, light and sweet tasting with a bit of nuance in the rose flavour, this is my own personal favourite of my Firefly teas. Perfect hot and mixed with just a small amount of sugar, or iced and drunk on a warm summer day. Seriously, this tea is delicious, you can't go wrong with it.


Jayne Cobb
At first sip, you're likely to only taste the smoke, but leave this tea to cool down a bit and the cup slowly transforms into a sweet blend with hints of mint. Pretty cunning, don'tcha think?


zoe
Masala chai and caramel, with extra cinnamon-ny goodness blended in. This blend if not for the faint of heart, but will definitely wake you up something fierce on cold mornings. Sweeten this tea with a bit of milk and sugar, and it's absolutely divine.


Serenitea
Love keeps her in the air when she oughta fall down, tells you she's hurtin' 'fore she keens. Love makes Serenity a home, and love also so happens to makes her a tasty cup of tea, with mint, hazelnut, and slightly smoky gunpowder.


Captain Mal
Hopeful, a point of interest, and just a bit bloody. Smooth chocolate and blood orange with a touch of almond oolong, Captain Mal is a zesty and sanguine blend that aims to misbehave. Make sure the tea leaves are properly mixed on this one, the blood orange bits tend rise to the top of the bag/tin.
sampler set
maximize variety. minimize commitment.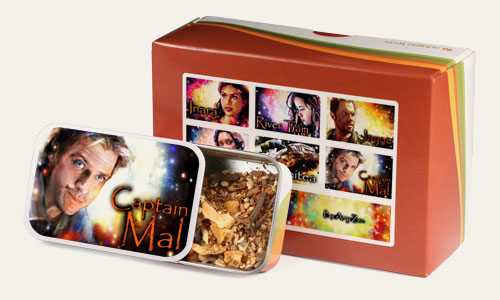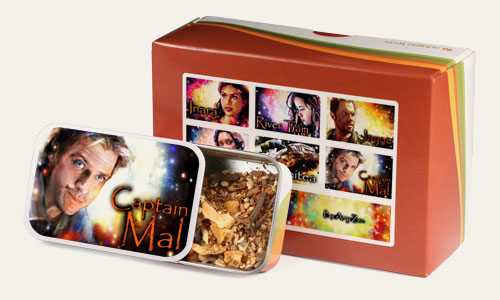 Perfect for displaying in your tea cupboard or for refilling as a tea transport vessel while on the go. Also makes a great gift for your Fandom and tea-loving special someone.


sampler set
6 sample tins