sampler set contains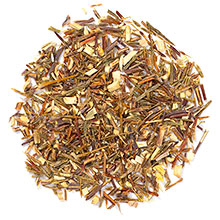 green rooibos - Green rooibos is harvested from the same South African plant as the traditional red rooibos but is processed differently. Whereas the red rooibos leaves are bruised and oxidized, the green rooibos leaves are specially treated to prevent oxidation, leaving them closer to their natural state. The resulting brew is lighter bodied, less citric-piney than red rooibos and delivers a woody-grassy cup with natural sweetness and fruit notes. This natural sweetness and low tannin content ensures a smooth, never bitter brew that requires little, if any, sweetener. Like red rooibos it is also naturally caffeine free and great plain or flavored, hot or iced for anytime enjoyment.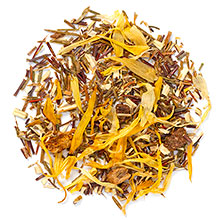 green rooibos bonita - Light bodied with a natural subtle sweetness, green rooibos plays well with a variety of flavors. This summer fruit inspired blend of organic green rooibos with peaches, strawberries and citrus is juicy, nectar-like and supremely refreshing. This "palate pretty" medley of flavors is muy delicioso; hot or iced and naturally caffeine-free.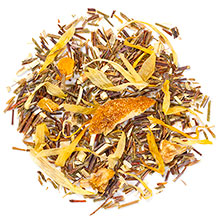 green rooibos citron - Citrus flavors of lemon and orange paired with the light bodied natural fruitiness of organic green rooibos will carry you away to orange groves and lemon trees. Great hot or iced this naturally caffeine-free juicy, uplifting blend will bring a ray of sunshine to your cup.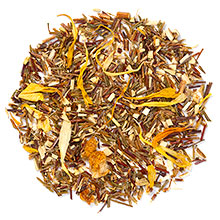 green rooibos key west - Green rooibos is a lighter bodied, un-oxidized version of the traditional "red tea." Its natural fruitiness is a perfect base for tropical flavors. Our Key West blend of sweet passionfruit, luscious mango and a hint of tangy apricot will whisk you away to the sunny shores and ocean breezes of Papa's paradise. Naturally caffeine-free for your "Sunset Celebration."