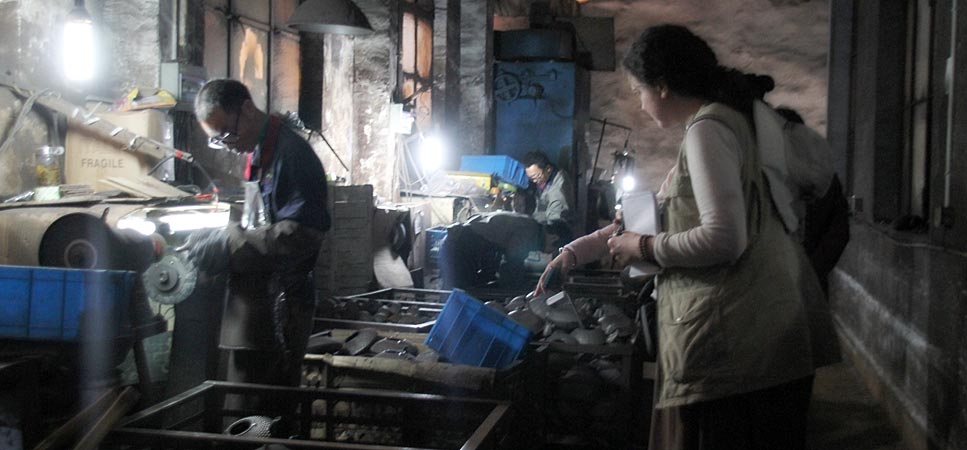 Day 8 - We visit a cast iron teapot factory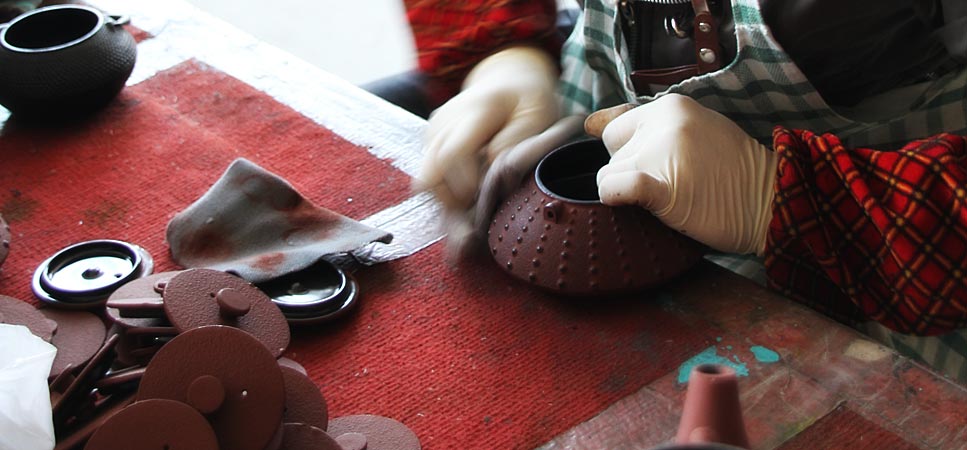 Artisans working on the teapots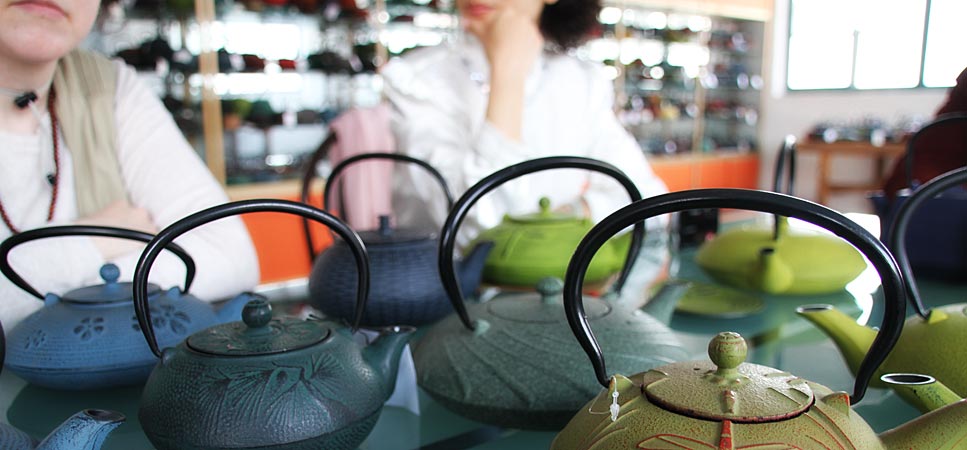 Some hard decisions to make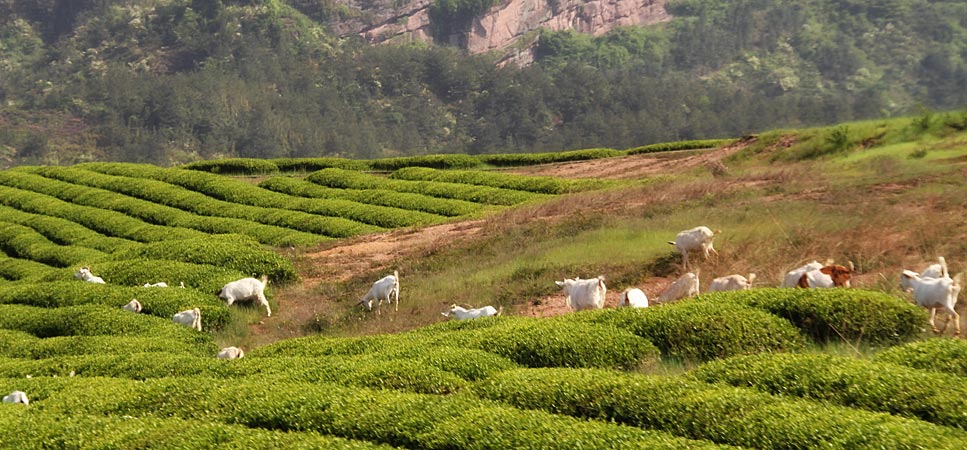 After a bit of a car ride, we arrive at the next tea garden in Jingua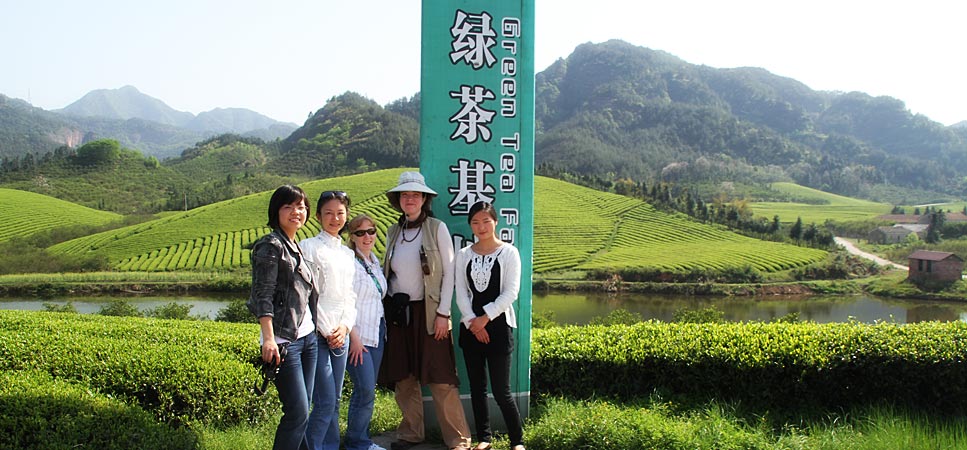 We meet some new tea friends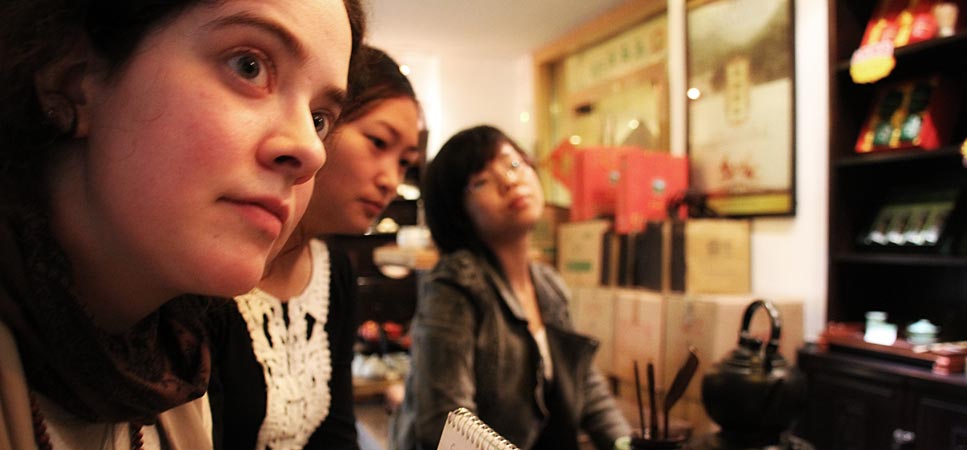 Then check out their tea shop
Sooz's friend Luff, would rather spend his time outdoors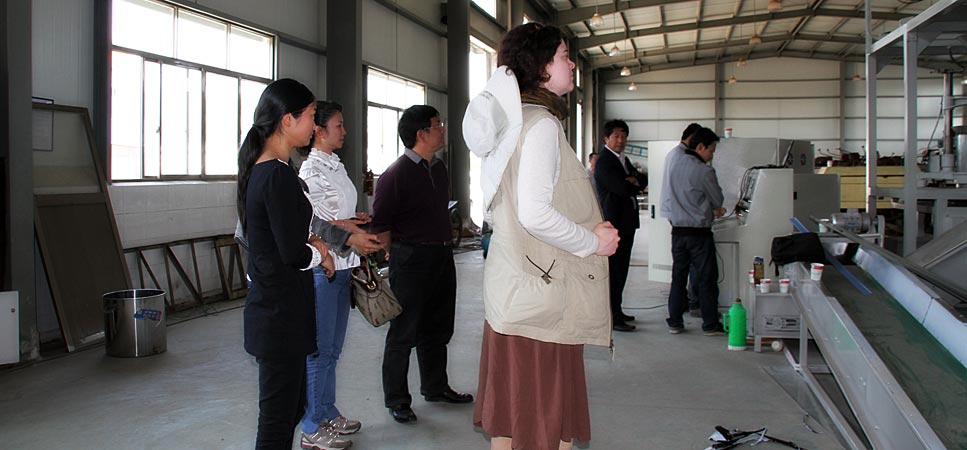 Then we are off to the tea factory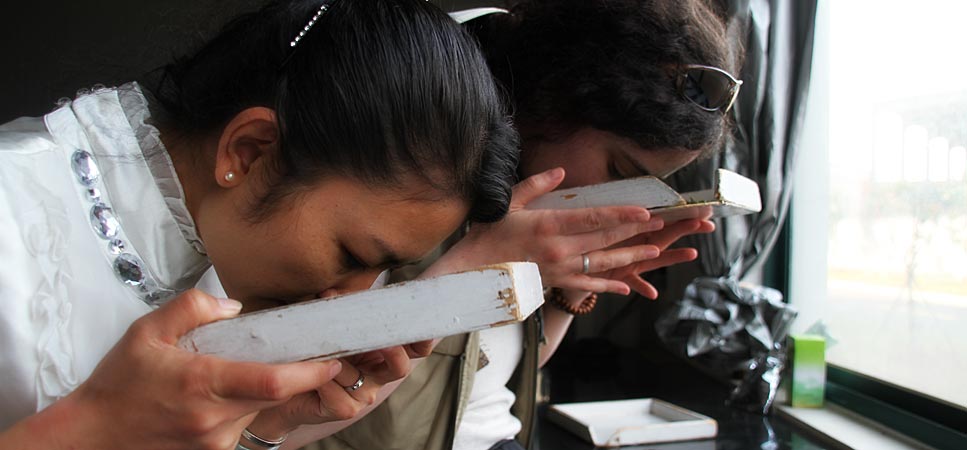 Time for tea tasting at their office
Day 8:
We arrived in Wenzhou, Zhejiang yesterday afternoon and today, we're on a bus headed to Jingua. This is a city located in the heart of Zhejiang and the source for some of our green teas as well as our soon to be minted cast iron teapots.
Upon arrival, we meet a new friend who charms us so much, we spend two full days in his company all over Jingua - Mr. Lu. He's the director of a family owned factory that is working on our cast iron teapots. These pots (you may know them as tetsubin) are originally from Japan, and as such, they are difficult to produce in China. It's always a challenge to learn a new art, different from your own, and to be honest, some of the pots I had seen from other factories were not very good. But Lydia never lets us down and, miraculously, she found the incredibly talented Mr. Lu. He inherited this business from his father in 1992 and he works with his brother and 2 sisters running different parts of the business. His father actually still works in the factory, checking the quality of the work and giving feedback to the workers. You can see this dedication to perfection in his son; we watched Mr. Lu pause several times to take a closer look at a teapot in progress, showing the craftsperson a more exacting way to buff it or shape it. He really knows his work, and he's a very kind, gentle and utterly hilarious soul. It's very obvious he loves tea.
Every teapot is made by hand, and if at any point they're not perfect, the iron is melted down and shaped again from scratch. Even after they're painted and fired; it's never too late to turn back and try again. It's incredible to watch just how much sorting takes place to make these pots.
Lastly, we visit Mr. Lu's exhibition room, where sample pots in various colors, shapes and sizes are on display for potential buyers. I have never seen so many truly unique creations; in the States, we often see the same patterns and shapes repeated amongst a small number of retailers. This is so inspiring! What beautiful work! Mr. Lu was kind enough to send us home with teapots of our choice, too, so we can test them out and offer further feedback. We're positive you, our customers, will really love these when they're available. These are very special teapots.
Mr. Lu really loves people who are so excited about tea, and he wants to learn more himself, so he offers to take us to meet our farmer friends later in the afternoon. Their organic farm and factory is also located in Jingua, which is a beautiful, green and clean city. The two ladies who meet us are from Jiu Feng Tea Factory, which provides several teas for Adagio, most notably the base tea for our flavored greens (a Chinese-style Sencha tea - ie: a steamed green). They make a lot of tea for Japan and Europe, too. Quite a bit of Sencha tea sold in Japan is actually from China; they just drink too much to grow it all themselves. This year, because of the earthquake, business is very big in Japan, as they're in need of a lot of tea. So, this company is busy busy, but they're still very happy to spend time with us in their beautiful organic garden.
As we drive up the hill, we are greeted by the sight of adorable white, fluffy "tea goats" - this has to be the sweetest thing we've seen in the past 2 weeks! The goats live on the farm, amongst the tea bushes, where they happily eat all the grass and weeds, so the bushes can grow more easily. So cute! The scenery is absolutely stunning; in our photos, you can see a large body of water at the base of the mountains behind the farm, and miles of quiet hills in every direction. So very peaceful and perfect.
We drive back down the hill to visit their factory, which they are transitioning out of to a much larger, very modern facility (which we also saw). Their production equipment is very impressive and can handle 6 to 7 tons of tea per day. In a good year, they will make 2,000 tons (!!) of green tea and they are very helpful in making just what their customers need. Larger leaf? Darker color? Clearer cup? No problem! They're very good tea people and won't leave their customers stranded.
To finish off the evening, we visit their tea retail shop - OH! The amazingness (is that a word?) of this place! Several quiet rooms where you can brew tea gongfu-style at your beautiful dark wood table, piles of fresh tea, amazing tea ware and a huge gathering table (carved from an old tree) where friends can have tastings. Tonight, we taste a very special tea: Wuzhou Juyan Tea, a rare "cultural heritage" tea with a 2,000 year old history. This mountain-grown tea was once a tribute tea to Emperor Zhu Yuan Zhang, who helped foster peace during a period of unrest.
The next morning, our friends (including Mr. Lu) meet us for a lovely drive to China's Shuanglong Park, a protected area deep in the mountains surrounding Lu Lake. They have an organic tea garden in the heart of the park, on a hilltop in between the peaks. No joke... it's amazing. Here, they make several teas including one we tried at their teashop yesterday, Foggy Green (or Misty Green, depending on your interpretation). We also go for a hike through some of the natural caves in the park, including one named Peach Blossom and Double Dragons (dragons, of course, are very lucky here, and with more travel ahead, we can use the luck!) Lydia has sparkle in her eyes as we start tentative planning for Adagio's first Tea Garden Tour for customers - hopefully next spring? - and this would definitely be one of the places we would visit again. A mountaintop tea garden inside a national park - It doesn't get much prettier than that!
We say goodbye to our friends from Jiu Feng and depart for Hangzhou, home of Dragonwell tea (located just north of Jingua). Zhejiang seems to be a beautiful province, with beautiful people, too. Mr. Lu heads back home tonight, too, but we're looking forward to meeting him again if we do another Tea Tour; he's a very good tea friend. Tomorrow, Dragonwell tea!
- Sooz