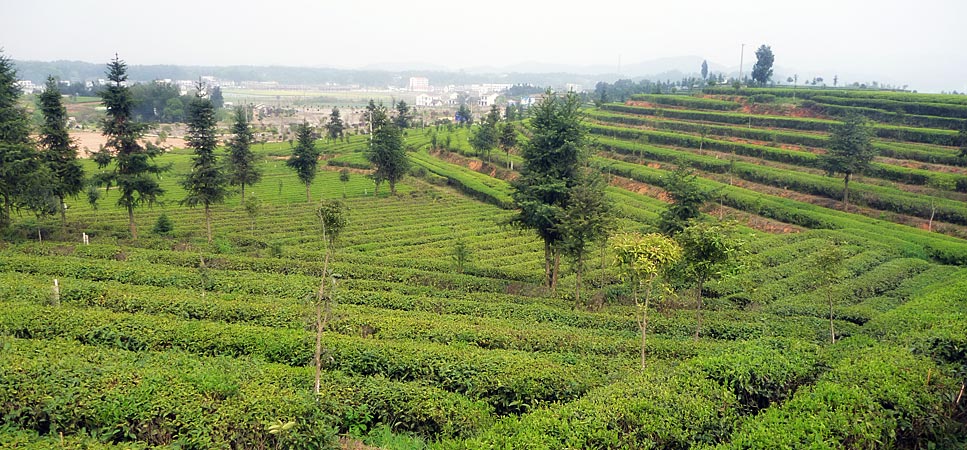 Day 4 - The tea fields of Changsha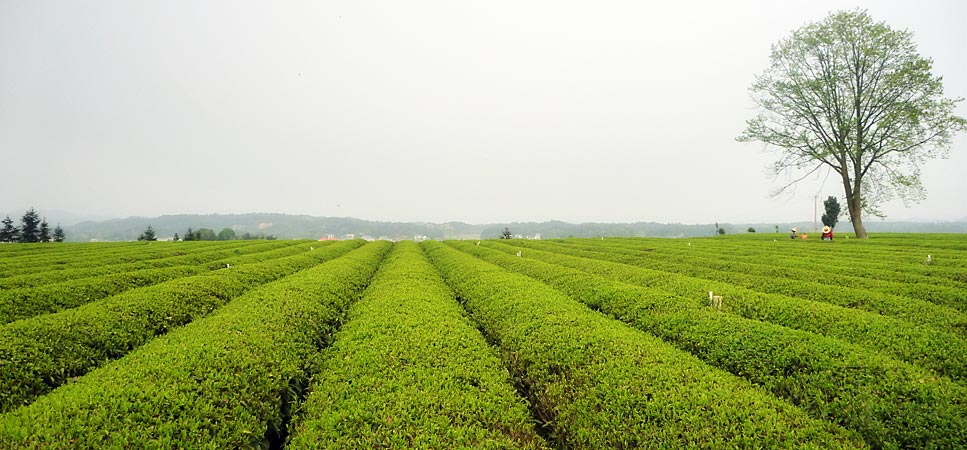 The tea bushes resemble those of Japan
Although the farmer doesn't look Japanese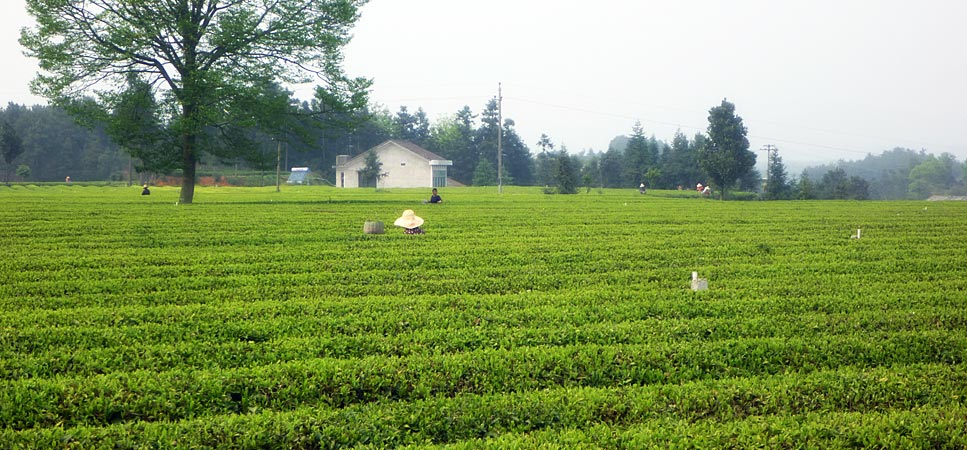 Sorry, that was Cynthia. These are the real farmers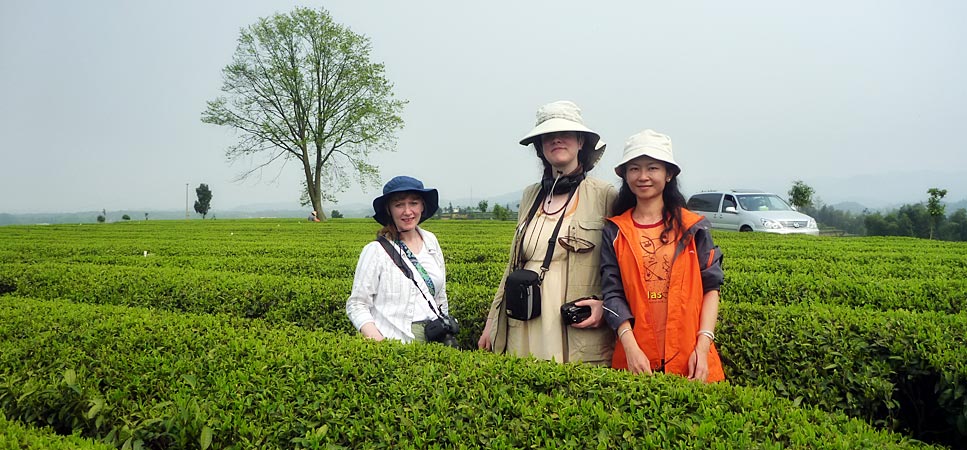 And here she is with Sooz and Lydia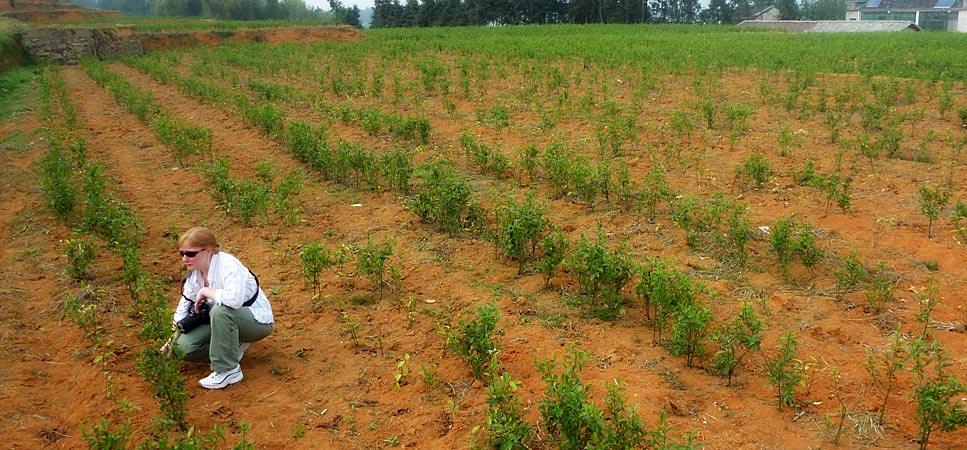 These are the recently planted trees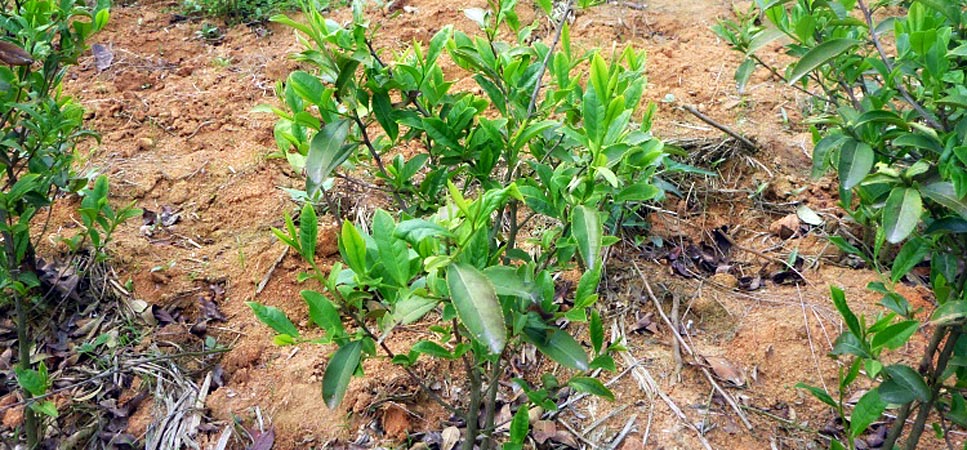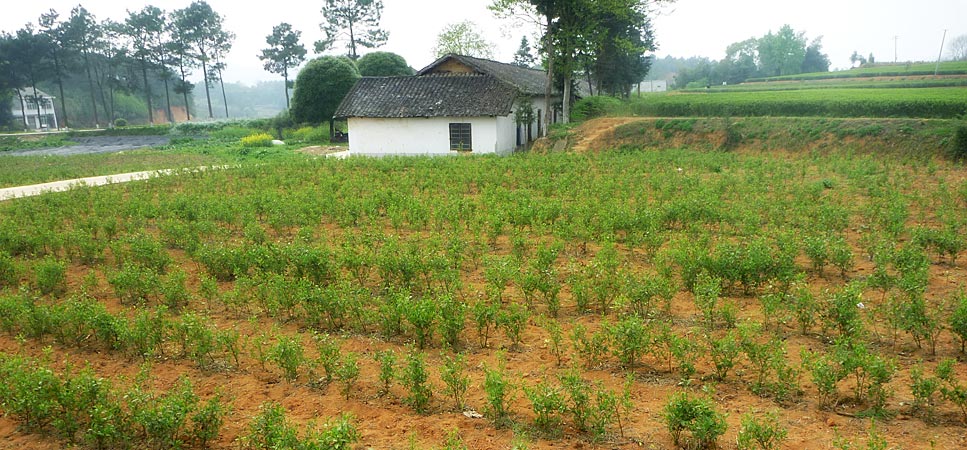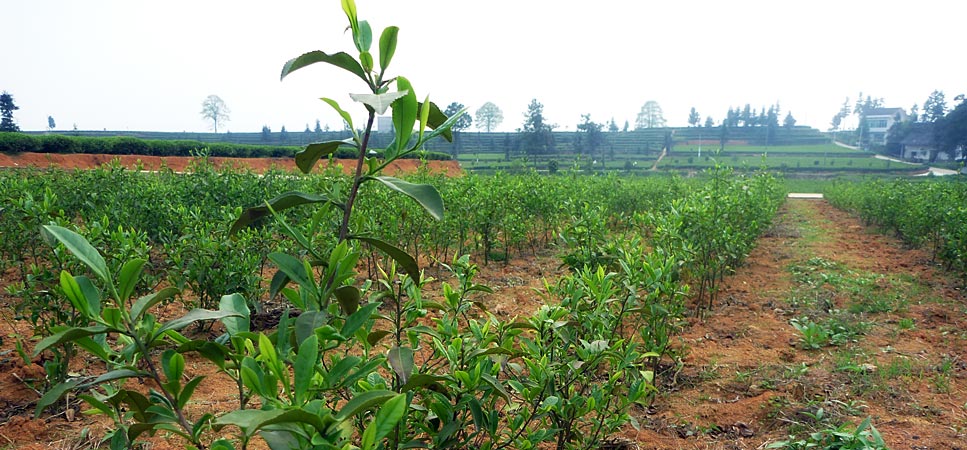 Getting taller with each day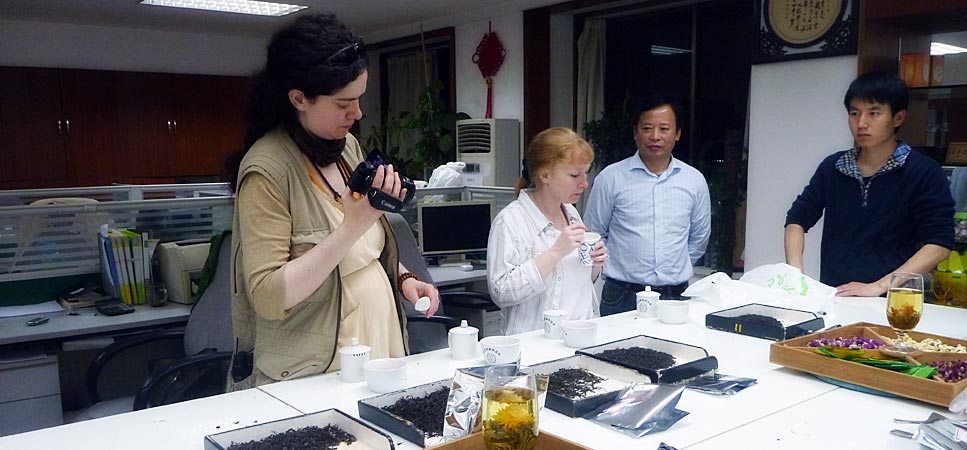 Sooz and Cynthia tasting some recently plucked leaves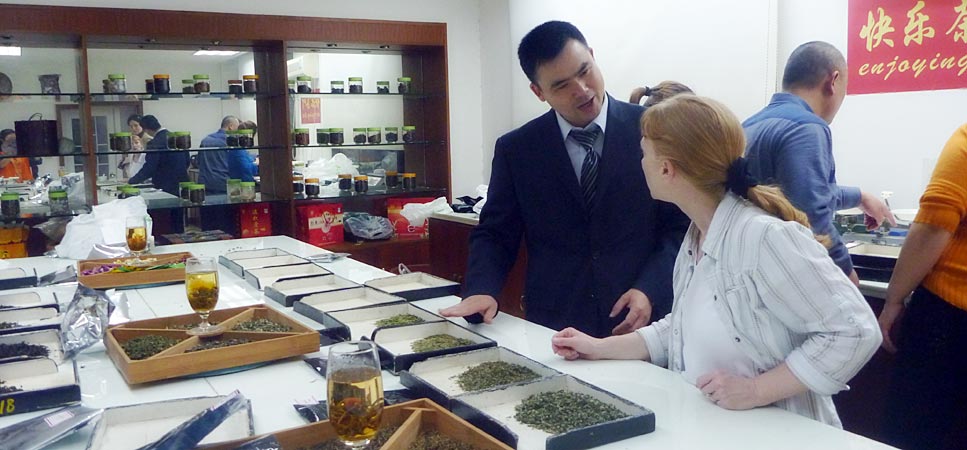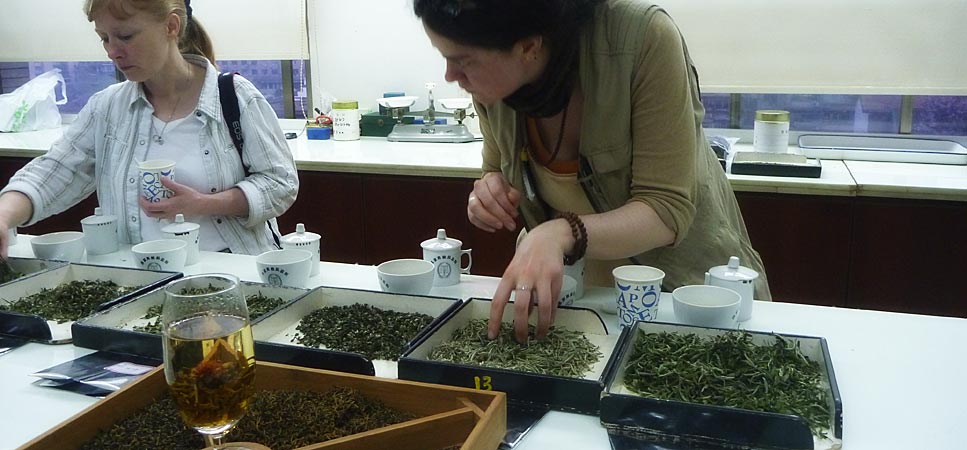 A closer inspection when no one is looking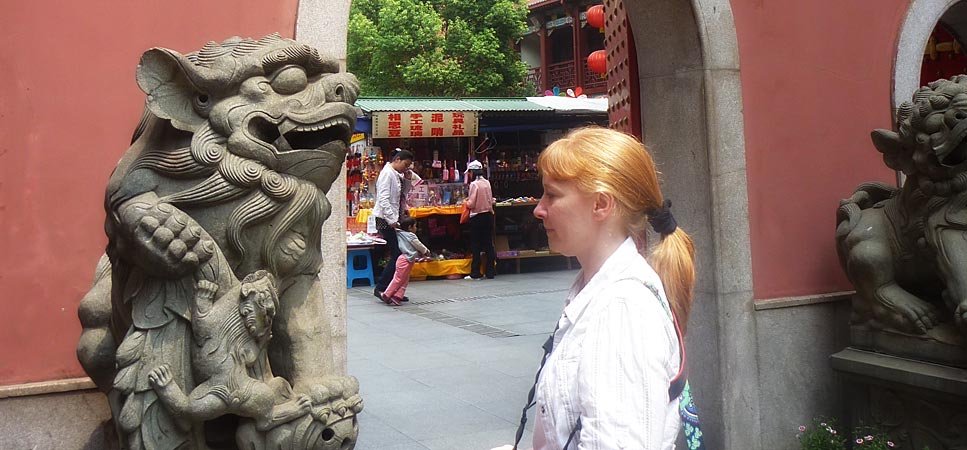 Cynthia looking worn out after a full day.
Day 4:
We're further inland today, in the province of Hunan. Hunan produces many types of tea, but this visit is focusing on Fu Cha, which you may have heard referred to as "Dark Tea." Fu Cha is an old variety of tea that is aged and fermented, similar to Pu'erh from Yunnan. After harvesting, the leaf is stored for 3 years before making into a finished tea. During that time, a friendly fungus- namely, a form of aspergillus - develops on the leaf, creating an even healthier cup of tea (think of yogurt and other healthy cultured/fermented things and you get the idea). The locals refer to the fungus as the "Golden Flowers" (it's scientifically known as Eurotium cristatum) and you can see them under a microscope. The color is a beautiful, clear golden brown and the aroma and flavor much more delicate than many Pu'erh teas. It doesn't have the intense, earthy and pungent depth of Pu'erh, which for some palates is a very good thing.
This tea used to only be produced in the summer. It was called Fu Cha, in fact, because 'Fu' came from Fu Tian - the Dog Days of Summer. However, thanks to modern technology - air conditioning, climate control, humidity monitors, etc - Fu Cha can be produced anytime... and it gets to keep the cute name.
After enjoying a few cups of tea with the factory owners, we tour an interesting Fu Cha tea museum of sorts - a room where very old and extremely valuable Fu Cha cakes (this tea can be both pressed into shapes or loose, just like Pu'erh) are stored. One brick from 1957 is now worth $300,000!
Next, our Hunan guide - Sophia from the Hunan Tea Company - takes us to a tea garden to see the early spring production going on right now. Unlike Ti Kuan Yin, the tea here is not grown at a very high elevation. You just need to drive a few hours outside the town to get to the tea gardens. It's a beautiful place: quiet and fresh, with vibrant, mineral-rich red earth. Actually, all of what we've seen of Hunan is similar in this way; I found myself thinking of Scarlett O'Hara, declaring her love for the "red earth of Tara."
It's the mid-afternoon, but some harvesting is still going on, as it's not too hot. The spring teas are entirely hand plucked, and the pluckers are carrying small wicker baskets to put the extremely delicate leaf shoots in. You may have seen photos from India and Sri Lanka, where large leaf baskets are worn on the back; those leaves are lighter and larger, so you need a larger basket to hold them. These are tiny, dense and tender leaves, so too many in a big basket will squish them all before you can get them back to the factory.
We meet one of the farmers - Mrs. Cho - and take some photos and video amongst a plot of baby tea bushes (about one year old now), and then we're off to cup some teas.
We're at the main office for the Hunan Tea Company, which is currently the 3rd largest tea company in all of China (in sales). So, it's very well organized and just... well, huge. It's late afternoon now, but during the tea season, work continues nearly around the clock to get everything done on time. Tea leaves only spend about 7 to 10 days on the bush before harvesting; everything from harvest, to production, to cupping and blending for quality, to shipping samples to companies like Adagio happens at incredible speed during the spring and summer. We cup dozens of teas this evening, and we found some we're quite interested in. Samples to take back for further consideration are bagged up for us (No buying just yet; after all, we've got several more stops on our journey, and some regions haven't yet started their tea season!)
Finally, we head back to our hotel, and for the first time since we arrived in China, we're skipping dinner (Hunan food is amazingly good, though - super spicy!) It's been a very full day, and after nearly 13 hours in the gardens and the cupping room, we're super pooped. But it was very exciting and tomorrow, we fly back to Fujian, this time to the beautiful and bustling mountain tea region of Fuding.
- Sooz