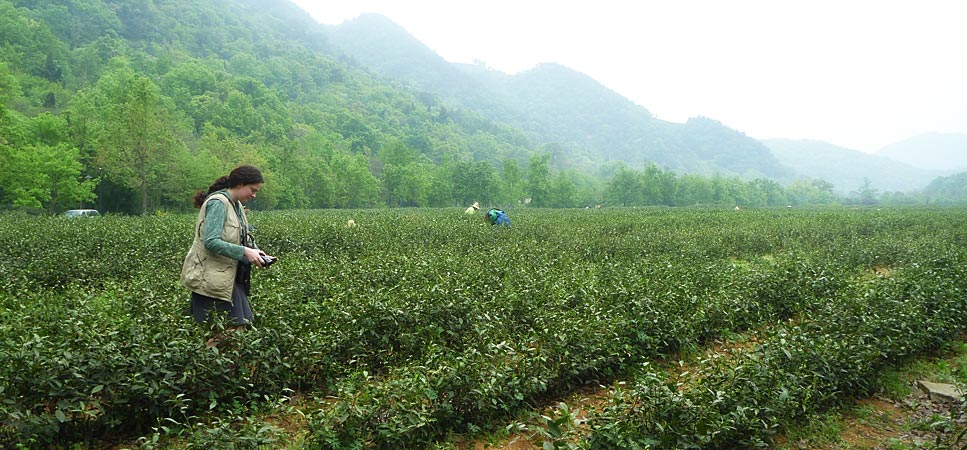 Day 10 - We start the day in a tea field in Hangzhou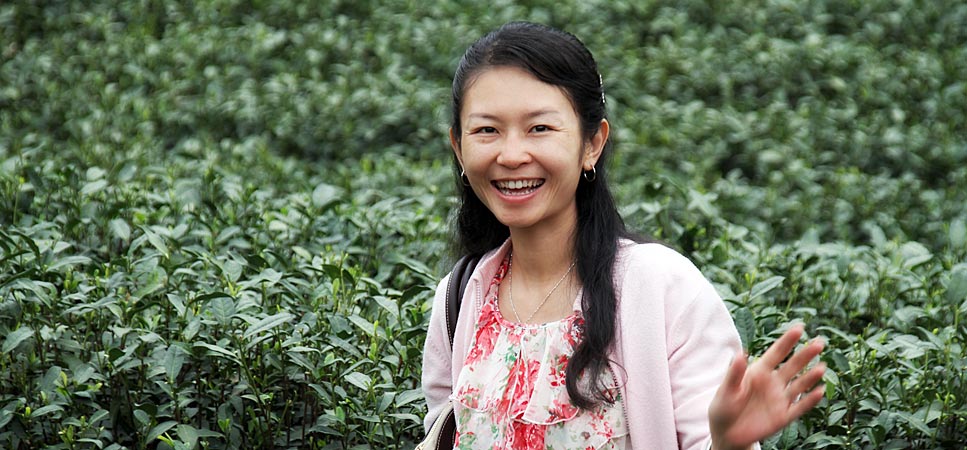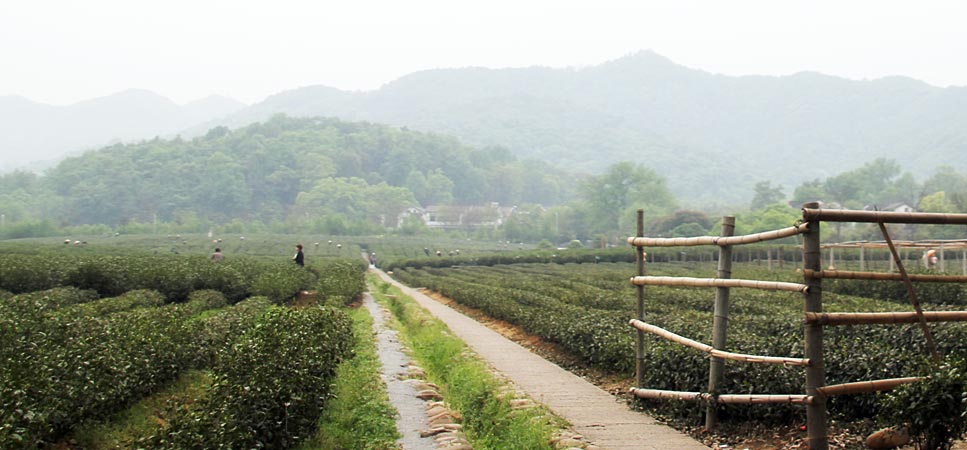 Saw some spectacular views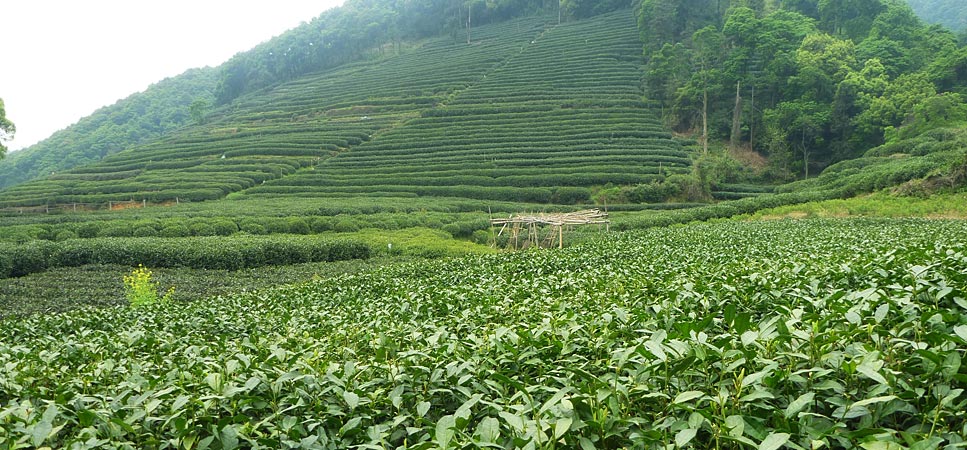 The rolling hills are a pleasure to look at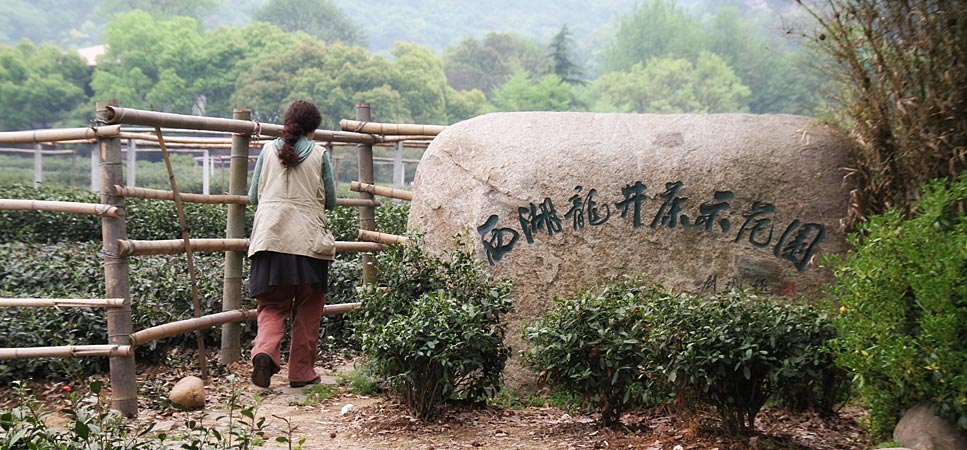 Although a bit harded to traverse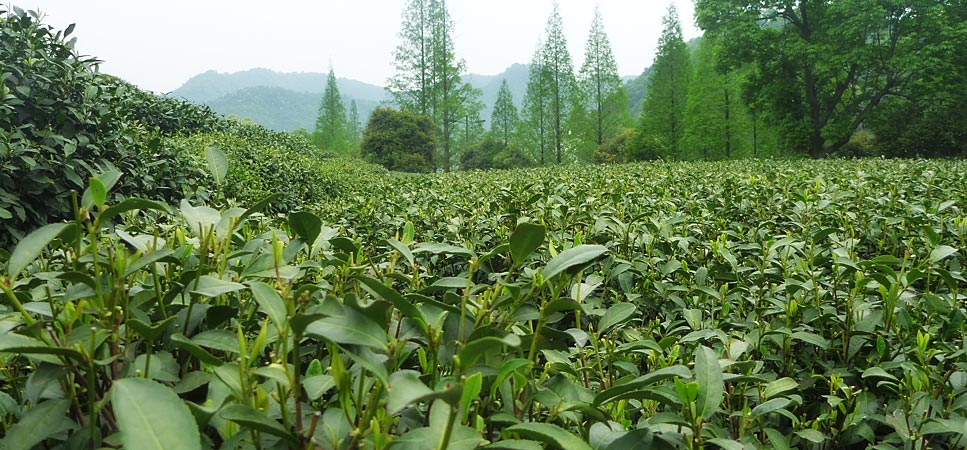 This place smells amazing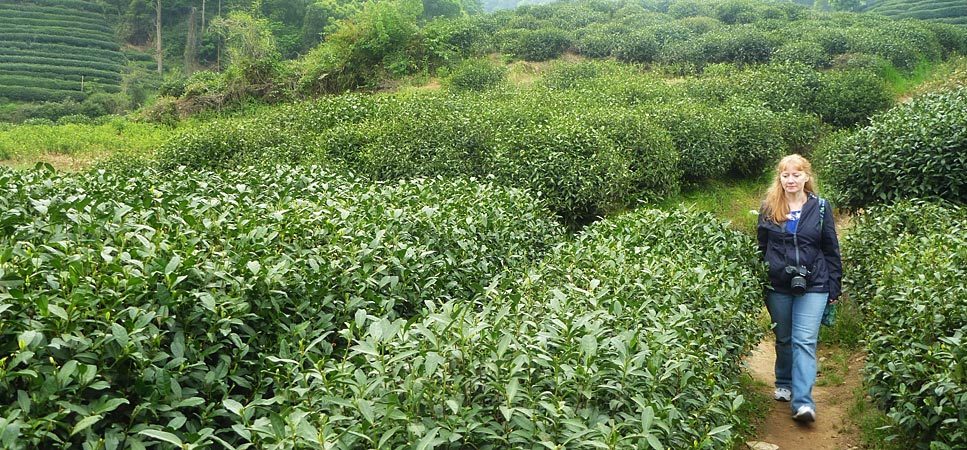 All that's missing is a gigantic teapot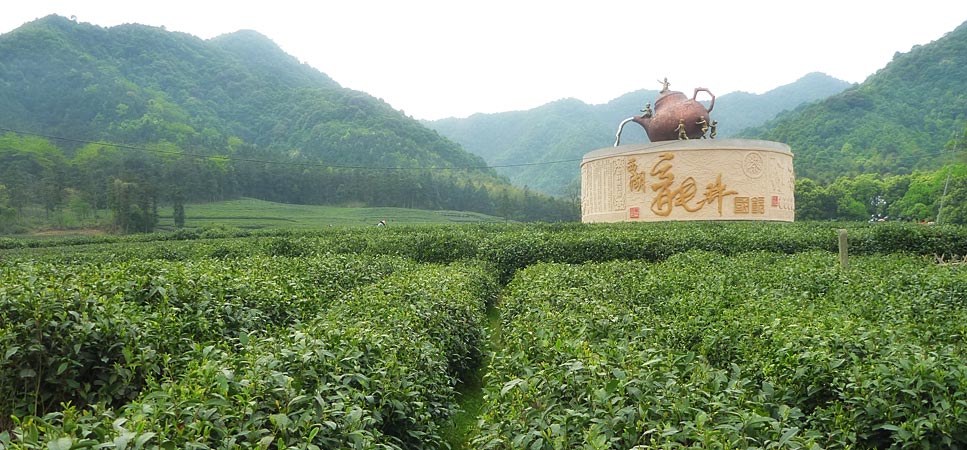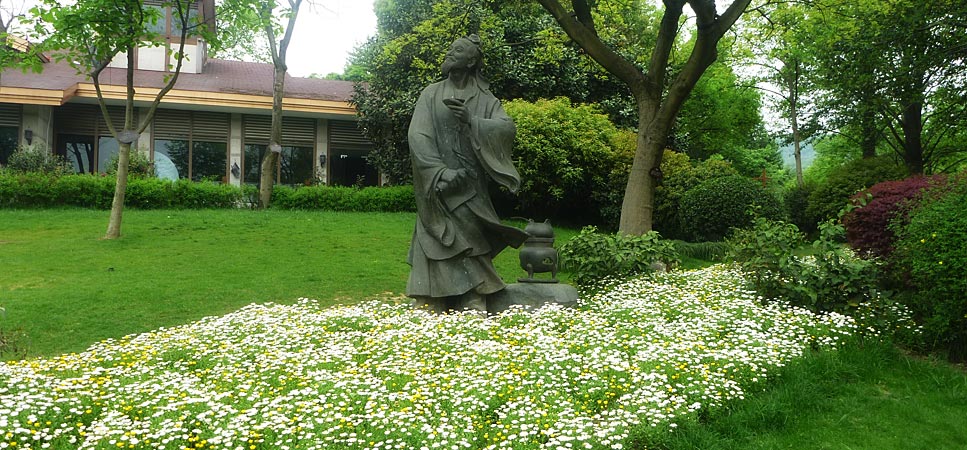 Can anyone guess who this striking figure may be?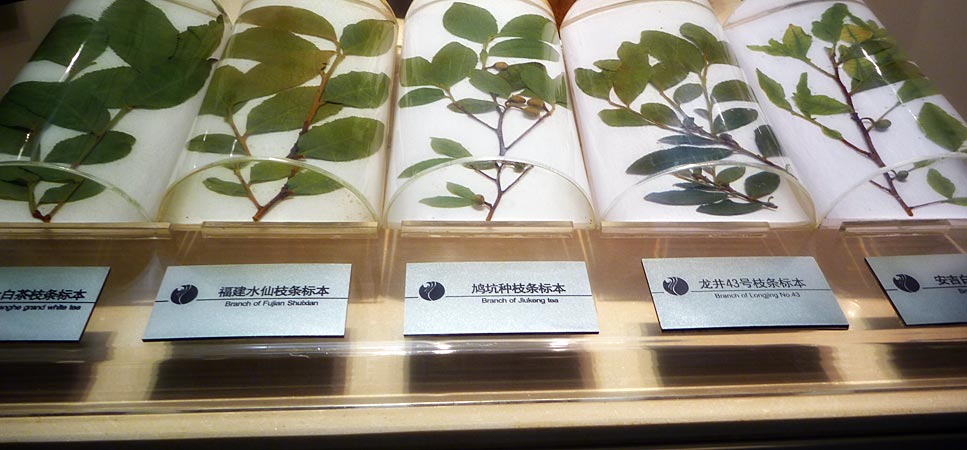 Leaves from various tea plants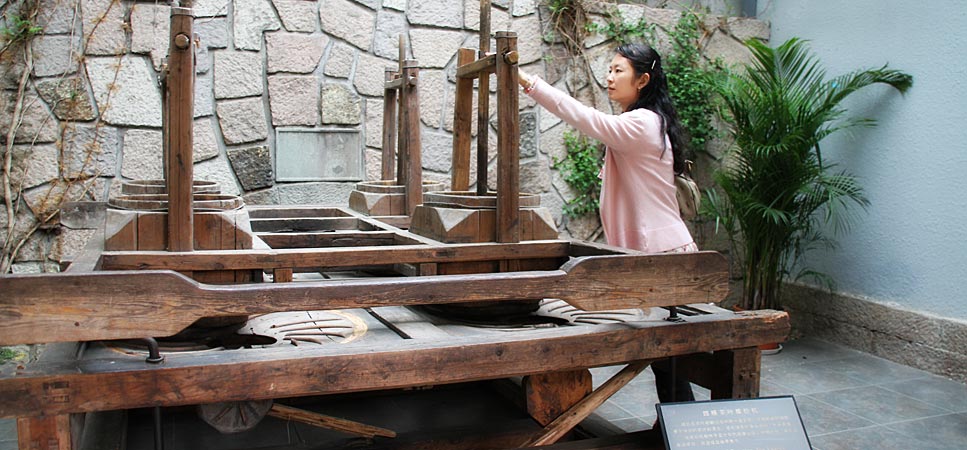 Working the old wooden tea roller at the National Tea Museum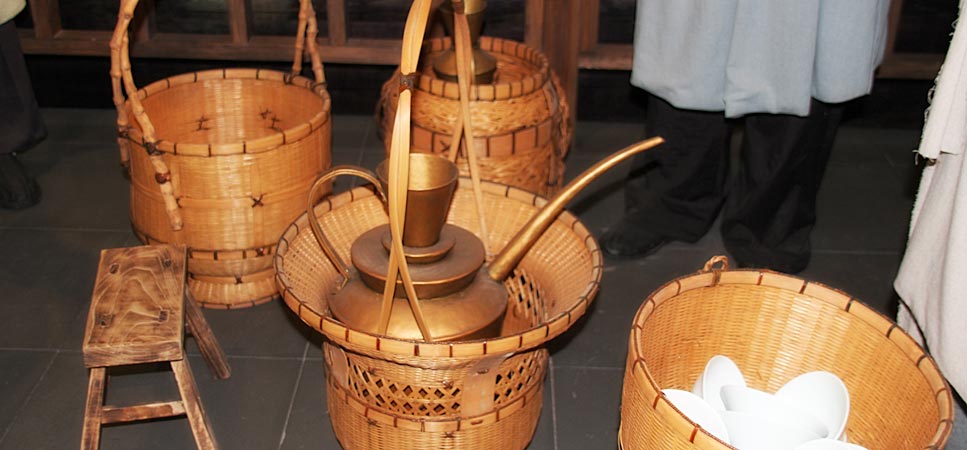 More ancient tea paraphernalia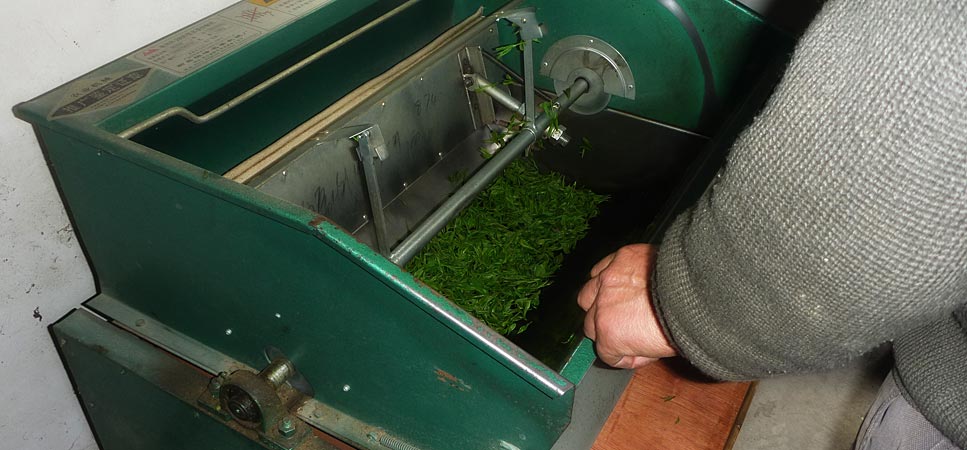 We see modern machinery used in tea production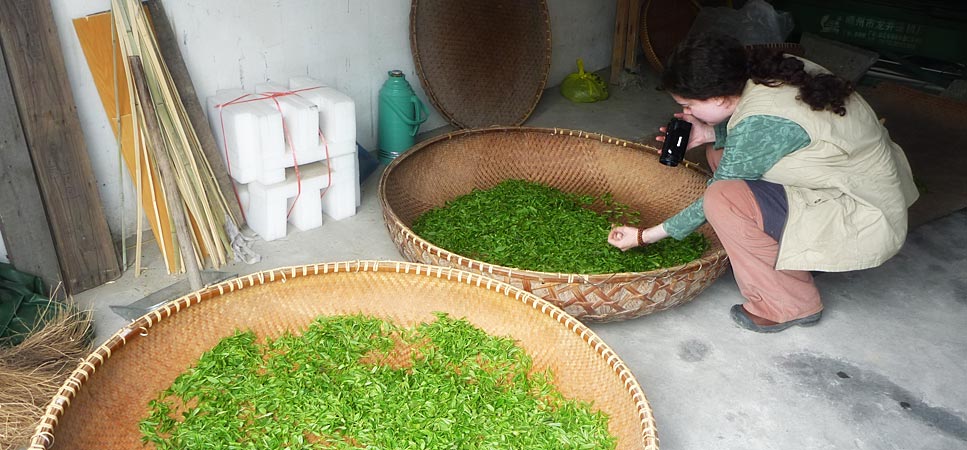 The tea leaves are quite vibrant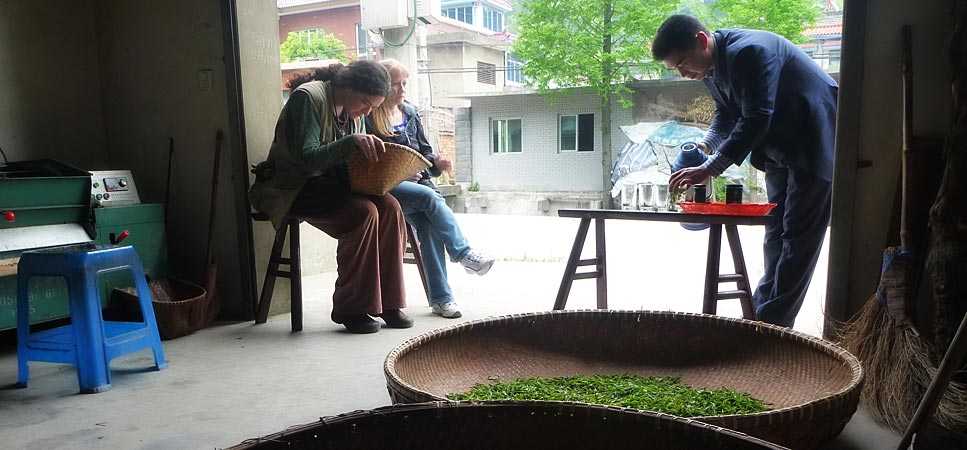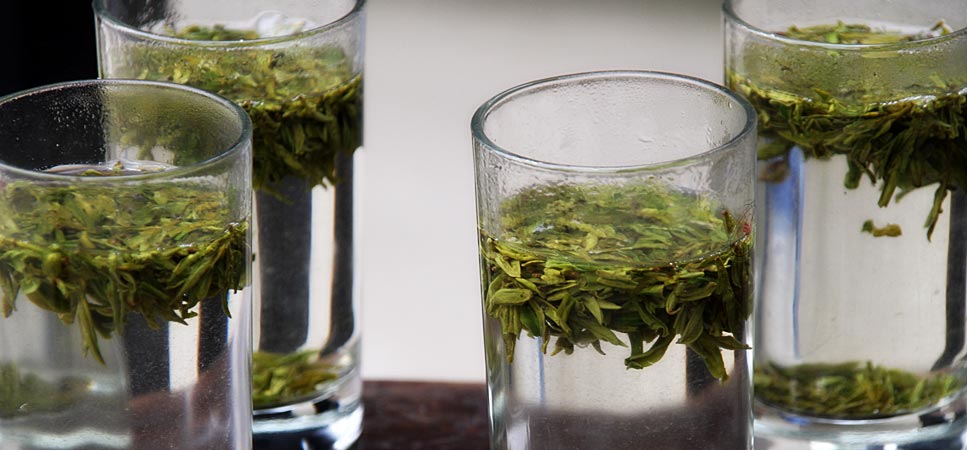 There is nothing like fresh Dragonwell tea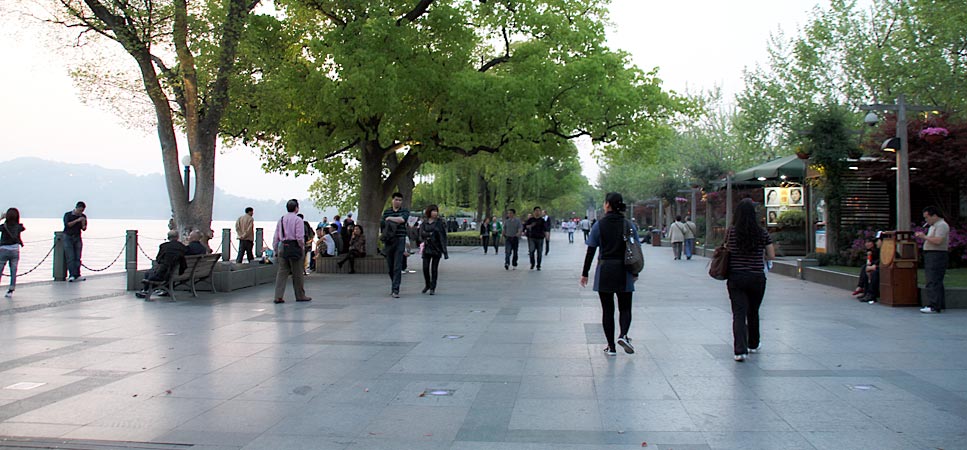 We spend the evening strolling along West Lake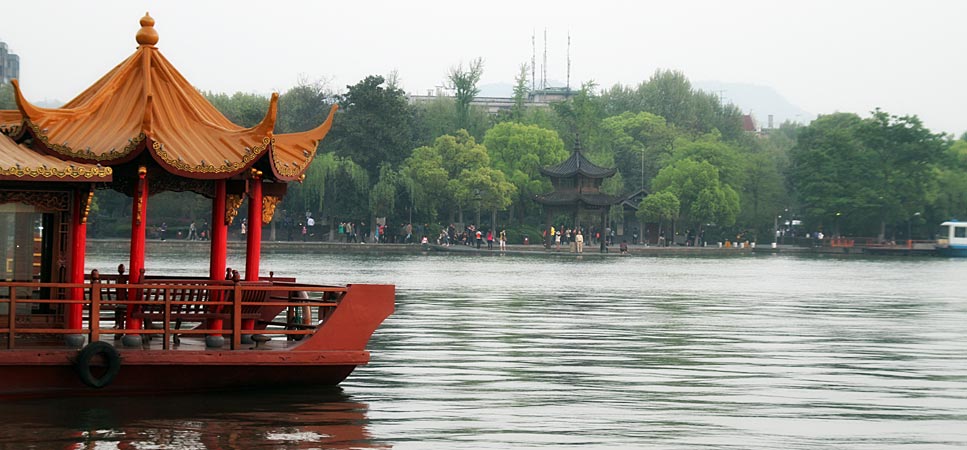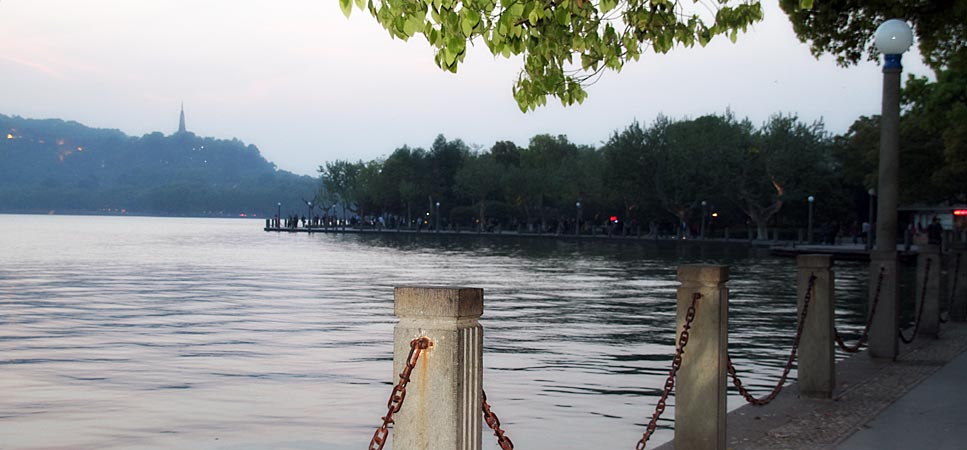 Seems like everyone is waiting for the sun to go down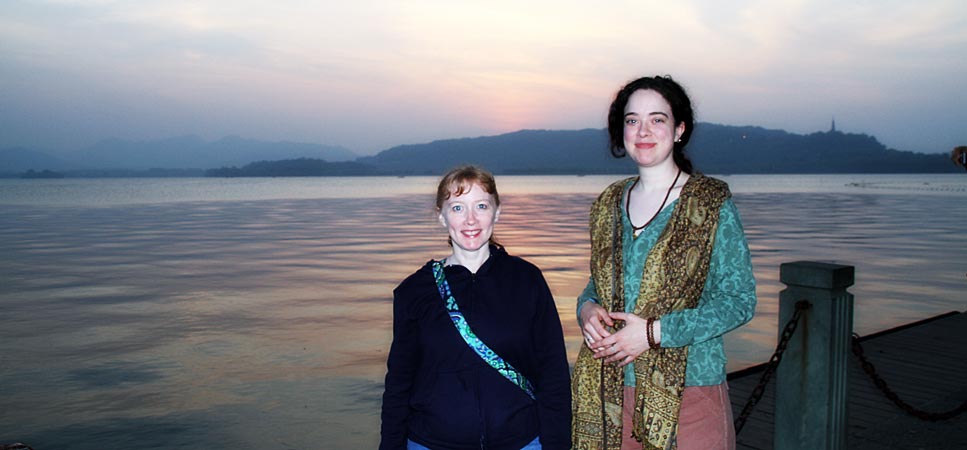 A beautiful sunset along West Lake
Day 10:
Our final "official" tea stop, appropriately enough, is to visit the home of a most beloved and revered tea, Dragonwell. You will also see this tea named Lung Ching and Longjing, both of which mean the same thing. Its distinctive flat leaf shape is always made by hand; large machines simply cannot make this tea properly.
First, we meet our guide for the day, Mr. Zhung, a local green tea factory owner. He produces very good classic Dragonwell, as well as a few other famous green teas such as Pi Lo Chun. Our hotel is just steps away from the famed West Lake (a large lake and immediate surrounding area that is the original home of Dragonwell), and to start the day, Mr. Zhung takes us on a lovely drive around this beautiful area. West Lake and Hangzhou in general are so very piao liang ('beautiful' in Chinese, as Lydia tells me). They remind me very much of the Northwest United States, with lush greenery, cool misty air and flowing willow trees over the lake and many bridges.
The gardens are not a very far drive from the lake itself, and they attract tremendous attention from both locals who want to stroll the gardens and relax to tea tourists from all over the world. Surrounding the gardens are dozens and dozens of small teahouses where you can gather with friends and enjoy some fresh tea.
We pause to take in the scenery in one corner of a garden - it occurs to me that the tea gardens of West Lake pretty much are one big national park - and then we visit the National Tea Museum, located right next to the fields. It's fascinating and full of articles, artifacts, photos and demonstrations of Chinese tea history. Very cool! There's also a little tasting room where you can relax and sip tea. The classically landscaped garden surrounding the museum is also gorgeous; we take some photos with a statue of the beloved patron saint of tea, Master Lu Yu, and play with the happy goldfish in the outdoor pond. Then, it's off to play amongst more tea bushes, including one deeply green and quiet hill where Adagio's Dragonwell comes from.
We travel our way through a section of town where the farmers live and make their tea. The pluckers bring down their daily harvest several times a day, and the local tea masters turn that into finished leaf. Our friend introduces us to Master Tan Zhong, who sits with us and shows us how Dragonwell is shaped, using both the classic wok hot pan as well as a modern panning machine for the lower grades. The classic pan heats the leaves to around 120 degrees Celsius, while the machine (which takes a much shorter time to process the leaf) starts hotter: around 240 degrees. Master Tan tells us that classic Dragonwell, using only the tiniest, most tender leaf, takes all day to make just one batch. The tea is panned for a while, then sifted to remove broken pieces, cooled and put back in the pan for more smoothing and toasting. More sifting, more resting, more panning. Very intensive work. The leaves in the pan make a pleasing, soft "shooshing" sound as they are pressed and carefully tossed.
Even the machine made Dragonwell is very time consuming; the tea maker still must take great care with his tea, staying right by the machine to adjust temperature and movement of the swishing roller. It's like driving a stick shift car, switching from one gear to the next. He controls the temperature, the speed and the pressure, all just by watching how the leaves are behaving, scooping a handful out every half minute or so to feel and smell them. This, too, takes several passes - with sifting in between - to finish one batch. Both methods can only accommodate a small amount of leaf at a time. After removing the moisture, you're left with about 1/4 lb or maybe 1/2 lb of finished tea. The wok pan is about the size of a short arm chair, and the panning machine is about as big as a classic wooden desk. Dragonwell is a very skillful tea, indeed.
We thank Master Tan for sharing some of his afternoon with us, and let him get back to work. Piles of fragrant, fresh leaf are waiting to be made into tea; our new friend was up until 1am the previous night making tea! Tea season is a very busy time of year all over China.
On our way back to our hotel, we stop at a few more gardens and also take in some scenery along the lake - a shimmering glassy pool, reflecting the swaying trees and clouds above. An amazing visit to finish off our tour - so piao liang. Tomorrow, we're off to Shanghai to unwind, work on some more photos and videos for you, and say our last goodbyes before heading home. Stay tuned...
- Sooz