Day 6 - Fuding is our favorite stop so far on this trip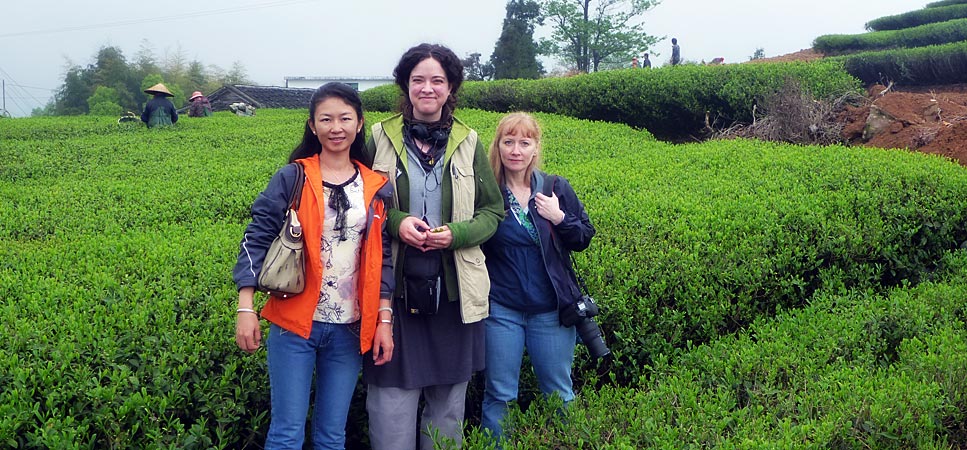 We arrive in time to see the leaves being plucked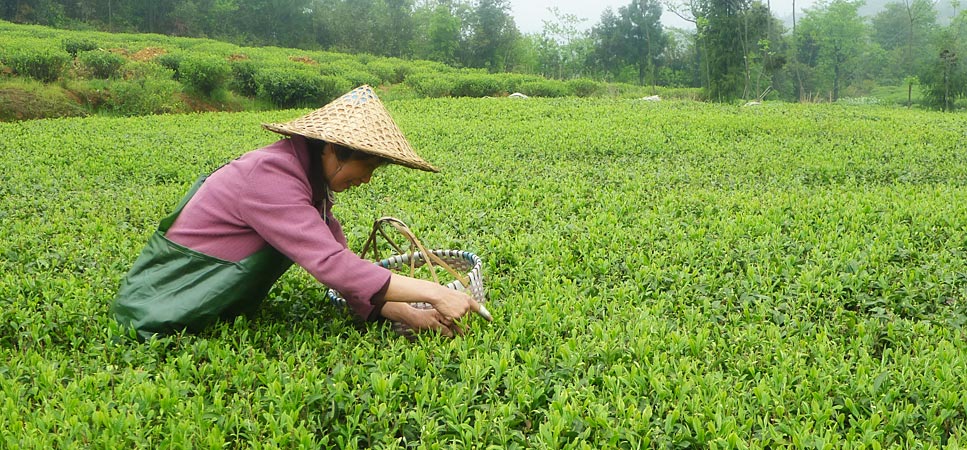 Clearly there is much work to be done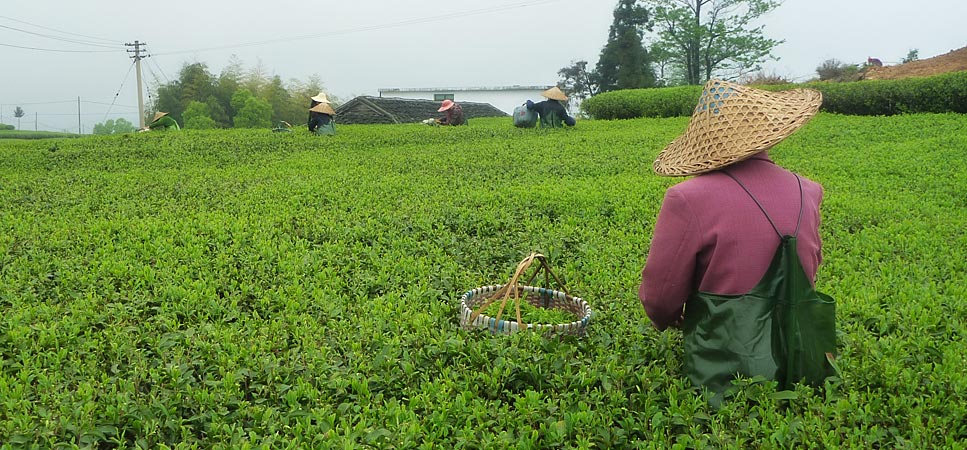 A sea of beautiful young tea leaves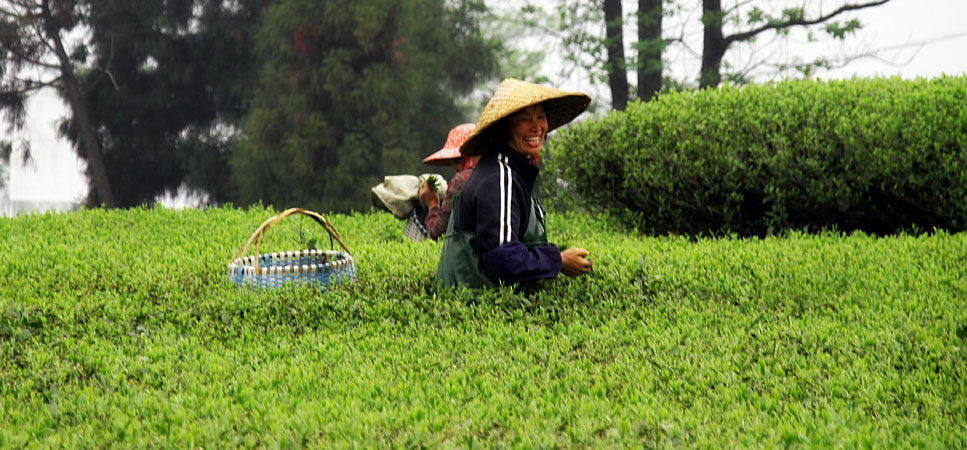 The tea ladies were quite jolly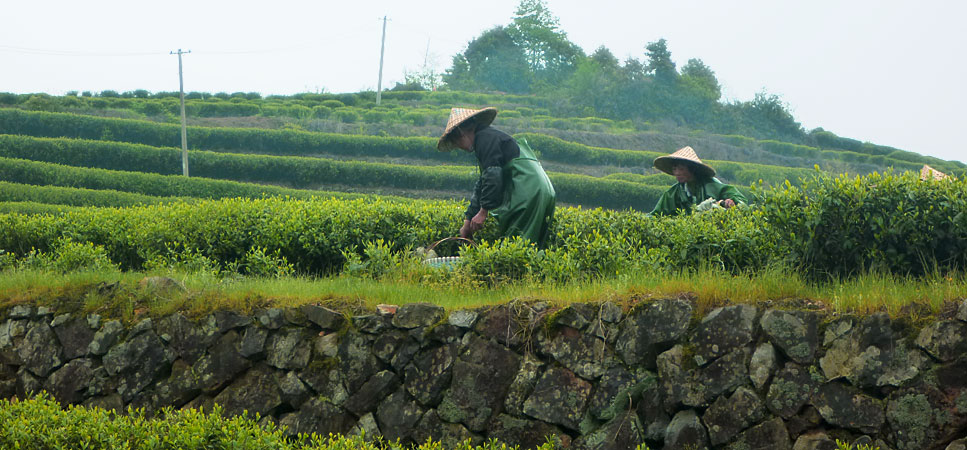 Perhaps on account of being surrounded by beautiful scenary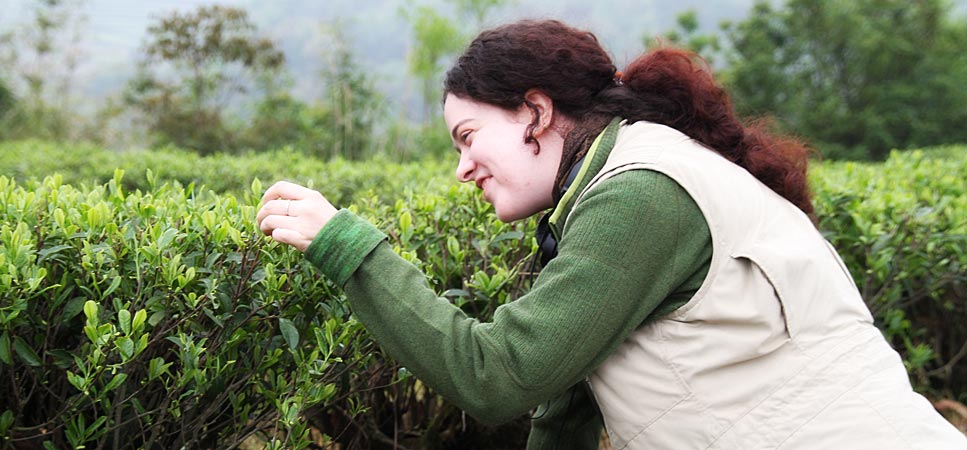 Sooz inspects the new leaf growth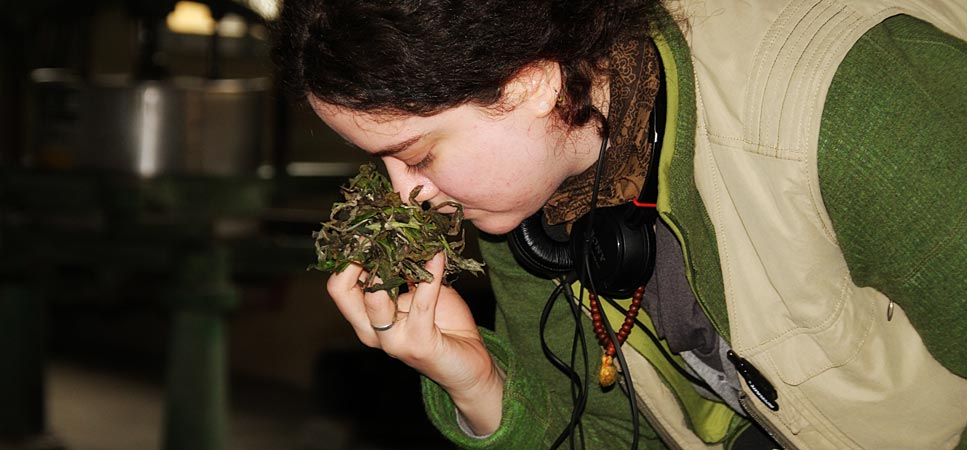 She really enjoys her job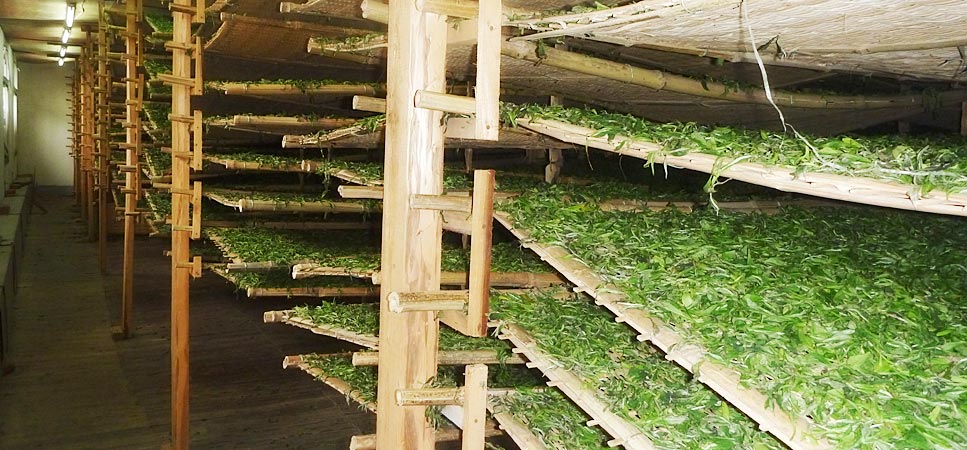 The tea leaves are brought inside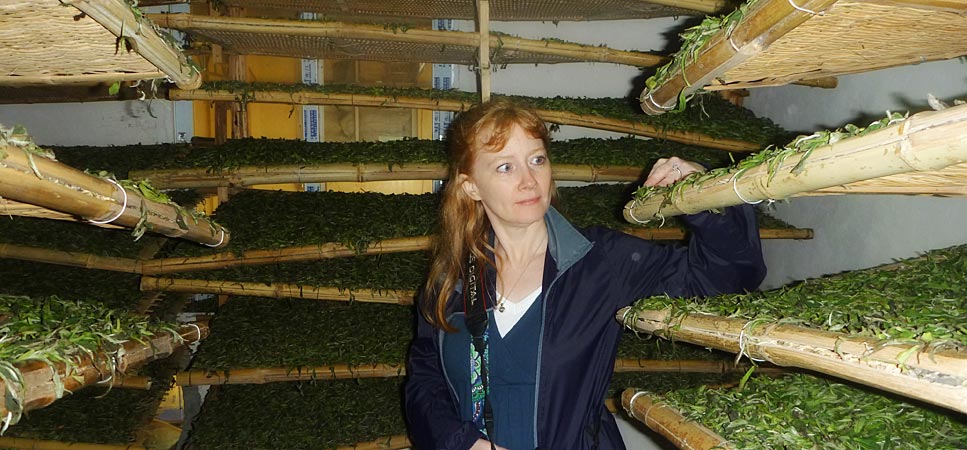 It's hard to drag Cynthia out of this room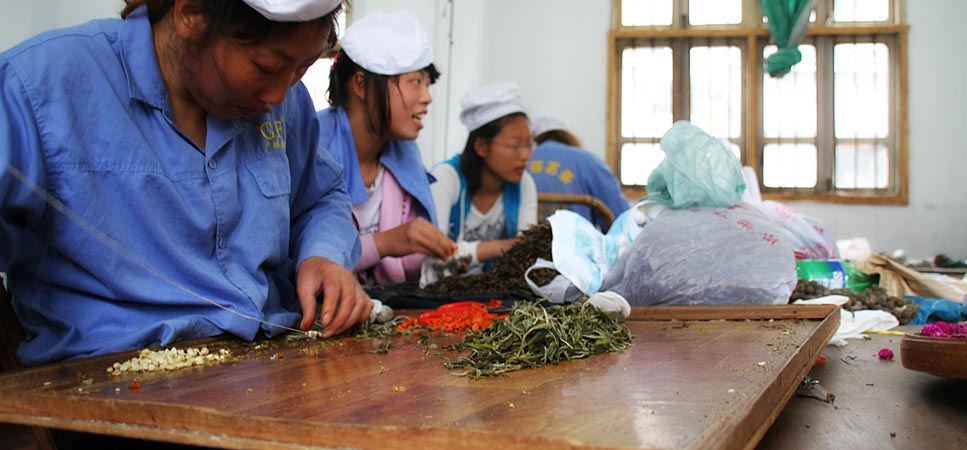 Artisans making blooming teas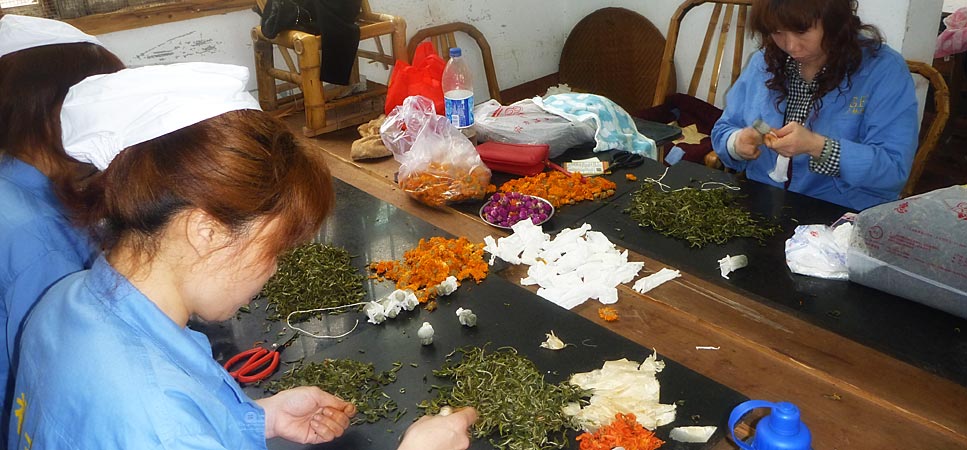 Each is skillfully woven by hand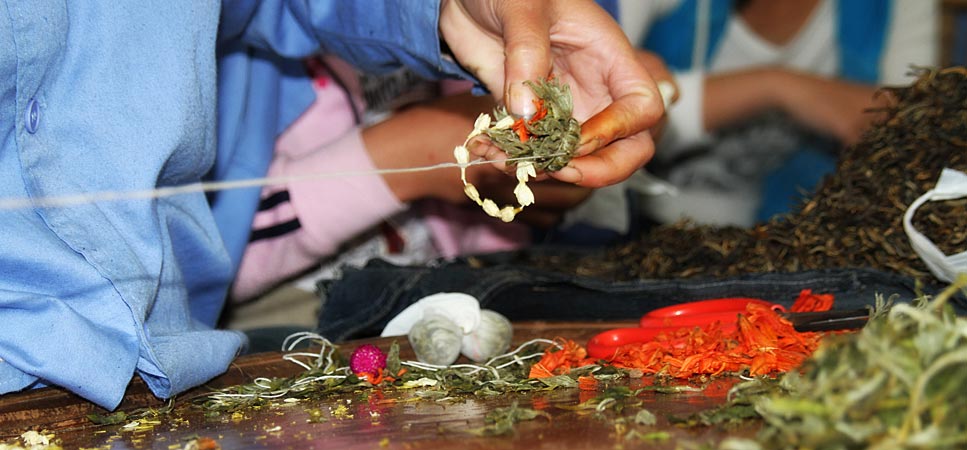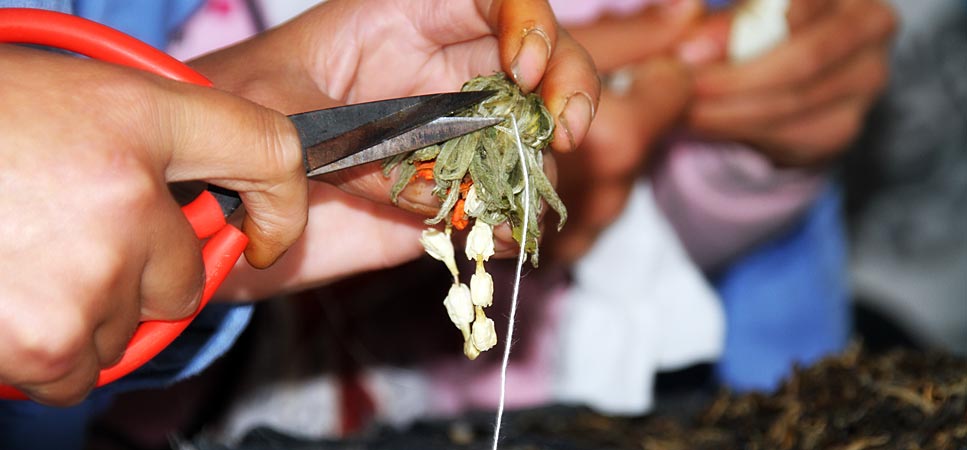 Each bloom takes 10 minutes to create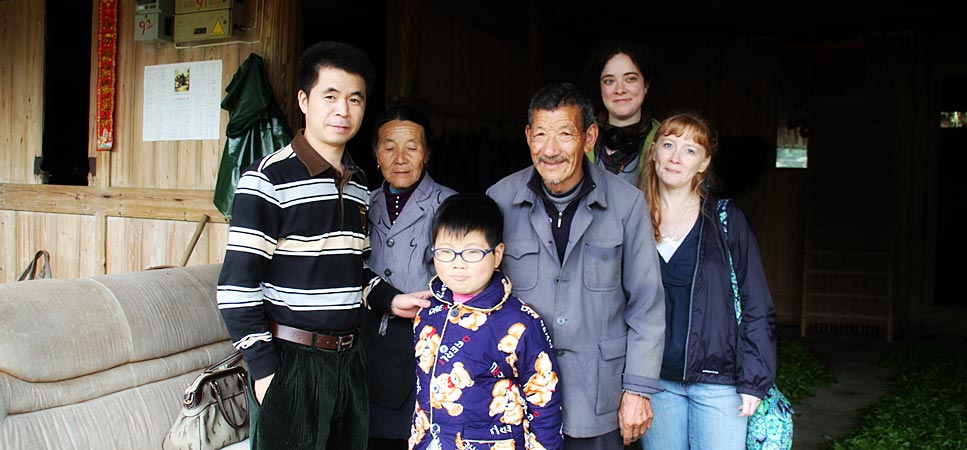 Our Dragon Jasmine Pearl farmer Lin Chui Feng, his wife & grandson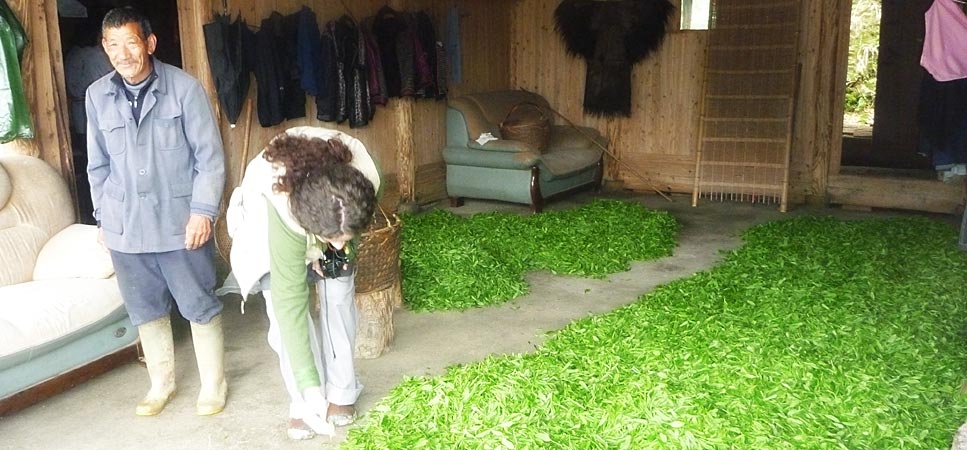 Mr. Feng has much work ahead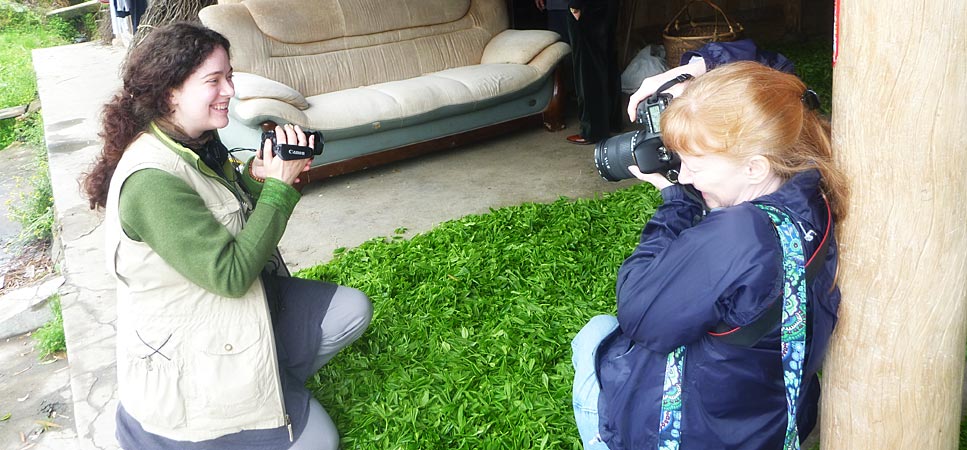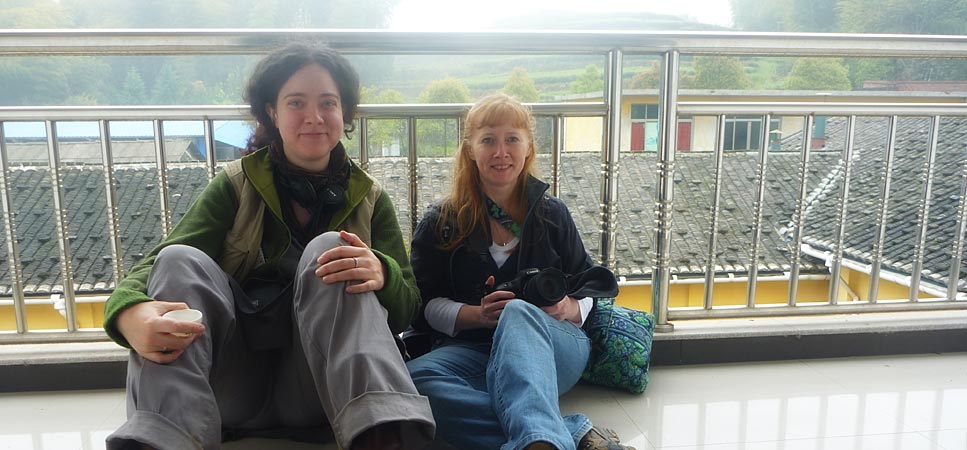 We take an opportunity to sit and relax. Next stop Songxi.
Day 6:
Wow. Just wow. Fuding is absolutely amazing. This is definitely our favorite stop so far on this trip. Fuding is deep in the mountains of Fujian, about a 2 hour drive from Wenzhou airport. It's cloudy, cool and misty. Our drive in was actually quite rainy, but it cleared up for our visit to the gardens. As you navigate the highway, you pass through many tunnels burrowed into the mountains, traverse narrow roads along breathtaking ridges, only to come across bustling town centers in between the peaks, followed by more countryside scenery. It's just incredible... everything you thought tea country would be.
Today, our time is spent with a most gracious host - Mr. Lin, the director of a very prominent tea producing area here in Fuding. Tea season is busy, of course, but Mr. Lin is so friendly and personable; you would never know he's on such a time budget!
Our first night, we are treated to a formal Chinese style dinner. Several mutual and new tea friends from different areas and countries were gathered for this little shindig, including a very prominent local politician here in Fuding. But this was nothing like you've seen on TV for U.S. style "state dinners": these people know how to party! The people of Fuding are warm, generous and relaxing. They truly make you feel at home and at ease, and - we have to be honest here - it was a huge relief to not be the center of attention for once (that is to say, being the only Westerners at the dinner, or the only "customers" visiting the company) We laughed, told jokes and drank a lot of wine and tea. They shared their very best local cuisine: beautiful soups, seafood, and wild vegetables. In Fuding, it is customary to offer many toasts during meals - toasts to friends, to occasions, to the future and to dreams. With each toast, you are supposed to empty your wine glass (it's a small glass, but still... lots of vino during these dinners!) We left relaxed, relieved and excited for the day ahead.
After breakfast the next morning, we head out for the tea gardens. Since we are already in Fuding, the drive is not that long (unlike the drive from Xiamen to Anxi) - about an hour or so. We climb much higher in elevation, though - about 1000 meters. We stop at several of Mr. Lin's tea gardens and factories to take photos with the farmers and tea makers. To our surprise, they are REALLY excited to see us! By that I mean, they don't look at us the same way the local people in other areas have (bewilderment). They're smiling and laughing and come over to take photos with us, show us their baskets full of fresh leaf. We pluck tea with them and it's so much fun! We've made tea friends on the other side of the world now, and our hearts are very full.
Along the way, we stop at a small factory to observe the creation of "blooming teas." - those little balls of tea joy that you love to watch dance and unfold in your teacup. Each one is skillfully woven by hand. For some, the leaves are gently warmed and misted to soften them so they can be tied together easily, and threads of delicate flowers are strung through them. The aroma in the room is warm and comforting, gently spicy (brew yourself a cup of Golden Monkey, then go stand outside on a cool morning and that's exactly what it was like) and the tea makers are smiling curiously at us. So strange and surreal it is to have exchanges like this, where they can see such enthusiastic interest from outsiders about their everyday life, and we can see them so deftly create beautiful tea art.
Our best stop is to see a tea friend we already met through an
interview by Lydia
. Mr. Lin's uncle, Lin Chui Feng, who creates green and jasmine tea. He's a cheerful tea man in his 80's, with a rounded, warm and peaceful face. He seems to wear his personality on his sleeve, completely calm and happy and loving tea. We visit his humble home on the mountainside and are treated to the fresh sweet smells of freshly plucked leaf from his morning harvest. This tea will be made into Mao Jian, a delicate and finely plucked style of green tea. We also get to meet his wife (whom we also knew from Lydia's photos) as well as his grandson - a quiet but confident boy of 8 years old. His is considered very lucky to his family because he was born with an extra digit on each hand and foot, and it was clear he was comfortable with everyone making such a proud fuss over him. One of the photos we took with him was most striking; he looked serene, like a young emperor, at peace in the world. They have very high hopes for him, and we were hopeful to be able to play a part in that though sharing his grandfather's tea with our customers.
Coming back down the mountain, we stop at several more plots of tea bushes, meeting along the way Mr. Lin's dad (where new family photos of the kids were exchanged with local friends) and more tea farmers.
This day has been so unbelievable: we feel strangely relaxed and at home (which is very hard to do when you're so far away!) and also wrapped up in emotion. How kind and heartfelt for such busy tea people to be sharing their intimate lives with us; the home of Mr. Lin's uncle is where he spent his childhood days, and you could literally see the difference increased awareness of tea has made on just one generation. The generosity of these people has not been lost on their frequent visitors; we and many others will take their stories and share them with a wider audience, and that will bring them business and prosperity. And their fresh, handmade teas are simply lovely, their tea making factories proud and clean, to top it all off. We were fortunate to get a sneak peek at what 2011 holds in store for you today, and this touching story has a tasty ending, too. Tea and happiness for all!
With a full heart (and stomach - we enjoyed both a bountiful harvest for lunch on the mountain with the farmers, as well as a lovely dinner with Mr. Lin), we retire to upload more pictures for you and prepare for our next destination. Goodbye, Fuding! You have been an amazing host and we are most grateful.
- Sooz