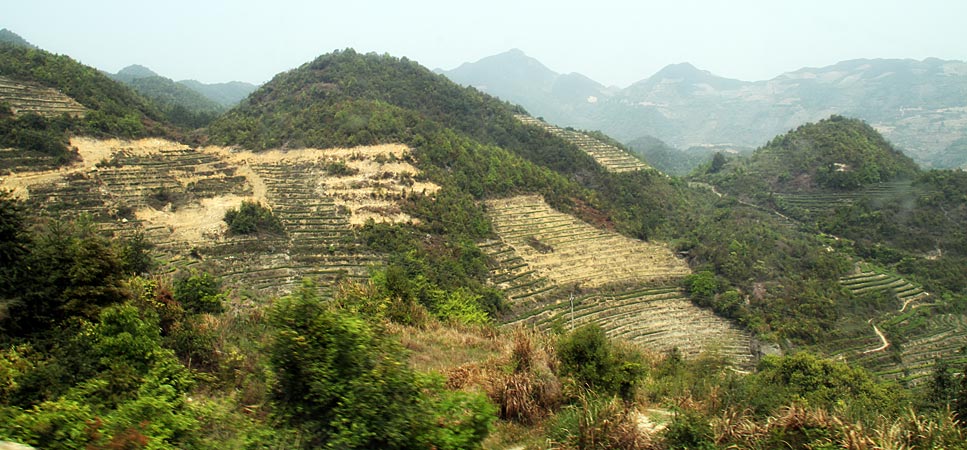 Ti Kuan Yin growing on the mountain side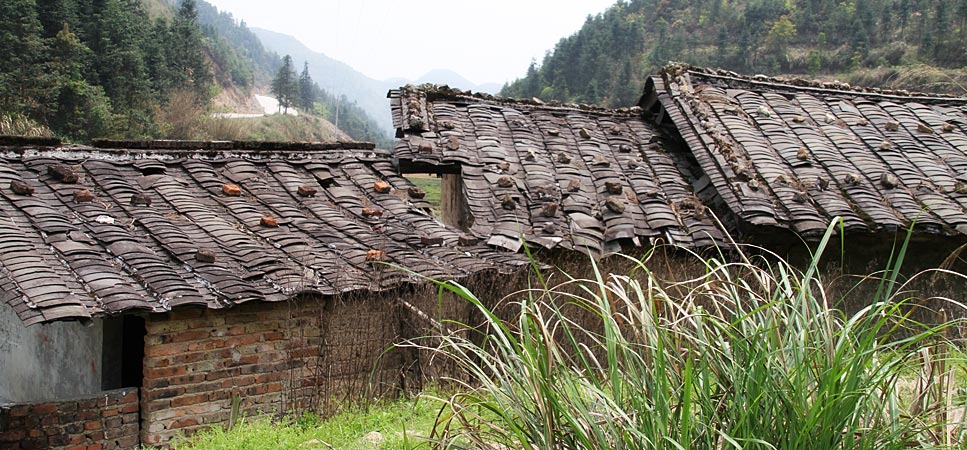 Geng Yu tea garden in Fujian, Anxi, China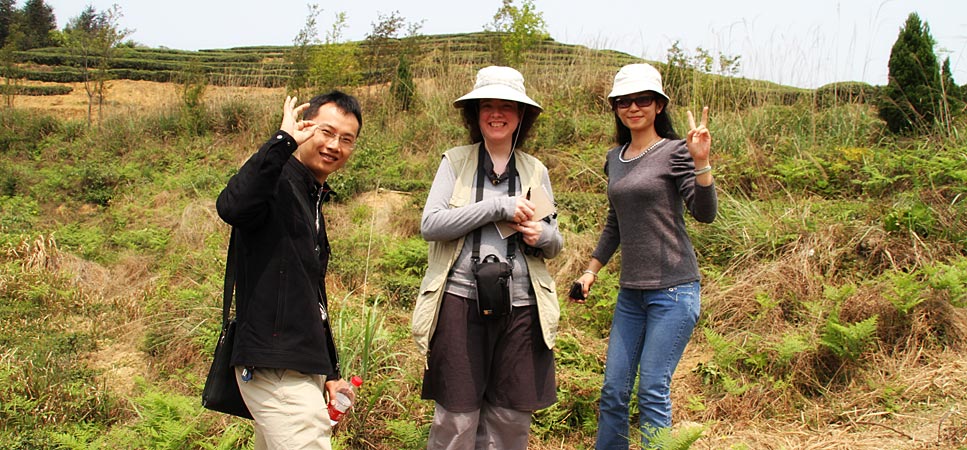 Alan Wang, Suzette & Lydia, happy in tea garden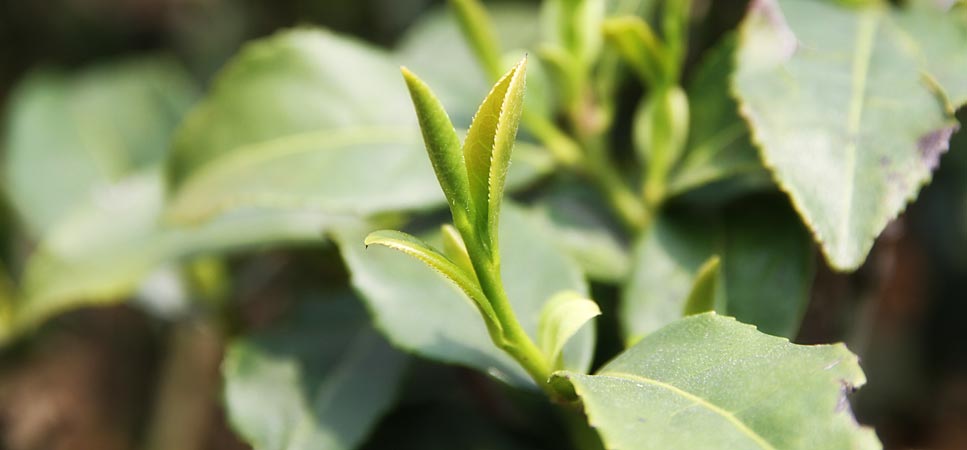 Aaaahhhh, there's the stuff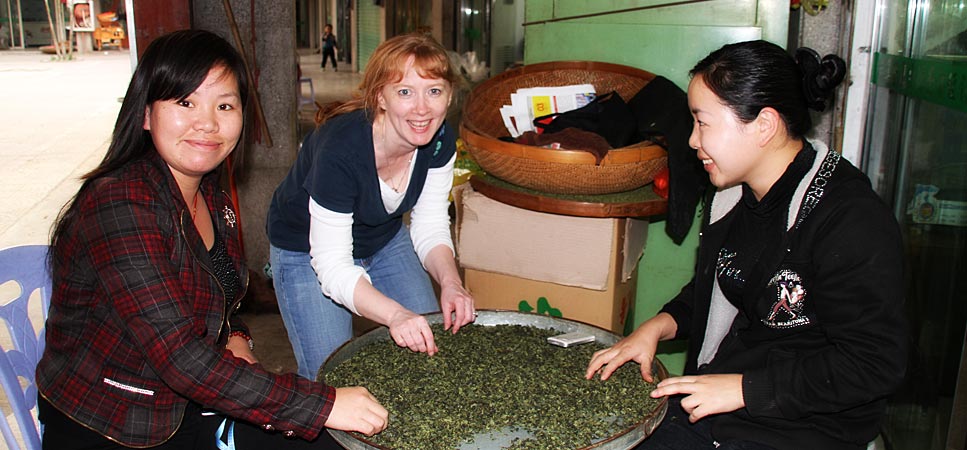 Ladies sorting fine Ti Kuan Yin at tea marketplace in Anxi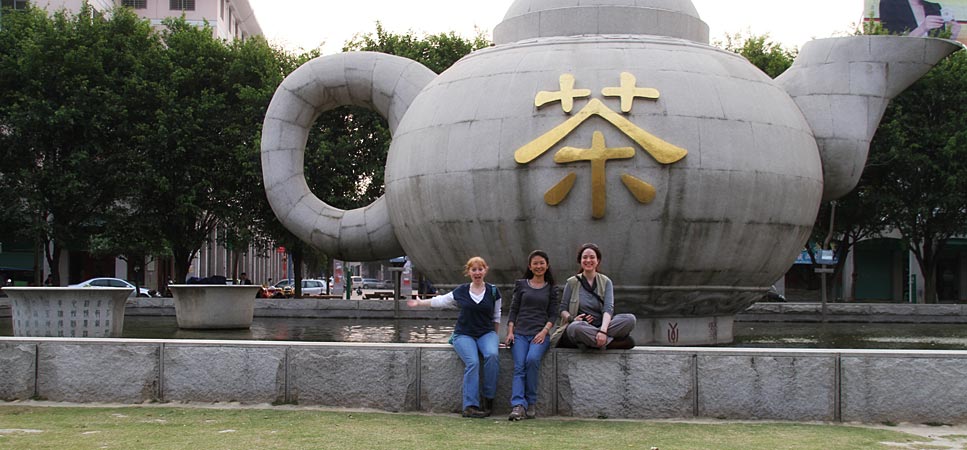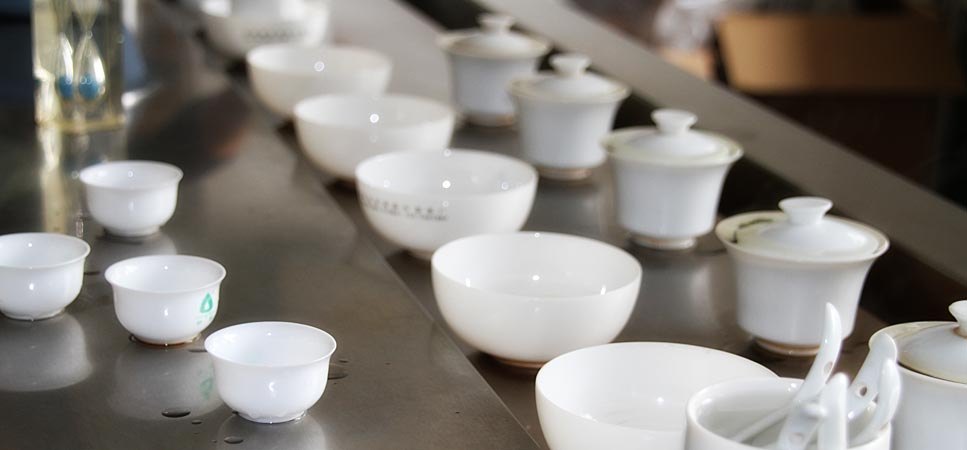 Cupping 4 grades of Ti Kuan Yin and Mao Xie with Alan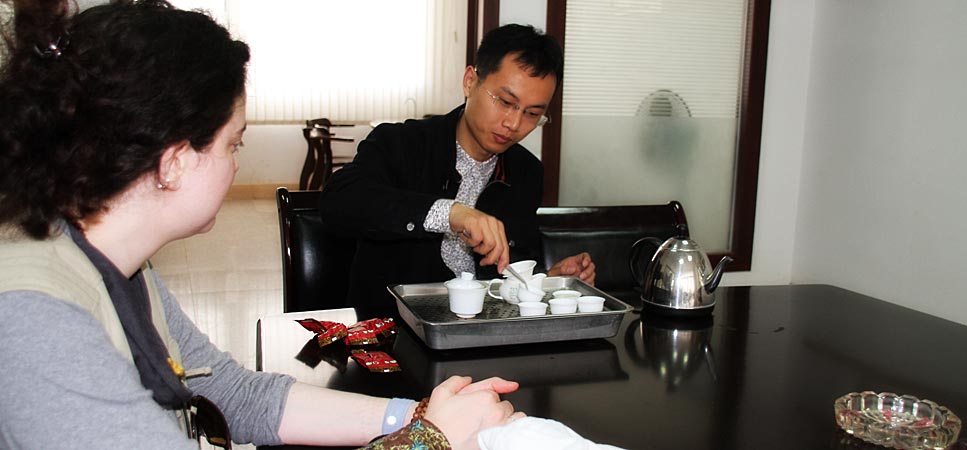 Alan brewing gong fu style for us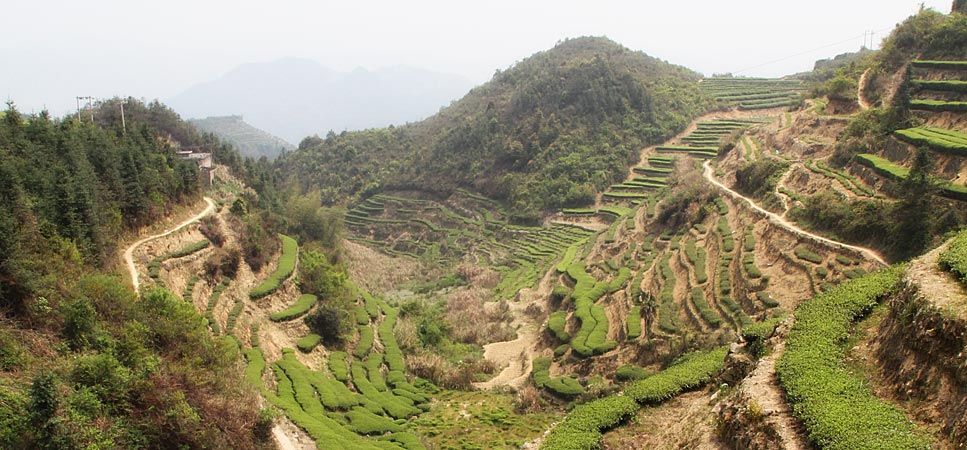 Gorgeous views of terraced tea plants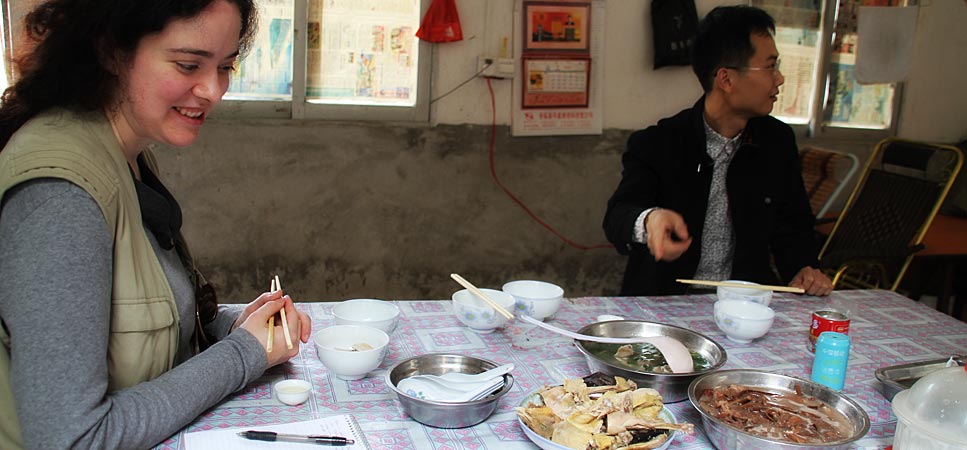 We were honored with a moutain grown lunch at the factory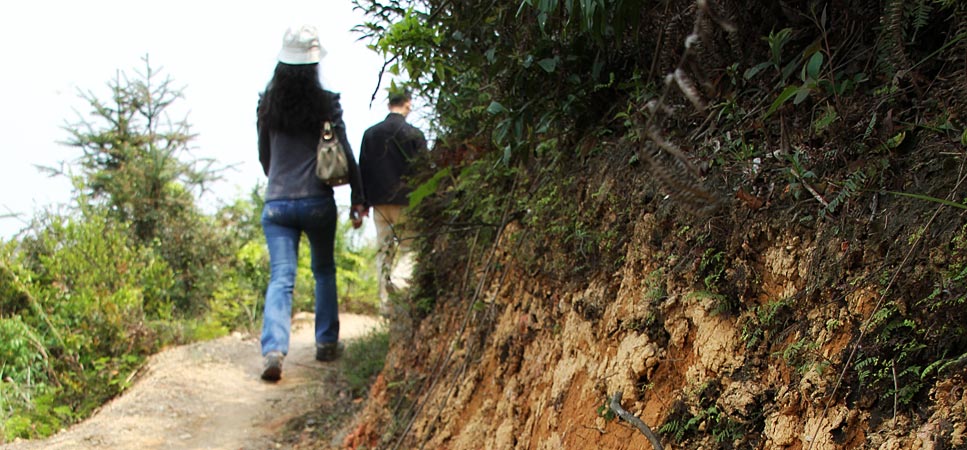 More climbing. Alan leads the way to Huan Jin Gui plants
Day 2:
An early start today, as Mr. Alan Wang - our supplier for Ti Kuan Yin and Huang Jin oolongs - is driving us to the tea farms. Anxi is about a 2 1/2 hour drive from Xiamen, and actually, the last 90 minutes of the drive is all tea countryside. As we leave the city, we start to pass many small farms and street shops. Businesses in China are very interesting, as everyone does their work out in the open and the shops have no real doors. So, you can see everything that's happening and it's quite captivating. People tending their small plots of vegetables, fixing motor bikes (lots of motor bikes here), chickens and cows roaming, old men smoking and playing cards... and of course, people gathered around tables sorting tea leaves. In the tea season, the sorting goes on everywhere, all the time. The tea makers are sorting out stems, imperfect leaves, twigs - all by hand. That's right: every ounce of your oolong has been meticulously scrutinized before it even reaches us to taste test.
With about an hour left in the drive, we reach the mountains and slowly make our ascent into the heart of oolong tea country. As charming as they are, ignore those small, lower elevation farms along the roadside; that tea is no good. Keep going, grasshopper, and with patience (and a sturdy stomach!), you will see the real oolong treasure.
We pull up to Mr. Wang's organic farm (he owns a few farms and factories in this area) and start hiking further up the mountain. The air is still, quiet and fresh. We come to our first plot of tea bushes - these are merely babies, just a year old! They're adorable and sweet smelling. In May, they will be ready to offer their very first Ti Kuan Yin harvest. Last year, Adagio allowed our customers to adopt tea bushes in China, and these are those same bushes (they say "hello", by the way, and thank you for planting them!)
After more photos and videos, we enjoy a generous lunch with our farmer friends: fresh vegetables, noodles and meat, all grown right here on the mountain (you must come here and try stewed bamboo - Cynthia and I almost ate a whole trunk). It is unbelievable, and we are most humbled to be sharing such an experience.
We hike across to another farm on the mountain, where our Huang Jin oolong is made, and then take a look at two of Mr. Wang's tea factories. He is very fortunate because the freshly harvested leaf can be made into oolong right on the same property; he does not need to send it off, far down the mountain to someone else to finish. The factory is quiet now, waiting for the leaves to be ready for harvesting. In a few weeks, the bamboo trays, baskets, rolling plates and wood fired ovens will be working around the clock, making the fresh tea.
We spend the rest of the afternoon at Mr. Wang's office down in the town at the base of the mountain. This is also where he packs some of his tea into teabags for other customers. Many lovely oolongs are cupped and we got to look at some of the truly amazing machinery that helps with the tea packing process. For example, Mr. Wang has a machine - one of only 3 in all of Anxi County - that screens out fabric fibers and other super fine particles from the finished tea that human hands can't always find.
Mr. Wang also takes us to the Anxi Wholesale Tea Market, where tea farmers from all over the area come to sell their tea. It's a lovely outdoor market, with a large open courtyard, surrounded by many teashops. You can just walk right in and brew yourself a tea sample. In fact, they expect you to, because they are too busy sorting the tea and packing it. Sorting tea is a LOT of work, so you should take care of your own tasting. How fun is that? This is just like how we have our Adagio stores set up, actually: we encourage you to visit and come brew for yourself, learn what you like through hands on experience and enjoy your tea. We're not busy sorting tea leaves, though, so you can feel free to ask us lots of questions!
A big meal back in Xiamen and after a very exciting day, we're off to bed. Tomorrow, we'll visit the world famous Gulang Yu island, directly across from Xiamen. Mr. Wang says you can't say you've been to Xiamen if you haven't been to Gulang Yu.
- Sooz