sampler set contains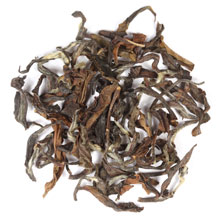 hsinchu oriental beauty - Beautiful leaves of white, green, yellow, red and brown make up this top grade Formosa Oriental Beauty Oolong from Hsinchu County, in northwestern Taiwan. Highly oxidized yet super smooth, the layered cup offers much to delight. Summer fruits like peach and nectarine, with a soft sweetness of honey and dwell in these leaves. Our Hsinchu Oriental beauty bears a clean mouthfeel that gently reveals each nuance like an unfolding blossom, and a slight mineral finish.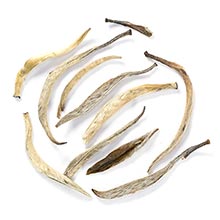 fujian silver needle - Fine silvery down bearing buds from carefully reared tea bushes in the Fuding area of Fujian, China. Hand picked, this precious white tea shows the care and skill of the proud farmers. In the cup, these extra fine Silver Needle buds offer a buttery-creamy mouthfeel and a wonderfully sweet, honeydew melon note and a creamy cucumber lingering finish.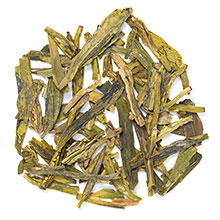 zhejiang lung ching - One of the most famous of all Chinese green teas, Lung Ching is available in a wide range of grades. This high grade is a fine plucking of young spring leaves, with a deliciously sweet aroma. Pan-firing in a hot wok brings out the classic warm, roasted chestnut notes inherent in the leaf and in this case a hint caramelized sugar and crisp floral essence. Complex and layered, yet subtle in the cup, mellow and softly sweet with a crisp finish.