sampler set contains
yunnan golden curls - A beautiful, rare black tea from the Yunnan province of China, the birthplace of all tea. Our hand-produced Masters Yunnan Golden Curls is composed exclusively of silky soft, golden leaf-buds with an unusual curled shape. Deeply layered with cocoa and spice notes, black pepper and raisins. Creamy and savory from the first whiff. The flavor and texture of the cup itself is just as complex, with warm toffee, sweet potatoes, and a velvety mouthfeel. Tremendous depth of flavor, a clean, mineral finish and lingering fragrance. Powdery soft astringency, like cocoa. Teas of this caliber are increasingly rare from Yunnan, so take time to appreciate these wonders of tea and the artisans who continue to craft them.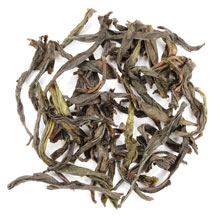 wuyi da hong pao - Rare oolong tea from the WuYi Mountains in the Fujian province of China. WuYi 'rock' oolongs grow defiantly in the gaps of the mountain boulders, rendering cultivation both arduous and spellbindingly beautiful. These teas are highly prized for their 'yan yun' or 'rock taste', and only the real WuYi teas grown from these rocks - not teas from nearby hills or flatter landscapes - will have that mineral flavor. Our Masters Da Hong Pao offers rich aromas of roasted vegetables, sweet honey and wet river stones. The liquor takes this masterpiece one step further, with the color of warm peach brandy. Delicately spicy, robust and rounded texture, with pit-fruit flavors and subtle ripe peach juiciness. A truly thought-provoking cup.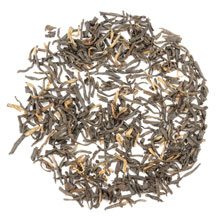 anhui keemun - Black tea from the Anhui province of China. Perhaps the most famous of Chinese varieties, prized for its toasty flavor, dark chocolate or red wine notes, mineral flinty sparks and sweetly smoky aroma. This, our most prized Keemun, is a hand-made limited production. The tea brews to a fiery reddish brown color, with incense smokiness, deep brown sugar and a slight earthy fruitness. Textured and layered mouthfeel with incredible depth: sweetness of dates or lychee fruit, brightness of fresh black pepper, warm fresh biscuits and smooth earthy cocoa notes. Soft, smoky finish and intriguing lingering fragrance. A Keemun not to be missed!