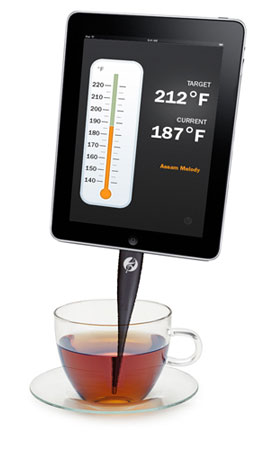 Adagio Teas iPad Thermometer TM
Dive deep into your next cup of tea with the Adagio Teas iPad thermometer! The snappy processor & high resolution display will ensure that you never brew a bad cup again.
Features:
Stylish industrial design to complement the look and feel of your iPad.
Broad temperature range from 140-212 degrees fahrenheit.
Toggle between celsius and fahrenheit.
Extra large digital temperature readout. The 9.7" screen will ensure that your green tea never gets brewed beyond 180°.
Sync with your bluetooth headset to read out the current temperature in real time. Choose between British, Chinese & Japanese accents.
Update your Facebook & Twitter accounts to let your friends know exactly what temperature YOU like your tea at.
Sync up with your friends thermometers to always be in on the action.
Advanced alarm integration will notify your email, phone, IM or twitter accounts so that you can grab your tea right when its ready.
Foursquare style check-in features. Let everyone know your favorite place to brew tea.
Feeling sick? Dont worry, the temperature app for iPad doubles as a medical thermometer (oral use only)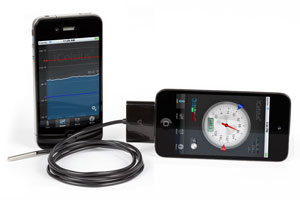 UPDATE
A company went ahead and built a thermometer for iPhone, iPad, iPod touch.
Find more information at
www.icelsius.com