sampler set contains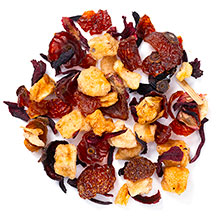 sour apple - A celebration of the apple! Fresh apple pieces, hibiscus flowers and rose hips create a slightly tangy, juicy treat. Sweetness like a candied apple, fresh tart-floral notes of crispy crab apples. A delightfully refreshing cup, naturally caffeine free and with no sugar or other sweeteners.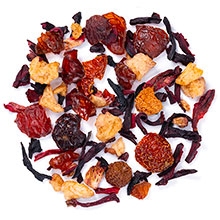 raspberry patch - Raspberry is a fairly complex flavor to play with. In some forms, you find it much more sweet than tart. Others, it's very crisp and mouthwatering. Sometimes it's warm and chewy like a jam. In creative hands, it's a fruit-floral accent - a whisper of flavor. This balanced herbal blend plays to all of those nuances. Fresh raspberries, apple pieces, rose hips and hibiscus flowers come together to tell the story of a raspberry. Homemade jam, zesty juicy, tart and slightly sweet, not overwhelmingly tangy. Lovely fragrance. A very clean, balanced cup that, because it's caffeine free, you can enjoy anytime.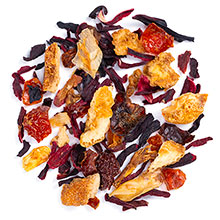 blood orange - The blood orange is a culinary favorite, with its deep vibrant color and sweet, tangy flavor. A perfect ingredient for a refreshing herbal blend! This naturally sweet, caffeine-free tea pairs blood orange peels with hibiscus flowers and rose hips. Rich, hearty and tangy, with a good balance of orange peel dryness and fruit juiciness.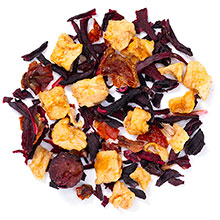 berry blues - Just like the blues, this cup's got soul. A smooth and slightly tart blend of blueberries, apple pieces and hibiscus flowers. Sweet like a fresh blueberry pie, but without any added sugar or sweeteners. Good for kids or the kid at heart.