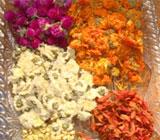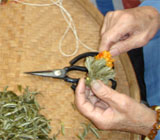 Q
Conversely, what is the hardest part of your job?
A
"We are a team with more than 200 workers. Every bloom ball is a special art made by hand. It is our task to let all our workers to produce high quality bloom teas. So the management is the most complicated job and the most challenging task."
Q
How has tea farming changed over the years?
A
"Before nobody take care of the tea garden. The tea leaves are difficult to pick up because of the uneven size. Now the management of the tea garden is very strict and mature. We must pruning the tea trees."
Q
What do you think makes your tea more unique or better than others?
A
"We control every steps of the production with experience and hard work. We are trying the best to make every bloom ball in the best shape and beautiful blossom. As a result, our bloom tea is the best."
Q
What makes the difference between a successful and unsuccessful harvest?
A
"Weather is very important. It is much more important for the only two weeks picking time than any other teas."
Q
Do you exchange growing secrets with other local farmers?
A
"Yes, I do. It is a good chance to learn from each other to make our quality better and better."
Q
Are there any tips you can give on how to best brew your tea?
A
"Using the mountain spring water to brew each ball with a glass cup. It will be better to drink it with honey when it is cooling down."
Q
What is your favorite tea to drink and why?
A
"Of course our bloom beauty. I am proud of it."
Q
If you had any advice to give western tea drinkers, what would it be?
A
"Welcome to visit our beautiful hometown Fuding. You can enjoy the both pleasant viewing and teas."
Q
What does this project & contribution mean to you?
A
"I will invite all my workers to enjoy a happy dinner. Thank you!"