sampler set contains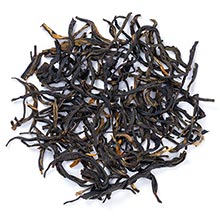 english breakfast - The original, classic cup of English Breakfast was made with black Keemun tea from Anhui province in China. Across many generations, plenty of different interpretations have been made. Our English Breakfast stays close to the classic. Made from fine quality Keemun, prized for its rich, slightly smoky flavor and perfectly 'on point' astringency. Balanced, very honeyed aroma. May be enjoyed plain or with a drop of milk. English Breakfast remains one of Adagio's most popular varieties.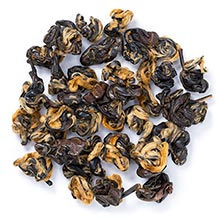 yunnan noir - Black tea from the Yunnan province of China, the birthplace of tea itself. Much of the tea in this southern province is a large leaf variety. Mountains veiled in mist, with clean water and rich soil form ideal growing conditions and contribute to the unique flavor. Our Yunnan Noir is a hand-rolled tea, with leaves tightly curled into a 'black snail' shape. The aroma is sweet with hints of honey and spice. Savory and winey on the palate, with smooth, deep fruity astringency, tremendous depth of flavor, cinnamon bark and nutmeg in the finish. Terrifically textured cup of tea.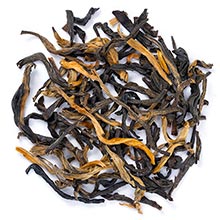 yunnan jig - Black tea from the Yunnan province of China, the birthplace of tea itself. Yunnan black tea is easily identified by its abundance of soft golden tips, and savory cocoa and black pepper flavors. It is a very forgiving tea; will not taste bitter when over-steeped. Our Yunnan Jig has a sweet, almost creamy aroma. Rich and savory flavor, with a slight cocoa powder finish. Earthy and spicy and soft, smooth mouthfeel and finish. Classic Yunnan.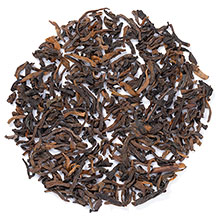 pu erh poe - One of the five main types of tea (white, green, oolong and black being the others), pu'erh tea stands apart with its uncommonly soft earthy flavor and woodsy tones. Unlike all other teas, pu'erh (pronounced 'poo-err') is actually aged. The tea leaves go through a natural fermentation process before the tea is gently dried. This creates a cup with zero astringency and deep, rich body. Pu'erh is extraordinarily smooth and deeply refreshing. Our Pu'erh Poe (the shou variety of pu'erh) gives a clean, woodsy aroma, warm hay inside a barn, mushrooms and savory vegetables. Wilted flower notes and a faint dark chocolate texture. Mellow and grounding. If the flavor is too strong for you, simply dilute with water (which, interestingly, doesn't work for many other teas!) Pu'erh is extremely versatile - you can steep it for as little as 30 second or 30 minutes, whatever pleases your palate. It won't get bitter and is great for multiple infusions.